The last rush of specific aircraft types came in the late 1970s when Piper, Beech and Grumman-American all fielded light-light twins—the Seminole, Duchess and Cougar, respectively. At the time, general-aviation manufacturers were turning out 15,000-plus airplanes a year, and pilots were training at a record rate. Practically everyone was predicting there would be a viable step-up market for new aviators transitioning to twins in search of the peak of the pyramid—an airline job.
Practically everyone was wrong. The big multi-engine training market never materialized, light-light sales foundered, and by 1982, all three companies had discontinued their multi-trainers. Piper would later revive the Seminole, but twin-engine training would never approach the level the industry aspired to in the late '70s.
Today, very light jets (VLJs) are the new rage, but while the hype may, once again, exceed the reality, there's good reason to believe this may not be a fad. Aspirants to the VLJ market hope thousands of high-end single owners, medium-twin drivers and turboprop operators will be willing to step up to jet power. All the proposed light jets are being designed for single-pilot operation in the 310- to 400-knot range with a pilot, and four to six passengers aboard for somewhere between $1.2 and $2.5 million. Currently, the least expensive jet on the market is the $4.2 million Cessna CitationJet.
These days, you could spend well over $1 million for a Piper Mirage or Beech 58 Baron. Turboprops such as the Piper Meridian, SOCATA TBM-700 and Pilatus PC-12 start just under $2 million and escalate to well over $3 million. The VLJs promise performance that's 50 to 100 knots quicker than all the models above for the same or less money.
Microsoft millionaires Vern Raburn and Paul Allen have invested a reported $400 million developing the Eclipse 500, and no matter how talented the airplane, certification is still far from the horizon. Cessna may just wind up spending a similar amount on its own upcoming Mustang to compete for the VLJ dollar, but that airplane won't be available until 2006 or later. Diamond Aircraft's single-engine D-Jet as well as Honda's unusual twin-pylon entry are definite threats from big companies, but with indefinite development and production schedules. Most recently, the Epic Twinjet was announced at NBAA 2004 and still is an unknown quantity. Meanwhile, other small jets such as the Avocet, the Maverick and the Safire apparently have fallen by the wayside.
Then there's Rick Adam and the A700. Adam was born to an aviation family. A pilot for the last dozen years, Adam's father was a career Air Force pilot, his mother was a private pilot, and he's a West Point graduate and former NASA launch officer on the Apollo program. He's also an executive with the investment firm Goldman Sachs (a major investor in Adam Air-craft) and, like Eclipse's Vern Raburn, made his fortune in the computer world. Adam's concept was a centerline thrust piston twin, the A500, and a follow-on, jet-powered A700 derived from the same design.
---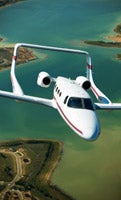 I flew the prototype Adam A500 last year from Adam Aircraft's home field south of Denver, and despite my reservations about the huff-and-puff concept in general, questionably executed on the Cessna 337 Skymaster, I was impressed with Adam's first product. (See "Adam A500," Pilot Journal, November/December 2003.) Rick Adam recently invited me back to the company's R&D facility at Denver's Centennial Airport to fly the A700 jet. With only about 150 hours on the Hobbs, the airplane still was in an early stage of development, so there was no chance to explore the full performance envelope, but I did get to sample flight, takeoff and landing characteristics.
From the outset, Adam's plan was to build the A700 as structurally similar to the A500 as possible, the better to reduce certification and production costs. Reportedly, about 80% of parts are interchangeable between the two models. To that end, the all-composite A500 was deliberately overbuilt so the jet version could fly heavier and faster, and accordingly, both models share essentially the same fuselage, wing and tail, the latter components fitted with TKS anti-ice systems. The A700 features an A500 cabin stretched 21⁄2 feet to accommodate a fourth row of seats. Installation of the optional aft lav reduces the total seats to seven.
As you might imagine, the jet's need to fly taller (the A700's ceiling is planned for about 41,000 feet) dictates a higher pressurization differential—8.33 psi compared to the A500's 5.0 psi. This will allow an 8,000-foot cabin at max altitude and max differential. The Adam A700 also sports upturned winglets at the tips. Landing gear is identical to the A500's, featuring wide-spaced, tough, trailing link members.
The A700 will be the largest of the proposed microjets, nearly as big as a Cessna Citation CJ1. Wingspan is a wide 44 feet, although the twin-boom tail stands only 10 feet tall. Operating weights hadn't been defined at press time, but Adam hopes to hold empty weight to 3,700 pounds against a gross of 7,000 pounds. If he can realize those numbers, he'll be able to offer a full fuel payload near 1,100 pounds, six folks plus baggage, with some of the latter stored in a long nose baggage compartment. At reduced fuel load, the A700 will accept two pilots up front plus six passengers in back.
The most obvious difference be-tween the A500 and A700 is piston versus jet power. The piston A500 flies with a couple of turbocharged, Continental TSIO-550 engines rated for 350 hp each. The A700 utilizes twin Williams International FJ33-4A-15 turbofans mounted on the aft fuselage, DC-9 style. Sam Williams made his fortune building small, cruise-missile jet engines in the 1980s and '90s, and he's now applying the same "less is more" technology to all powerplants for the corporate jet set.
The Williams FJ33 engine was certified last fall and is a scaled-down version of the company's FJ44 that currently powers the CJ1, Raytheon Premier and the upcoming Swearingen SJ-30-2. The FJ33 is about 80% the size of the derivative FJ44 and delivers two-thirds the rated thrust, specifically 1,200 pounds (1,568 pounds is maximum power), but it utilizes the larger engine's stronger, full-size gearbox.
Adam worked with Williams conceiving the FJ33, and one result is that the engine is unihanded, with airframe connections, mounts and oil dipsticks on both sides. This means engines may be mounted on either side of the airplane, minimizing downtime and allowing operators to avoid stocking handed engines.
---
Jets drink fuel at a higher rate than piston engines, and Adam knew the A500's 230-gallon tanks wouldn't be adequate for the A700. The prototype I flew was fitted with standard tanks, but Adam plans to boost capacity with a 100-gallon belly tank. The production fuel system will be simple—the wings will feed into the center tank, and both engines will drain from that tank.
The chief pilot, Glenn Maben, says flight tests so far have suggested cruise projections of 340 knots (Mach .60) at 38,000 feet should be right on target, but the fuel burn will be dramatically lower than on the previous jets. Adam Aircraft's president Joe Walker ex-plained that the A700 actually will be relatively fuel-efficient. Walker, a 20-year veteran of Cessna before moving to Adam, is intimately familiar with the Cessna Citations, so it's not surprising that he analogizes his A700 to the Cessna jets.
"Back in 1972, the first Citation 500 was an 11,000-pound airplane with 2,200-pound thrust engines, and it would cruise at about 340 knots on 1,000 pounds an hour," explains Joe Walker. "Twenty years later, the CitationJet delivered a few more knots with slightly less weight and only 1,900 pounds of thrust, all on only 700 pounds an hour. The A700 should cruise at 340 knots at a 7,000-pound gross weight with 1,200-pound thrust engines while burning only 500 pounds an hour."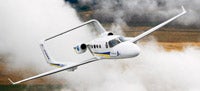 Climb into the A700's left front seat and you're facing a representative glass panel, a mixture of Garmin and Avidyne avionics. The panel on the test article included two screens, a large Avidyne PFD on the left and a similar MFD in the right. Two Garmin 530s were installed at left center, and that's what we used for the flight, as the Avidynes weren't hooked up.
As on the A500, Adam installed side sticks for roll and pitch control, but they're not the usual short-throw sticks. Fore, aft and side travel are fairly long to provide more mechanical advantage and ease control pressures. The lack of a yoke not only frees up space in front of the two pilots, but it also adds an impression of spaciousness in all other directions. The cockpit already is extremely accommodating, and it's comfortable to settle into the seat without a yoke directly in front of you.
Passengers should be pleased as well. At 54 inches wide, 52 inches tall and 16 feet long, the cabin is roughly the size of a Cessna CJ1's. No matter what performance advantages the other microjets may enjoy, they'll be hard-pressed to match the A700's room and creature comforts. I tried every seat, including the aft lav installed in the seven-place prototype, and they were all reasonably comfortable.
The nose gear is non-steerable, so directional control during taxi is with differential brakes, unusual for a business jet, but still effective. Push the thrust levers full forward to leave town, and the twin rudders come alive immediately. Acceleration is exhilarating. The airplane unsticks at about 80 knots and starts uphill without pausing for breath.
---
Stabilized at 130 knots of climb speed, you'll see a solid 2,500 fpm on the VSI. Flight characteristics are similar to those of the A500, positive and predictable, although flight-test limitations and a 14,000-foot ceiling prevented any exploration of the cruise regime on my one-hour hop.
In-flight maneuvering is about what you'd expect at 7,000 pounds gross, with control pressures similar to a 421's. Flying at the temporary flight-test limit speed of 170 knots, I tried turns to 50 degrees of bank and pitch attitudes to 20 degrees up with gear and flaps extended and retracted, and the airplane offered no surprises. We couldn't fly actual stalls, but I'd be surprised if they're different from a CJ's.
Landings are the easiest of any jet I've flown. Approach speeds can be as you like them, but 110 knots works well most of the time. The standard drill is to carry power down to the flare, then ease it off and let the jet sink slowly to the asphalt. The trailing-beam gear helps absorb landing loads so well that most touchdowns almost are guaranteed to be satisfying. If you can fly a Malibu, you'll actually find the Adam A700 easier to land.
Insurance may be a major constraint for piston pilots stepping up to a VLJ, and Adam has a plan to ease the transition from piston or turboprop to jet. It's called the Insurance Assurance Program. To qualify for the program, customers must order both an A500 and A700, meet minimum experience requirements, then take delivery of their A500 and log 200 hours before trading up to the A700. The two Adam designs are so similar in everything, from stall characteristics, in-flight handling and approach speeds to side-stick controllers, systems operation, switch and circuit-breaker location that the transition to the simple Adam jet for an A500 pilot should be a breeze. The A700 is em-phatically easier to fly than the A500.
Rick Adam's piston model should be certified by the time you read this, and similarities between the two airplanes may allow certification of the A700 by this time next year. Adam hopes to hold the price to $2.1 million. If he does, we'll have a chance to see if there really is a market for thousands of VLJs. Personally, I hope so, as the A700 is such an easy flying design, it deserves to make it.
For more information about the Adam A700, its certification progress or advanced orders, contact Adam Aircraft at (303) 406-5900 or visit the company's Website by logging on to www.adamaircraft.com.