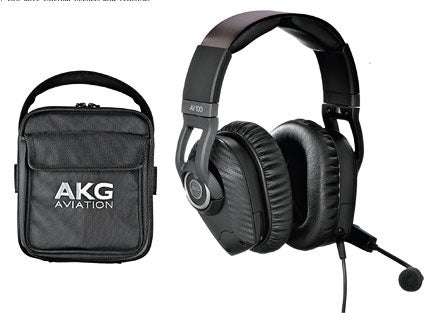 One feature unique to the AV100 is the large carrying case, complete with pencil holders, a variety of pockets and a roomy inside compartment. It easily doubles as a small flight bag. The headset comes equipped with dual LED map lights in the ear cups and memory foam ear cushions covered in natural leather.
Full disclosure: I'm a longtime AKG fan, having used their headsets and microphones in recording studios for decades. In the 1940s, AKG introduced what has become not only my favorite, but one of the world's preeminent recording microphones, the legendary C12. Continuing that tradition, AKG mics and headsets are now behind more hit songs than just about any other manufacturer. When I heard that AKG was entering the aviation headset market, I was excited to see if their expertise in the music world would translate to the cockpit. Their new AV100 is an active noise reduction (ANR) headset only for aviation that was developed in collaboration with Red Bull Air Race pilot Hannes Arch.
With such an impressive design and engineering pedigree, the AV100 didn't disappoint out of the box. AKG wisely designed a sumptuous carry case that's sized to also carry an iPad or tablet in a side pocket. With four pen/pencil pockets, two large external pockets and generous internal space, I found the case useful as a quick-grab pilot bag, and could fit my logbook, a flashlight, tablet, charts and more. Kudos on the heavy-duty construction and comfortable carry handle, too.
The Austrian-made headset sports all the hallmarks of German engineering, with precision and beauty combining to create a useful whole. Appearance-wise, the AV100 isn't unlike the other designs in the $1,000 price range, though the AKG ear cups have a more oval, slender shape. Each cup sports a section that looks like carbon-fiber composite material, lending the headset a modern appearance.
AKG has paid great attention to detail with the AV100. The headset includes small, convenient features like an arrow graphic on the microphone boom, so you know which way to rotate it (on unmarked booms, it's easy to have the mic pointed outward, resulting in workable but lousy sound). The ear cups swivel nearly 90 degrees in either direction, making the headset adaptable to a wide variety of head shapes and ear angles. The ear cup vertical adjustment looks and feels well designed, with nice "click" detents at each interval. The mic boom can be easily swapped to either the right or left side without any special tools.
The AV100's coolest feature is the LED map light on each ear cup. In dark cockpits, there's no longer a need to buy those third-party gizmos that attach to your ball cap or your mic boom. These little babies are bright-white LED lights and will illuminate a chart on your lap or on your yoke easily. They're integrated into the bottom of each ear cup, and are a useful and convenient addition. They're not excessively bright and are perfect when you don't want to fumble around for a flashlight.
You'll immediately notice the AV100's plug configuration. It comes with a LEMO plug, so it can be connected directly to instrument panels that accept these connections. Newer aircraft like Cirrus use these six-pin circular jacks, which are also known as "Redel" connectors or (mistakenly) "Bose-style" connectors. This six-pin jack provides audio, microphone and power for the ANR in the headset, so you can skip batteries if you use the LEMO plug. In another nod to convenience, AKG includes a handy adapter cord, so you can also use the headset with a standard general aviation two-jack setup with no loss in function, aside from needing two AA batteries to power the ANR.
---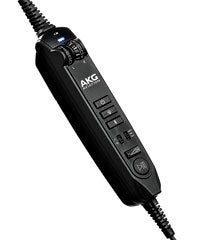 The AV100's control box can be powered from the panel with a standard LEMO connector or with two AA batteries when using the included GA dual jack adapter.
As I've stated in headset reviews in the recent past, we're in a time where headsets in this price range all sound fantastic, with little variation in sound quality. The AV100 was created with what AKG says is proprietary "hybrid active noise cancelling" technology to block unwanted noise. In practice, I found the AV100 to have a little more "air" than competitors, which I'm guessing means that they tuned the speakers to accentuate high frequencies. The ANR is standard, with noise being noticeably blocked in the low end of the spectrum. Unfortunately, manufacturers have shied away from publishing their noise attenuation curves for us audio nerds, so we have to guess at the attenuation numbers. Absent of an "A" to "B" comparison with a competitor, the attenuation qualities sound similar to others in this range.
As with all modern headsets, the AKG AV100 has Bluetooth built into it to accommodate a variety of wireless players, phones and tablets. The additional AUX Input expands connectivity options to include non-Bluetooth devices. The AV100's selectable audio priority enables the pilot to set which signals come through and whether music or intercom takes precedence. The headset comes with an auxiliary cord for connecting cell phones or other "wired" devices to the control box. Incidentally, the control module is unobtrusive, with two easy-to-read volume controls, the LED switch, stereo/mono switch and separate Bluetooth volume control sharing real estate.
To me, where the AKG really shines is sheer comfort. The ear cup shape combined with memory foam ear seals and buttery leather ear seal covers create a headset that can be worn for long periods of time without hot spots, rubbing or pressure points. The clamping pressure is just right and seals the headset to your ears without smashing your skull. In fact, this is the most comfortable around-the-ear headset I've worn. Even after several hours in the Mojave Desert in summer, I forgot I had the thing on.

Even after hours in the Mojave Desert in summer, I forgot I had the thing on.

As far as gripes, there isn't much bad to say. I found the cord that came with the AV100 pretty weak for such an expensive headset. AKG needs a cord that's more durable. Also, though it makes no difference to anybody, the user manual is poorly written. A $1,000 headset should come with a good manual, though maybe only we sound geeks care.
All in all, the AKG AV100 is a luxurious and comfortable headset. It does its job well, looks good while doing it, and feels durable and well-made. Fans of European design will love the AV100, which seems to have brought to aviation 70 years of audio innovation and music-making history.