From free training to discounts and rebates, this is the place to find great promotional deals from the aviation industry's leading companies. Be sure to check this page every month for the latest offers.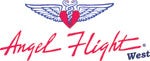 Fuel Discount For Volunteer Pilots
Responding to the high price of aviation fuel, Angel Flight West (AFW), the country's largest volunteer pilot organization providing free nonemergency air transportation for health care issues, is implementing a discount program to help pilots pay for fuel. "The increased costs of flying, along with the downturn in the economy, have impacted the number of pilots who can afford to fly missions. Developing this fuel discount program will continue our efforts to provide essential human services," says AFW Executive Director Alan M. Dias. Contact: Angel Flight West, (888) 426-2643, www.angelflightwest.org.
$1 Overnight Shipping
Tropic Aero offers $1 overnight shipping on select portable aviation electronics—including all portable Garmin GPSMAP aviation units—exclusively for P&P readers. Visit www.tropicaero.com/pandp to view qualified electronics; enter coupon code "PANDP" during checkout to receive $1 shipping. Contact: Tropic Aero, (888) 280-9272, www.tropicaero.com.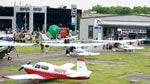 Sporty's Fly-In & Sweepstakes Day
This year, the winner of Sporty's Sweepstakes—who will get a brand-new Cessna Skyhawk equipped with Garmin Synthetic Vision Technology—will be selected at Sporty's Annual Fly-In on May 16. The fly-in will feature industry exhibitors, seminars, tours and other special events. "The best part about the day is that it's all free," said Sporty's President Michael Wolf. The event will be held, rain or shine, from 10 a.m. to 3 p.m. Contact: Sporty's, (800) 776-7897, www.sportys.com/flyin.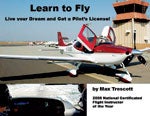 Free Learn To Fly E-Book
Many people express the desire to learn to fly, yet few take the steps needed to actually become a pilot. For those looking in from the outside, aviation can seem intimidating with its unique language and culture. To help bring people into aviation, Max Trescott has created a free Learn To Fly e-book that details a five-step process to earning a pilot certificate. The 37-page PDF file can be read on any computer and can be downloaded from www.sjflight.com/LearntoFlyebook.pdf. Contact: Max Trescott, www.maxtrescott.com.
---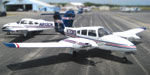 ATP Opens New Centers & Lowers Prices
Airline Transport Professionals (ATP) is opening five new flight-training centers in Charlotte, Indianapolis, Oakland, San Diego and Tampa. Prices have also been reduced by as much as 20% for all of ATP's accelerated, multi-engine flight-training programs. More pilots go to ATP for their multi-engine ratings and ATP certificates than to any other U.S. flight school or academy.
Contact:
Airline Transport Professionals, (800) 255-2877,
www.atpflightschool.com
.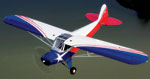 Texas Sport KwikBild Program
Texas Sport Aircraft Company now offers KwikBild builder's assistance for the Texas Sport Cub. The program allows amateur aircraft builders to complete their own Texas Sport Cub aircraft kit in a factory setting. Customers can equip their aircraft with their choice of features and options, completing the build in as little as 14 days. Fourteen- or 21-day programs are available. All work is done under the guidance of expert and experienced staff.
Contact:
Texas Sport Aircraft Company, (866) 746-6159,
www.txsport.aero
.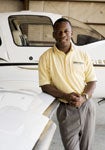 Aviation Scholarship & Free Tutoring
Tutor.com, the #1 online homework help and tutoring service, has partnered with Careers in Aviation and Jamail Larkins' nationwide Dream Launch Tour to educate students about aviation career opportunities. Tutor.com is offering 50 minutes of free online math and science tutoring, and is giving away one $1,000 scholarship to a qualified middle or high school student. Applications (due October 2, 2009) can be found at
www.careersinaviation.org
.
Contact:
Tutor.com
, (800) 411-1970,
www.tutor.com
.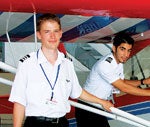 Phoenix East Offers Grant
Phoenix East Aviation offers a new Patriot Institutional Grant for veterans of the U.S. military who are interested in a pilot career. The grant will contribute 5% toward training tuition. Phoenix East has been providing comprehensive pilot training for more than 30 years and specializes in professional flight instruction for both U.S. and international students. The school's headquarters are in Daytona Beach, Fla., where the climate permits flight operations 350+ days a year. Contact: Phoenix East Aviation, (800) 868-4359, www.pea.com.