Turbine Diamond DA50 Flies
A Diamond DA50 powered by a turbine engine made its first flight on January 19 in Wiener Neustadt, Austria, with Christian Dries, Diamond Aircraft CEO, as test pilot, and Ingmar Mayerbuch, Head of Flight Testing. After the flight, Dries said, "This aircraft with this turbine engine almost flies like a rocket." The single turboprop with room for up to seven passengers bears the name "DA50-JP7" (JP for Jet Prop). It will be manufactured in two different versions. The Tundra model with big wheels and rugged landing gear is designed for uneven strips and rough terrain. The second model targets training and private customers requiring high performance. The 465 hp AI-450S turbine engine is built by Ukrainian company Motor Sich JSC in collaboration with Ivchenko Progress. It's particularly fuel efficient at medium altitudes and features a dual FADEC system. Visit www.diamond-air.at.
Eclipse Aerospace Expands Sales Network
Eclipse Aerospace (EAI) announced Crownair Aviation as the Authorized Eclipse Sales Representative for the Western United States. Crownair Aviation, located at Montgomery Field (KMYF) in San Diego, Calif., has provided maintenance support as a Gold Service Center for Eclipse Aerospace aircraft since June 2013. Ray Richmond, General Manager at Crownair Aviation, said, "We have truly enjoyed working with EAI over the past several years. We feel that this is the right time to further grow the relationship between Crownair and EAI." Rich Klunk, Crownair Aviation's Sales Manager, will handle all customer inquiries for the Eclipse 550 and Total Eclipse Jets for California, Nevada, Oregon, Washington, Idaho, and Montana. Visit www.eclipseaerospace.net and www.crownairaviation.com.
Spartan College Reserves 20 Sun Flyer Aircraft
Spartan College of Aeronautics and Technology has signed a Training Program Development and Deposit Agreement with Aero Electric Aircraft Corp. (AEAC). Spartan is reserving the first 20 Sun Flyer delivery positions and will help expand a complete training system for the Sun Flyer solar-electric training aircraft being developed by AEAC. Peter Harris, CEO of Spartan College, said, "This agreement signifies our commitment to innovation and to serving the next generation of pilots. Spartan College is honored to be the first training school to formalize our collaboration on a complete training system that will make flight training more modern, accessible and economical than ever before." Visit www.sunflyer.com and www.spartan.edu.
Sporty's 172LITE Sales
Flight schools and flying clubs nationwide have expressed interest in Sporty's 172LITE trainer. As a result of this demand, Sporty's is offering the 172LITE to flight schools and flying clubs as an affordable trainer. "After December's announcement of the 172LITE, my inbox and voicemail were flooded with inquiries from flight schools and flying clubs throughout the country," Sporty's Charlie Masters stated. "There is industry-wide demand for a basic, affordable airplane for the training and rental market, for which the 172LITE hits the spot." The 172LITE begins life as a preowned Cessna 172. The airframe is inspected by Sporty's mechanics, and a refurbishment plan completes the trainer. Visit www.sportys.com.
Hartzell Receives STC For Cessna 172RG Cutlass
Hartzell Propeller received a Supplemental Type Certificate (STC) from the FAA for the company's new lightweight Scimitar prop for all Cessna 172RG Cutlass aircraft. The newly designed and aggressively shaped two-blade Scimitar has a swept-tip aluminum compact blended airfoil and is constructed from lightweight carbon fiber. More than 1,100 172RG aircraft have entered service. "This new Cessna 172RG swept-tip Scimitar propeller, along with its robust aluminum compact hub, gives the maximum lifetime performance that aviators flying with Hartzell props have come to expect," said Joe Brown, Hartzell Propeller President. "This two-blade lightweight prop has better tolerances and corrosion resistance than previously available." For the STC program, Hartzell Propeller was permitted to fly a Cessna 172RG Cutlass on loan from the Aeronautics Division at Kent State University's College of Applied Engineering, Sustainability and Technology. Visit www.hartzellprop.com.
Garmin Live Training Courses
Garmin has announced expanded pilot training opportunities for 2015 to include additional live classes and eLearning courses. Garmin is offering scheduled classes for the GTN 650/750 touch-screen navigator series and G500/G600 glass flight display systems, in addition to on-demand classes for the G1000, G3000 and G5000 Integrated Flight Decks. These live classes are held locally at Garmin Headquarters in Olathe, Kan., and provide customers with a hands-on approach to learning Garmin avionics in a classroom environment taught by experienced certified flight instructors. For those interested in web-based online courses, Garmin is offering eLearning courses for the G3000 and G5000 Integrated Flight Decks and Link 2000+. These eLearning courses walk pilots through the departure, enroute and arrival phases of flight, and are self-paced. Garmin also plans to introduce eLearning courses for the GTN and airborne weather radar later in 2015. Visit www.flygarmin.com.
---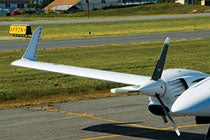 Vortex Generator Kit For Diamond Twin
Micro AeroDynamics has received FAA and EASA STC approval for the VG kit it has designed for the Diamond DA42, DA42NG and the DA42M-NG twin-engine models. In flight tests, the addition of VGs to the leading edge of the wings and both sides of the vertical stabilizer reduced Vmc, provided an improvement in slow-speed stability and handling, lowered stall speeds, and reduced accelerate/stop distance. VG kits for the DA42 series are pre-painted "Diamond White," and the complete package can be installed in one day. Visit www.microaero.com.
PRODUCT PREVIEWS
Authentic Military Flight Jacket
Sporty's leather jacket collection offers a blend of authentic construction and modern style, handcrafted with attention to detail. Each jacket, based on original military specs, includes heavy-duty brass zippers with leather pull tabs, bidirectional knitted cuffs, real satin linings and beautiful glove-tanned leather. The A-2 Leather Flight Jacket has been in use for more than 80 years and is a cultural icon. The AN-J-3 Leather Flight Jacket was introduced in 1943 to take the place of the A-2, with some enhanced comfort features. The B-15 Leather Flight Jacket is based on a model developed for US Army Air Force bomber pilots in 1944. Contact: www.sportys.com.
New ASA Video
"Flight Maneuvers" is the latest video production in ASA's Virtual Test Prep Series, and covers each of the maneuvers in the FAA Practical Test Standards (PTS) for Private, Sport, Commercial and CFI certification. Pilot applicants will learn from high-definition air-to-air video, 3D and animated graphics, special effects, experienced flight instructors and pilots with real-world tips from the tarmac, airport and cockpit for focused and exciting learning. The video contains over three hours of in-flight video, animated graphics and classroom instruction. Both DVD and Blu-ray discs are included. Contact: www.asa2fly.com.
Flight Bag Collection From Lightspeed
Lightspeed Aviation's Aviation Adventure Flight Bag collection includes two bags made of full-grain South American cowhide, and one made of ballistic polyester with full-grain cowhide accents. Each bag incorporates features such as purpose-built pockets for headsets, iPads, portable cameras, transceivers and water bottles, as well as rugged but wing-friendly textured PVC bottoms. There's also an optional organizer insert that when combined with any of the flight bags aids with keeping each item in its place. Each bag is inspired by the famous aviation author for whom it is named and the collection includes The Gann, The Markham and The Antoine. Contact: www.lightspeedaviation.com.
Telescoping Magnetic LED Flashlight
Impeltronics' LED Telescoping Magnetic Flashlight can also stretch to nearly two feet, making it convenient for lighting up places where a normal flashlight might not work best in an airplane. With a flexible LED 360-degree directional rotation, the tool stays bright longer, to allow for optimal visibility. The flashlight is constructed from aluminum and features two magnetic ends. It's offered in black, silver, red, blue and pink. Contact: www.impeltronics.com.