Inside the fortified walls of Old Québec looms Château Frontenac, towering over narrow cobblestone streets and the immense St. Lawrence River. The historic grand hotel opened in 1893 to help promote luxury tourism. As such, it's the perfect launching spot for Air Journey's transatlantic flying trips. And this is the mother of all trips. Over 76 days, five airplanes will travel 25,000 nautical miles to 36 destinations in 27 countries, circling the globe.
Upon check-in at the hotel, I'm greeted by a travel-themed array of chocolates, and a manager presents me with a limited-edition key made from a piece of the building's original copper roof. These small touches are a precursor of what's to come, setting the stage for what Air Journey does best: first-class service.
At 4:00 p.m., our group meets in a private conference room for a briefing session led by Air Journey owner Thierry Pouille and Director of Flight Operations, Guillaume "G" Fabry. G is here to prep the trip and then will go to the Eclipse Jet Owners convention in Texas. Materials at the brief include in-depth cultural, historical and political information about each destination, and a detailed itinerary for each stop. Each aircraft owner also receives a customized set of pre-prepared flight plans. Special items, such as bright-yellow safety vests and official crew badges, are handed out. Focus is on safety, and a discussion ensues on the pros and cons of wearing immersion suits during the ocean crossings.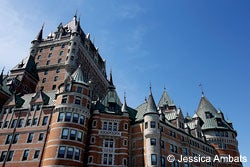 Chateau Frontenac in Quebec, Canada.
G's brief of the first leg tomorrow morning from Jean Lesage International Airport to Kuujjuaq, Canada, includes airport diagrams and photos, so that pilots can visualize what the approaches will look like. Files are downloaded from G's computer directly to iPads via an app called AirStash, allowing everyone to always have the latest documents and weather charts.
Headquartered in Jupiter, Fla., Air Journey has been leading flying journeys for more than 15 years worldwide. Clients can opt for an escorted trip, like this one, where a member of the Air Journey team flies with them. Or they can use the concierge service, traveling on their own but under the watchful eye of Air Journey, which coordinates all logistics remotely, based on a pre-arranged custom itinerary. Either way, every detail of the trip is taken care of, including flight plans, customs documents, landing permits, hotel reservations and anything else that's required. If you happen to goof something up, like misplace your passport, Air Journey will solve the problem. It isn't unheard of for G to be in the office and receive a message from Thierry: "I need you to fly to Dubai. This afternoon!"
If circumnavigating the globe is too daunting or out of financial reach, there are other options to fit a range of budgets and schedules. Full concierge service for the Bahamas starts at $395, and you can even do it in a rental plane. Ben Marcus spent a weekend exploring the islands with his wife in a Cirrus SR22. "Thierry and his team took great care of us," says Ben. "They made our short trip totally easy and worry-free."
LEFT TO RIGHT: Restaurant Roklubben in Kangerlussuaq, Greenland. Strokkur geyser. the Mid-Atlantic Ridge on the Ring Road in Iceland.
---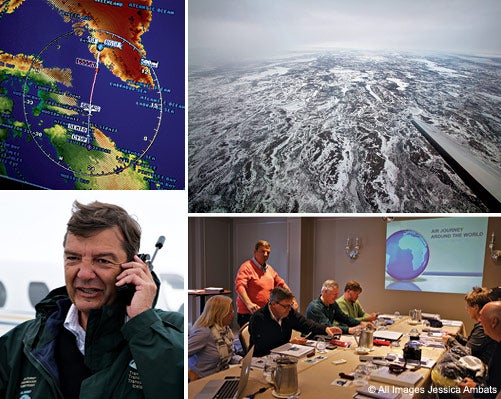 CLOCKWISE FROM TOP LEFT: Pilots are required to give a position report at GRIBBS when crossing the Atlantic Ocean. Descending into Kuujjuaq, Canada. Comprehensive pilot briefings take place the day before each flight. Thierry Pouille checks in with the home office via sat phone.
Today's journey is the fourth Around The World trip that Air Journey has escorted. Bill and Corinna Hettinger are flying their 1980 Citation ISP, which has a Sierra Eagle II conversion for better performance. Jimmy Hayes, retired president of Cox Enterprises, and Laura Azara, a pilot with Ascension Air, are in Jimmy's Pilatus PC-12 NG, with two of Jimmy's friends riding in the cabin. Laura, who trained at Embry-Riddle and used to fly regional airliners, is one of the youngest to fly around the world in a Pilatus. David and Betty Schlacter are in their TBM 850, a speedster turboprop. A Rockwell Twin Commander is flown by father-son team Brad and Scott Howard, who wind up on the receiving end of good-natured teasing about the haphazard "bachelor pad" clutter in their cabin. I'm flying with Thierry in his Citation Mustang on the first several legs until Reykjavik. Also in the Mustang is Parisian pilot Didier Cheutin, who'll continue with Thierry until London.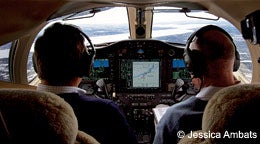 The Koksoak River comes into view on approach to Kuujjuaq.
That brings our current group to 13 people. Over the next 11 weeks however, there will be more than 30 people swaps, with friends and family joining for different portions of the trip. It's a complex mission that Air Journey is well-prepared for. Thierry stays in frequent contact with the Florida office via satellite phone, and his staff tracks the group via his Spidertracks device. If there are any weather issues en route, the office can offer tactical suggestions in real time, for example "Deviating to the right will keep you in the clear."
It's not just flight and travel logistics that need to be managed. Thierry and his team excel at working with all personalities. "It's a big undertaking to fly your own plane around the world," says Thierry. "Our job is to find out where our clients' weaknesses are and help them, even if they won't admit they need help." On this trip, we're in good shape. The group dynamics are lively and fully engaged.
The First Leg
Grey clouds and light rain fill the morning skies, and Thierry's weather rule dictates that go/no-go decisions will be determined by the lowest common denominator. Everyone needs to be comfortable for it to be a go. There's no point in pushing questionable conditions and causing stress. After evaluating weather charts, the consensus is that it looks doable.
Air Journey provides pilots with customized flight logs. Corinna and Bill Hettinger with their Citation jet.
---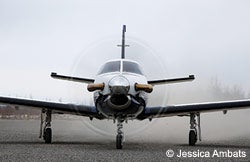 David Schlacter taxis on the ramp at Kuujjuaq.
On group trips, Thierry will typically depart first. This allows him to relay weather reports en route to the others on a discrete frequency. Upon his early arrival at the next destination, he can begin the fueling process and take care of any necessary paperwork to make the arrivals seamless for everyone. The departure sequence of the remaining planes is largely determined by what altitudes they'll fly at. They need to be spaced accordingly, so no one will be kept lower than desired. Thierry's daughter, Anais, will often airline a day in advance to the next location and prepare everything to the point that she'll hand hotel room keys to clients as they step off their plane.
We load bags on the wet ramp, and G waves us off. After our departure, he visits the control tower to snap a photo of the radar screen showing all of the planes together. It's a nice memento of the beginning of an ambitious endeavor, and yet another small touch that Air Journey adds to the experience.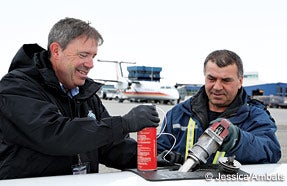 Bill Hettinger adds his own Prist while fueling at Kuujjuaq.
Almost immediately, we're in the clouds. We break out on our climb to FL 370. It's a straightforward flight, and when the ground appears on descent, we're suddenly in a new world, where bright snow is contrasted against dark green pine trees. As we approach the Koksoak River, there's a sense of familiarity and ease, having reviewed the photos during the pilot brief the day prior.
Shortly after we land, Bill and Corinna arrive, followed by the others. Thierry already has the fuel truck at work, has discussed weather for the next leg with the home office and is at the door of each plane to greet everyone with a smile. There's a heightened sense of excitement having completed the first leg of the big adventure. Although we've only flown 750 nm (24,250 more to go on the trip!), the Air Inuit Dash-8 aircraft on the ramp and the wintery atmosphere make it seem like we've come much farther. The adventure has begun.
Across The Pond
The next leg is our first ocean crossing, another 750 nm from Kuujjuaq to Kangerlussuaq, a former U.S. military base tucked into a remote fjord on the western coast of Greenland. It would be a shorter distance to fly to Narsarsuaq, on the southern tip, but that course could overlap with airliner routes, and potential separation conflicts could prevent climbs. So, Thierry has made the prudent decision to head up the craggy coast.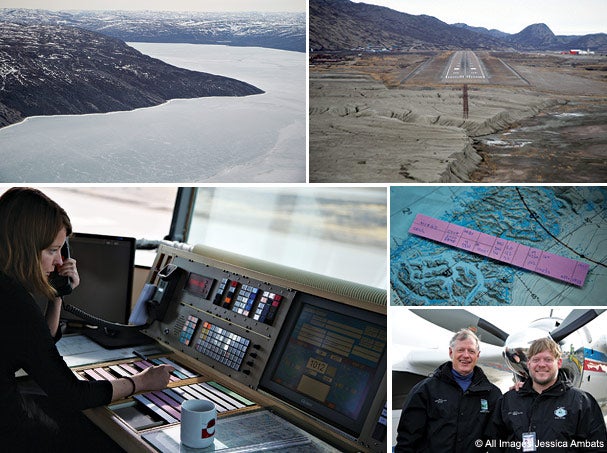 CLOCKWISE FROM TOP LEFT: Frozen lakes in the Sondrestrom Fjord. On final to runway 09 at Kangerlussuaq. The ATC strip for N15GJ. Father-son team Brad and Scott Howard. In the tower cab at Kangerlussuaq.
---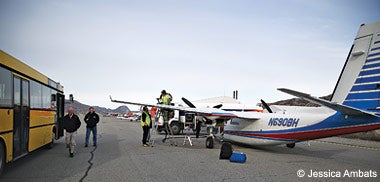 Fueling the Howards' Twin Commander on the ramp at Kangerlussuaq.
Over the ocean at FL 390, we're above another solid cloud layer, and the deep-blue sky turns sapphire against the stark white horizon. The moving map on the Garmin G1000 is the only indication that we're over water, and for fun, we check the Nearest Airports page—there are none.
The weather at Kangerlussuaq is VFR, and we plan on a straight-in for runway 09. Thierry goes on frequency with the rest of the group to relay an updated weather report and pirep on cloud bases. The moment the ground comes into sight, we're awestruck. Sondrestrom Fjord is a blend of glaciers, icebergs, mountains and intricate patterns of glacial silt. There are no roads in sight, because no roads exist between towns. Transportation within Greenland is primarily by air.
On final, we have a clear view of the town, population 550. To the north is the hotel—the only hotel. To the south, several colorful buildings stand out against the austere terrain. Beyond the airport, we can see the edge of the Greenland Ice Sheet, which covers 80% of the country's surface.
| | |
| --- | --- |
| Betty and David Schlacter. | Jimmy Hayes and Laura Azara. |
Landing is uneventful, and immediately, Thierry starts coordinating a hotel shuttle, fuel and tour of the tower. The controller, a young woman from Denmark, welcomes us in the cab and keenly answers our questions about what it's like to work on such a remote airfield. Parked at the base of the tower are several Lockheed LC-130s. These USAF aircraft are equipped with skis and flown by the New York Air National Guard to transport supplies and scientists to research stations on the ice cap.
Thierry has arranged for dinner at Roklubben, a (frozen) lakeside restaurant that has musk ox and reindeer on the menu, and JATO canisters as décor. Having completed the first day of circumnavigating the globe, the mood is festive under the midnight sun of the Arctic Circle.
---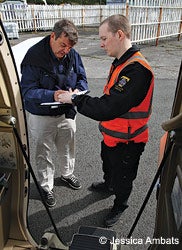 Thierry completes customs forms upon arrival at Reykjavik.
Across The Ice Sheet
The next morning, Thierry runs the standard briefing session, and we depart for Iceland. It will be 380 nm over the ice cap and 370 nm over the Atlantic.
We outclimb the clouds into the flight levels, but as we cruise east, it's unclear if the vast, flat whiteness we see below is still clouds or the ice sheet. Not much later, we spot mountains, then glaciers, frozen lakes and seas of massive icebergs.
The shore disappears from sight, and we're back over the ocean. It's time to make a position report with Iceland radio, and Thierry puts me to the task. "N15GJ. Over 65N 30W at 1343, Flight Level 370. Estimate GIMLI at 1357. Destination next BIRK." There's a running joke among the group that whoever messes up on the radio has to buy the first round of drinks that night. I'm in the clear, for now.
Iceland has a population of 325,000, two-thirds of which live in the capital city, Reykjavik. The main commercial airport is in Keflavik, a short distance from the capital, but we're headed for Reykjavik Airport (BIRK), the largest domestic airport. We fly the ILS for runway 19, and customs greets us on the ramp. Thierry handles all of the necessary documents, and there's nothing for the rest of us to do but hand over passports to be stamped and take in our new Nordic surroundings. The FBO arranges taxis, and minutes later, we're exploring downtown Reykjavik.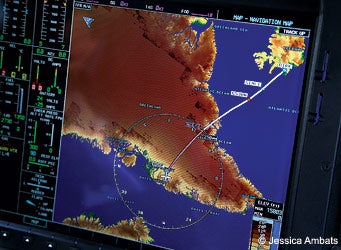 It will be 380 nm over the Greenland Ice Sheet and 370 nm over the Atlantic Ocean to Reykjavik, Iceland.
Air Journey trips are scheduled with a balance between flying days and ground activities. Iceland is a wonder of volcanoes, lava fields, waterfalls and glaciers deserving of exploration. Thierry has booked oversized "Super Jeeps" to tour attractions that include the Mid-Atlantic Ridge, where the boundary between the Eurasian and North American tectonic plates is visible, and the Blue Lagoon, a geothermal spa known for its 100-degree milky-blue water and swim-up bar.
It's here in the land of fire and ice that I part with the group. Their upcoming flights will take them through Europe, northern Africa, the Middle East, Asia and Russia before returning to the States via Alaska. As this goes to press, the five-ship has just touched down in the United Arab Emirates. "We have made it to Dubai!" Laura Azara posted online. "We flew right over downtown and the Palm Islands. What an amazing place."
Follow more Air Journey adventures at airjourney.com/blog.