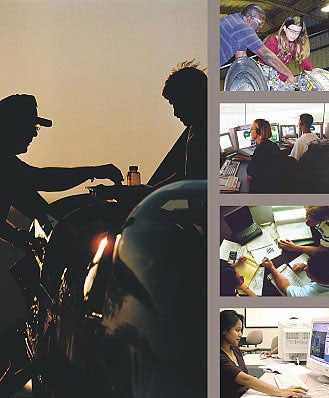 For aviation nuts whose forte isn't flying, there are plenty of career opportunities on the ground. There's a huge demand for aircraft maintenance personnel, and there will be several openings in air traffic control, since many professionals are retiring soon. Aviation computing is a growing field, and airport managers can quickly climb the career ladder.
Not everyone who loves airplanes wants to be a pilot. Obviously, there's much more to aviation than flying. The spectrum of service to the aircraft industry is as wide as a rainbow that is arcing the sky—there's something for everybody. And here's just a small sampling.
Airport Management
Airport management carries a lot more than the common connotations of financial issues or day-to-day operations, and the greatest success is through management training that is specific to the needs of airplanes and air transport. "Our airport-management students are those with a keen interest in airplanes, but seek intellectual challenges beyond the cockpit," says Dr. Mike Barker, director for airport management and development at Florida Institute of Technology in Melbourne, Fla., a provider of aviation managers. "They're turned on by the excitement and glamour of the job's diversity, its business and political aspects, working with aviation technology and dealing with the airlines. FIT's enrollments into this field have actually increased since the economy's downturn and the events of 9/11. Every substantial airport, at home and abroad, hires managers right out of college. Additionally, a large contingent of our students join airport consulting firms. Airports engage these national and international firms to accomplish such projects as master planning, construction and expansion, environmental planning and response, or airline service development. These managers are somewhat mobile, as they satisfy contracts that range from six months to several years. Applicants to these firms must possess a strong educational background in aviation management."
Airport management provides a good income and career ladder. FIT graduates, by example, can expect starting salaries from the mid-$30,000s to the high $40,000s. After four to six years, they can earn about $60,000 to $70,000, with higher earnings beyond.
"Women across the country have done extremely well in airport management and there's no ceiling to their careers," adds Baker. "The industry is receptive and many of the nation's largest airports are currently being run by women who have risen very quickly. We encourage their enrollment into this field of study."
---
Aviation Computing
Most who choose an aviation career in computing already have a fascination with airplanes and they want to connect that interest with their passion for computers. Since today's high-tech aircraft have been described as computers with wings, the two worlds of aviation and computers are a perfect match.
"Technology drives our lives and the computing job market is excellent," says Dr. Janet Hartman, head of the computer and software engineering department at Embry-Riddle Aeronautical University, an aviation school noted for its work with embedded systems (special-purpose microcomputers hidden within other devices), in Daytona Beach, Fla. "This is particularly true in software engineering, the fastest growing area in computing. Most of our students have an attractive job secured prior to leaving school, and 100% of our graduates are placed within a year. Starting salaries for computer-science graduates average $48,000. Computer engineers typically start at about $53,000, with software engineers earning $63,000. Those with a master's degree enter the field at higher salaries."
Air Traffic Control (ATC)
Due to political issues and economic uncertainties, the FAA has hired almost no new controllers during recent months. This is because of the 1981 Professional Air Traffic Controllers Organization strike for safer traffic control, which led to the president firing and replacing over 10,000 controllers. In 2006 (25 years after their hire date), all of these replacement controllers will become eligible for early retirement and those who were over 30 when they were hired in 1981 will have reached the mandatory retirement age of 56. This will open the doors to aspiring air traffic controllers, making this particular job market's near-future prospects a positive one.
ATC requires either a two- or four-year degree. In addition to core college academics and ATC technical training. Studies necessary to do the job include aerospace law, human factors, air transportation, airline safety and aviation management.
Several years ago, to assure meeting the educational demands of this particular career, University of North Dakota's John D. Odegard School of Aerospace Sciences and the FAA co-founded the Collegiate Training Initiative Program to professionally train controllers. Today, 13 colleges and universities participate in this program—the surest route into an ATC career. Many of these CTI schools require students to earn a pilot certificate prior to graduation, in addition to other ATC program requirements.
The investment of money and effort for this particular education field is substantial, but so is the reward, as explained by Gary Bartelson, director of the ATC program at the University of North Dakota: "CTI graduates earn an entry salary of $28,000 to $32,000, which grows to about $45,000 by their first year. As you start moving up the ladder, you'll earn $55,000 at a level-six facility, $80,000 at level nine and then have the potential to climb higher into a six-figure income."
---
Aviation Maintenance
So many aircraft technicians find that their greatest moments of satisfaction come when watching an airplane that they've made airworthy roll out of the shop and climb into the sky. "The prestige attached with working on airplanes and high-tech systems draws many into aviation maintenance," says instructor Alan Williams of Enterprise/Ozark Community College in Ozark, Ala. "Aircraft technicians also understand and appreciate the personal responsibility they hold for the safety and welfare of passengers on board."
Many men and women who became dislocated in the work force discovered aviation maintenance and investigated the opportunities for a good livelihood. Those who are interested in this field of study can find the same enjoyment, as long as they get the training for the highly learnable skills and knowledge that are required for the field.
There are many FAA-certified aviation maintenance schools scattered across the nation. Some focus 100% on technical training, which will prepare students for the A&P certification in less than a year. Other schools are a division of a college granting a two-year associate of applied science degree, which may better prepare those who go this route for upward movement.
"Once you work in this field, many new doors of opportunity will open up for you—some totally unexpected," adds Williams. "Competition is high for these better jobs, and a degree may often be the deciding factor that turns an opportunity your way."
Aviation maintenance provides a comfortable income and career ladder. Entry pay for technicians averages about $30,000 with an expected $39,000 to $46,000 during three to five years of employment. Authorized inspectors make $41,000 to $51,000; service managers earn $44,000 to $58,000; and maintenance directors get paid a salary of $57,000 to $68,000.
The job market for aviation technicians should remain sound over the coming years. This market is being driven, in part, by an aging fleet that requires more maintenance and upgrading, and an aging workforce, many of whom are reaching retirement.
Aviation Dreams Galore
The aviation industry provides many niches for those whose personal dream of working with anything related to airplanes is a call they must answer. Within this broad spectrum, interested students and career-changers—both pilots and non-pilots alike—will find that there is an opportunity to make their aviation dreams come true. To discover the huge scope of aviation prospects on offer, go to the Schools Directory at www.planeandpilotmag.com and request information about the different kinds of aviation-career programs that are available to you.