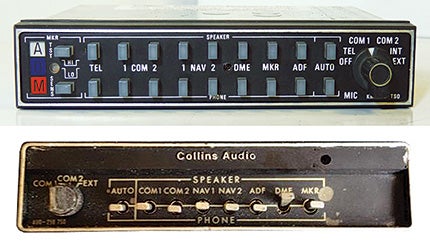 Upgrading old audio systems can make flying more efficient and fun, but check for obsolete wiring.
Over the last 20 years or so, there has been a revolution in general aviation (GA) audio, with noise-cancelling headsets and stereo entertainment systems that bring studio-quality music to pilots and passengers. The same technology also provides new features that offer significant enhancements to pilot safety and crew efficiency. But there's a catch: Not every airplane is properly wired to exploit the new systems. So, before we look at new features, let's consider the wiring.
According to the FAA, today's average GA airplane is more than 40 years old, and many of those airplanes were manufactured without an intercom system. Some were built without any electrical system at all. For those airplanes, it's necessary to add audio wiring. An inexpensive, time-tested solution is a portable intercom system. Typically, that consists of a box that can be placed on the floor or secured in a convenient location with Velcro®. Power is provided either through a cigarette lighter adapter or batteries. Cables run from the intercom to the pilot's headset and microphone jacks, and jacks are provided for pilot and passenger headsets.
The big advantage of a portable intercom is low cost. A couple of hundred dollars will buy a two-place unit, and another hundred or so can expand it for four. And these units offer a range of technically sophisticated features, including high-fidelity stereo audio (with an auxiliary jack for input from portable music devices), digital voice recording and audio checklists.
The downside of a portable intercom is that you wind up with cables from the intercom to the panel, and you may need extension cables to reach back-seat passengers. I flew with one for more than a year, and while I had no complaint with its audio performance, replacing it with a panel-mount unit was high on my list of upgrades.
Aside from putting the cabling behind the upholstery, adding a panel-mount intercom gave me the opportunity to upgrade the primitive audio switching panel in the airplane, which only gave me toggle switches to select which radio I was transmitting on, and which I could listen to either on my headset or the built-in speaker. I removed that old audio panel and an obsolete three-light marker beacon receiver, and replaced both with a single unit that combined audio switching, marker beacon and intercom functions.
The advantage that offered was programmable switching with significant new functionality. Most panel-mount intercom systems have a pilot-isolate function. With that selected, the pilot can talk on (and hear) the selected radio, but won't hear the passengers, who in turn can hear each other and any entertainment audio, but they won't hear the pilot. That's useful in busy airspace where you need to talk to ATC without interruption. Advanced units add a crew-isolate function that allows both the pilot and copilot to talk to each other and use the radio, while back-seat passengers listen to music (and each other). The particular unit that I installed also had a COMM1/COMM2 function, which connects the pilot to the first radio and the copilot to the second radio. I found that useful in a number of situations when I had another pilot in the right front seat; one of us could talk to Flight Watch, while the other monitored the local approach frequency, for instance. It was particularly useful in busy Southern California airspace.
The catch was that installing that unit not only required removing the old avionics, but also installing audio cabling and headset jacks for all passengers. That turned out to be a lot of work—some of which I did myself under the supervision of a licensed aircraft and powerplant mechanic. It's a job best done during annual inspection when the airplane will be grounded, anyway.
A wiring harness must be fabricated, with cables cut to approximate length for each seat, and pulled into position. Headset jacks must be installed, and that needs to be done by someone who understands how low-voltage audio systems work. The jacks must be isolated from the airframe with a single common ground return to the intercom. Otherwise, each headset wire becomes an antenna that's all but guaranteed to pick up stray electrical noise.
Even if your airplane is wired for an intercom, the wiring may need to be replaced. Old wiring deteriorates over time, and there's no value in installing a state-of-the-art stereo intercom with old monophonic wiring.
The state of the art has advanced since I last went through this process. The very latest digital panel-mount intercom/audio panel systems offer cell-phone input, digital audio recording (convenient for clearances), voice commands and even a 3-D feature that makes different audio sources sound like they're coming from different directions (ATIS in one ear, and tower in the other).
But, I repeat, all this depends on having an airplane that's properly wired. Before considering an intercom or audio panel upgrade, get together with your mechanic and take a hard look at what audio wiring you have. That will help you generate a realistic estimate of how long it will take—and what it will cost—to wire your airplane for state-of-the-art sound.