So, what do you do if you're a national aerobatic champion, and you want to get to the next level? If you're Walter Extra, you design a new airplane—and 30 years ago, that's just what he did. At the time, biplanes dominated the highest levels of aerobatic competition; however, the Laser 200 and monoplanes from Sukhoi were beginning to have a serious impact on the world scene. Extra could see the future, and it was in high-powered monoplanes.
His first effort, the Extra 230, first flew in the early '80s, and it set the aerobatic world on fire. It had a 200 hp Lycoming engine, a wooden wing, a steel frame fuselage, and it looked remarkably similar to the Laser. It quickly gained a reputation as one of the best-balanced aerobatic airplanes in the world. A rising star named Patty Wagstaff became an early adopter, winning her first national title in an Extra 230 in 1991. She went on to win two more national titles along with a slew of championships and has dazzled millions with her air shows—all while flying Extras.
A lot has happened since then to keep Walter Extra busy. His designs have continued to place very highly in aerobatic competitions all over the world, and with over 300 in the U.S. fleet alone, Extras have grown in popularity among pilots everywhere. It's hard to count the exact number of models, but it's safe to say that there are close to a dozen. All of them share many basic features.
First, Extras are widely considered to be among the best-looking airplanes ever designed. With a single-seat aerobatic load rating of +/- 10 Gs, they're stronger than a F-16—and even more nimble. These are true composite airplanes with a strong steel cage fuselage, a Kevlar/wood/carbon and glass-fiber wing, fabric and glass-fiber coverings and a wood-core MT propeller. Models include the 200 for cost-conscience buyers, the 300SR designed for Red Bull racing and the 330SC, a no-holds-barred, single-seat version for unlimited competition (flown by Michael Goulian and others). Over the years, the best-selling model has been the fully certified two-seat 300L, which provides a nice balance of power (300 hp), economy and handling for the weekend warrior, with an eye toward more advanced maneuvers or competition.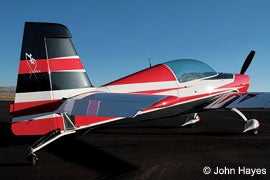 Introducing The Extra 330LT
Over time, the folks at Extra discovered that although customers bought an Extra for aerobatics, many of them also wanted things like autopilots, cameras, plush, comfortable seats and a full panel with advanced navigation capability. Customers weren't just using all of that stuff to travel between competitions; they were using it for touring, and sharing flying with friends and family. Aerobatic capability was a starting point, but many customers wanted more versatility. So in 2010, the folks at Extra introduced a new model, the Extra 330LT, to address this market, and in the process produced a touring aerobatic plane that lays claim as the fastest normally aspirated production piston aircraft in the world.
The 330LT incorporates a number of unique features. First, there's a whole new wing. Unlike other Extras that have a draggy symmetric airfoil optimized for aerobatics, the LT has an asymmetric airfoil with sleek curved tips optimized for lift and low drag. The design borrows heavily from the Red Bull racer. Large ailerons that span about three-fourths of each wing replace the nearly full-span ailerons used on other Extra models. The "L" in the model designator means that the wing is mounted low on the fuselage. Compared to earlier mid-wing Extras, the low wing helps a bit during landing because it's easier to see the ground just before touchdown, but mainly, the low wing makes it easy to get in and out of the airplane.
---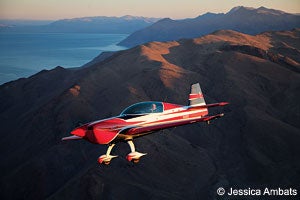 The new Extra 330LT is a great cross-country performer. With a top speed of 205 KTAS, it covers a lot of ground in a short time, and the big canopy provides a spectacular view along the way.
Next, there's the engine. The AEIO-580-B1A Lycoming engine delivers 315 hp and is equipped with a fully inverted oil and fuel system. That's a lot of power for an airplane with an empty weight of only 1,493 pounds. The adjustable MT, three-blade, composite prop has fat blades optimized for converting engine power to thrust. Fuel is supplied through connected wing tanks or an aerobatic tank located just forward of the front passenger seat. The akro tanks hold 17.7 gallons, which makes it easy to get out to a nearby aerobatic box, fly some akro, and still get back on the ground with a legal 30-minute reserve. The full-fuel capacity of 58 gallons provides cross-country VFR endurance of just about three hours.
Then, there's the panel. If you want to travel in style, the LT has it all—ranging from an Aspen PFD and multifunction display to a Garmin GTN 650 touch-screen GPS/navigator. Also new is electric pitch trim. The older trim systems in Extras were effective, but somewhat clunky set-and-forget friction-locked mechanical levers. This new trim system provides fine adjustment for nearly hands-off flying. Hidden below the panel, there's even an automotive-style power jack, in case you want to run another portable device in flight. The rudder pedals in the back are electrically adjustable, so it's quick and easy to properly position the pedals. For those who might want an autopilot, the TruTrak Sorcerer works really well as an uncertified option.
Finally, there's the fit and finish. The paint on new Extras is world class. It's now done with water-based paints that can be very precisely applied. The surfaces are completely smooth and flawless, with no discernable ridge where colors meet. The new paint schemes are modern, exciting and enticing—just the thing for a high-performance plane like the Extra. Walk to the front of the plane and look at the air inlet. Even the stainless-steel inlet screen is a work of art. Look closely, and you'll notice that the screen has the three-wing Extra logo embedded in the design. Check out the airframe: Every seam is even and every line perfect. The 330LT fuselage incorporates a new swing-up hatch that allows easy access to a small baggage compartment directly behind the rear seat. Big enough for a small, soft bag, this is a big improvement over the small, hard-to-access baggage area offered in earlier models. As you move around to the interior, you'll find the finest European stitched leather covering the contoured seats. A five-point ratcheted Hooker harness is standard for each seat. Finally, the panel is finished in polished black carbon fiber that provides a no-nonsense, high-tech look.

If you want to travel in style, the LT has it all—from an Aspen PFD and MFD to a Garmin GTN 650 touch screen.

Strap In And Blast Off
After the air races, I met with Doug Vayda, the director of sales and chief pilot for Southeast Aero at Reno Stead airport for a quick tour and demo flight of a brand-new 330LT. Since I've been flying Extras for many years, Vayda kindly agreed to let me have the pilot seat in back.
So, what's it like to fly the LT? The first thing to keep in mind is that it's a lot of engine attached to just a little bit of airplane, so things happen pretty fast. Startup is pretty much standard Lycoming. Mags on, mixture, throttle, prop full in, boost pump on for five seconds, close the mixture and crack the throttle open. Spin the prop and apply fuel when the engine kicks over. I immediately noticed just how smoothly the IO-580 runs—both at idle and at full power. Just keep in mind that there isn't much distance or soundproofing between that big engine and the cockpit. There's no sugarcoating the fact that Extras are loud, so a good headset is required. Although a few noise-cancelling headsets will work, many owners find that passive in-ear solutions work better. Either way, with the right headset, noise isn't a problem.
---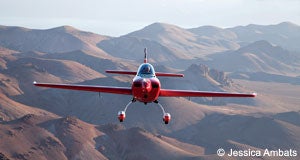 Takeoff is simple: mixture rich, prop full in, stick back, open the throttle and hang on. Forty knots happens in about four seconds; then bring the tail up with a light push on the stick. Accelerate to 60 knots, lift the nose, and you're sky-bound. There were two of us onboard, and we didn't try very hard, but we were airborne in about 600 feet. Simply hold the stick back the whole time, and you'll be airborne even more quickly. Off the runway, hold 90 KIAS, and you'll see the climb rate hit 2,000-4,000 fpm depending on the conditions. The density altitude was pretty high, and with two of us onboard, the climb rate only just touched 2,000 fpm. Take off at sea level on a cool day with just one onboard, and the same airplane will climb out at close to 4,000 fpm. It's a rocket ship.
If you've never flown a high-performance aerobatic airplane, that might sound a bit intimidating; but you're in for a surprise. Take the controls, and you'll quickly discover that an Extra is an absolute delight to fly. The controls are well-harmonized yet responsive, the visibility is superb, and the airplane will follow any suggestion that you pass to it through the controls. Sit up, pay attention, and you'll quickly find that it's easy to fly more precisely than you ever thought possible. You don't have to be Patty Wagstaff to enjoy this kind of performance.
The first thing I noticed is that the LT flies a bit more nose-low than the 300L, so forward visibility is improved. Second, that new wing definitely makes a difference when it comes to speed. Leveling at 8,500 feet and trimming the power to 2,400 rpm at about 16.5 gph with the throttle wide open, the 330LT rapidly accelerated to 160 KIAS—right at the top of the green arc. That's over 180 knots true, which is about 20 KTAS faster than a 300L at a similar power setting. I've flown the 300L in a formation takeoff with a 330LT and watched in amazement as the LT very quickly disappeared into a dot in the distance. It wasn't even close. The LT has a published top speed of 205 KTAS, so there's just no comparison when it comes to speed. It's basically an airborne Ferrari—only faster.
ABOVE, LEFT TO RIGHT: A new externally accessible baggage area holds a small bag or other items for cross-country trips. The wingtips have been reshaped with rounded edges and swept-up wingtips. The MT prop provides maximum thrust at slow airspeed to aid controllability during slow maneuvers.
How About A Little Akro?
When it comes to aerobatics, how does the 330L akro/touring model compare to the more aerobatically tuned 300L that I normally fly? In cruise, the 330LT has a more stable feel. Hands-off, it flies straight and level, whereas the 300L tends to require minor corrections every 10 seconds or so. Straight and level stability is another virtue that makes the LT well-suited to cross-country flying. My first thought was that all that stability might not be so good for aerobatics, but sometimes first impressions can be wrong!
Rolling inverted, I expected the asymmetric wing to require a noticeably higher nose position than the 300L and inadvertently applied a bit too much forward stick. So, we climbed inverted. Oops, I forgot that the wing is still attached to the fuselage at pretty much zero angle of incidence, so the inverted sight picture between the two airplanes is pretty similar. Hammerheads and loops are easy and super fun. Pitch and roll authority are impressive, and the only thing I missed was an aerobatic sight out on the wing tip. Our demo airplane didn't have one, but the good news is that there's room on the new wing for customers who might want one.
---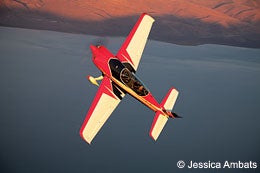 Aerobatics are what Extras are all about. Whether you fly at an advanced level or you're working on the primary maneuvers, the responsive controls will put a smile on your face.
Rolls in the LT definitely require more stick movement to achieve rapid rates; however, with full deflection, the 330LT's maximum roll rate of 270 degrees per second is plenty fast. If that's not enough, a snap will get you around considerably faster. The biggest difference from the 300L is in how crisp the ailerons feel. Roll precision is slightly "softer" in the 330LT compared to the 300L. That characteristic actually makes four-point rolls seem slightly easier in the LT because it's a bit harder to "wobble" a stop. With the right technique and a little practice, point rolls can be made to look crisp and perfect. Doug demonstrated a knife-edge, and the 330LT definitely holds a higher angle than the 300L. He went on to explain that the LT has the capability to do very well up through at least the intermediate level of aerobatic competition. For most weekend warriors, that's plenty of performance! The 330LT is certainly an excellent choice for any pilot interested in aerobatics, flying with friends, or traveling.
Extra Landings
Years ago when I first checked out in an Extra, my insurance guy asked how much tailwheel time I had and I replied, "Zero." He rolled his eyes, and said, "Great…it's not like you're starting with, say, a Luscombe!" Next, I called a local Extra instructor, and when he heard how much tailwheel time I had, he said, "The Extra is such an easy tailwheel airplane that I hate to use it for the sign-off. It's not like it's, say, a Luscombe!" Go figure. I've still never flown a Luscombe, but after about 1,000 Extra landings, I have to agree with my first instructor. The Extra is a very easy tailwheel airplane to master. Just remember that all landings are done with no flaps, so speeds tend to be bit higher than for many other tailwheel airplanes. Fortunately, it has tremendous control authority, so it's easy to control on the ground—even in squirrely winds. Nail the speed, and you can do a three-point landing and stop within 450 feet. Wheel landings are only a bit trickier, but require considerably more runway. You just have to get used to an approach speed of about 100 knots to make good wheel landings. Like other taildraggers, forward visibility is somewhat limited, so S-turns are often required both in the sky and on the ground. With a little practice, you'll get the sight picture, and it's an easy plane to grease onto the runway.

The LT has a published top speed of 205 KTAS, so there's no comparison when it comes to speed.

Certification
Right now, the Extra 330LT is being sold with an experimental-type certificate, but that's about to change. The paperwork is submitted and full certification is expected "real(ly) soon now." With 25 already in customer hands, the Extra 330LT is selling well and proving to be a very popular model. This just could be the coolest plane to hit your hangar in a long time, and it's almost guaranteed to leave a grin on your face a mile wide. Just be ready for a crowd wherever you go!