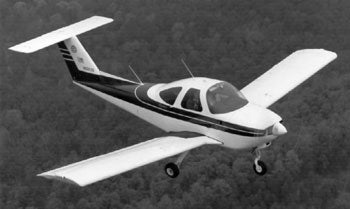 STANDARD DATA: Seats 2. Gross wt. 1,675. Empty wt. 1,100. Fuel capacity 30. Engine 115-hp Lycoming.
PERFORMANCE: Top mph 122. Cruise mph 121. Stall mph 54. Initial climb rate 720. Ceiling 12,900. Takeoff distance (50′) 1,280. Landing distance (50′) 1,313. Range 447.
Originally designated the PD 28'S, this single-engine trainer was first delivered in early 1979. A low-wing Ttail model, it was powered by a four-cylinder Lycoming engine rated at 115 hp at 2,700 RPM. The Skipper's canopy-type cabin gives the instructor and student pilot optimum, all-around visibility, while both left and right doors provide for convenient entry. An external tunnel on the bottom of the fuselage houses primary controls and makes for additional cabin room, as well as allowing for easy maintenance. A new concept in airfoil design was utilized by the Skipper. Its airfoil section is an outgrowth of NASA's high-speed, super-critical airfoil technology and provides a lower drag, higher lift capability. The T-tail configuration places the horizontal stabilizer above the slipstream in undisturbed air to give smoother flight and more positive control during landing maneuvers.
The Skipper is the third Beechcraft T-tail model, following the Super King Air and Duchess. A substantial portion of its construction is bonded metal, including the lower cabin section of the fuselage, the entire wing, the leading edge of the vertical stabilizer, the trim tabs, and the rudder. The landing gear is a low-maintenance, spring system designed for sturdiness and utility. Control response is superbly balanced, and the ailerons are quite frisky in all speed ranges right down to the stall. Stalling the Skipper is almost fun. The wings give lots of prestall buffetto let you know that it is about to quit flying. For cross-country flights, the 29 gallons of usable fuel combine with a 65% power setting to yield a 4.6-hour endurance. Only 312 of these two-place trainers were built before production was halted abruptly in 1981.
---
The Beechcraft Skipper is one of the best deals on the used market. Check out some of the otherCheapest Planes In The Sky.