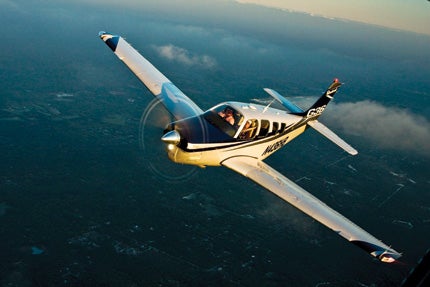 When I was a college student about XX years ago, one of the coolest cars on the planet was the Jaguar XKE. I had a rich classmate whose parents bought him one of the first ones available, and Jack quickly became the envy of every guy on campus—and the target of every coed.
The XKE had a look and sound like few other sports cars of its time. Jack's Jag was a swept and sexy coupe, mounted low and stretched long. Resplendent in British racing green (of course), it had a distinct, immediately identifiable, endearingly evil rumble as it growled around campus.
Today, I have my own XKE, this one is a yellow 1969 4.2 roadster, and aside from the fact that it spends more time in the shop than on the road, it's everything Jack's old coupe used to be.
Jaguars may no longer be the leaders of the supercar class, but they still possess an indefinable charisma that keeps them in demand. Performance is a simple matter of horsepower. Charisma is more challenging.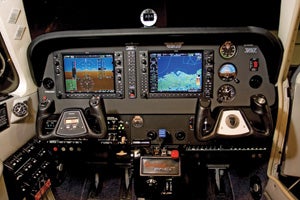 The "G" in G36 was added to the aircraft's name in honor of its sophisticated Garmin G1000/GFC 700 glass panel.
For many pilots, the Beech Bonanza has the same kind of attraction. Just as the Jaguar was an automotive paragon of performance in the '60s, the Bonanza continues to retain a similar attraction among general aviation airplanes. Never mind that its climb and cruise speed have been equaled or eclipsed by a trio of airplanes—the Mooney Ovation, Cessna Corvalis and Cirrus SR22—the Bonanza continues to garner more than its share of attention, a symbol of success repeated some 17,000 times over 62 years (in all versions).
The beautiful-though-controversial Model 35 V-tails are long out of production, and even the more durable and stable Model 33 straight-tails have been discontinued for nearly 15 years. Still, the current six-seat G36 Bonanza soldiers on, defying the odds and selling consistently to a select group of pilots for whom there's nothing else that compares. Taken collectively, the generic Bonanza—from the original 1947 "straight 35" V-tail to the current, glamorous G36—is the longest-running production airplane in the world.
---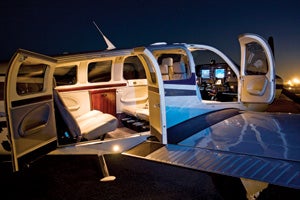 The G36's luxurious interior is reminiscent of a mini corporate jet and is equipped with four bucket seats in the aft cabin.
What has endeared Bonanzas of all varieties to pilots for more than six decades is a combination of ingredients that transcends considerations of pure performance. The airplane is classic/modern in appearance, an admittedly old design updated with new paint and miscellaneous fillets and fairings. The sound level on takeoff is a warm, breathy thunder worthy of another tax bracket, almost turboprop in nature, suggesting exactly the performance you expect.
Perhaps most significant, however, is the indefinable feel of the airplane, achieved with impeccable detail to every tactile feature. Bonanzas manifest a kind of smooth, mechanical synchronicity—an aerodynamic synergy that combines roll, pitch and power to produce pure sensual pleasure.
Bonanzas have always maneuvered with the ease of a sport plane, and the G36, at 3,650 pounds gross, continues that tradition. In fact, Beech offered a delightfully agile aerobatic Bonanza for several years, and even if the current six-seat model isn't approved for vertical and inverted fun, it's nice to know it could recover from an upset without difficulty.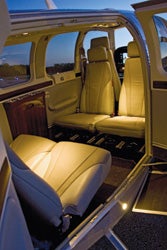 The late Roy LoPresti, an acknowledged aerodynamic expert and speed guru whose motto was, "Life is short—fly fast," once told me that Beech designer Ralph Harmon and his team had done an excellent job of configuring the Model 36 back in 1967. "There really wasn't much left hanging out on the original Bonanza, and the six-seat model was equally well designed," said LoPresti. "We looked at improving the airplane's drag profile with after market mods, and there was so little to be gained, we decided it wasn't worth it. We found some areas of the cowling and nose gear doors that could benefit from a cleanup, but not enough to justify the effort. The 36 is a very efficient airplane, and that's certainly not an accident."
As a result of continuous aerodynamic tweaking (and 300 hp out front), the current Bonanza is a true 1,200 fpm/200 mph airplane, provided you're willing to pour on the power and pour in the fuel. If you're flying from sea level, the airplane comes off the ground and starts uphill aggressively at an initial 1,230 fpm. High cruise (25 squared) at relatively low altitude is worth 176 knots, and a recent check flight in a new 2009 G36 at Sun 'n Fun in Florida confirmed that the airplane will indeed true in the mid-170s at a 6,000-foot density altitude.
By any measure, that's good speed for a production airplane, especially one in the Model 36's weight class. Perhaps sadly, the Saratoga HP was eliminated from Piper's product line for 2009, leaving only the Cessna Stationair as six-place competition. The fixed-gear 206 doesn't make any attempt to compete with the Bonanza's speed, but even when the Saratoga HP was up and running, the 36 was always leader of the pack.
In this day of $5- to $6-per-gallon avgas, flying higher and more efficiently is the usual rule. Up at 10,000 feet, the top number is about 171 knots, but at a considerably lower fuel burn, and that's the more realistic cruise setting. Service ceiling is 18,500 feet, by the way, so cruise heights of 10,000 to 12,000 feet are reasonable.
---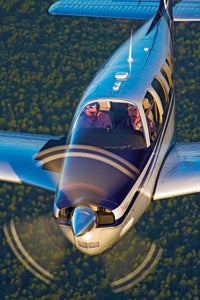 Speed isn't necessarily the name of the G36's game, however. What the airplane does best is transport its passengers in style. The imminently comfortable machine has an interior that's more reminiscent of a miniature corporate jet than an upscale piston single. The aft cabin is fitted with four plushly finished buckets (though it's true that the plane's limited payload makes it difficult to fill every seat).
Beechcraft's specs suggest a maximum useful load of 1,063 pounds. Subtract 444 pounds of fuel, and you're left with a payload of 619 pounds. That's a pilot, two passengers and about 100 pounds of baggage. If you needed to top off the seats with FAA-standard 170-pounders, you'd theoretically be obliged to limit the fuel level to an impractical 43 pounds. (In fact, you couldn't legally operate the airplane at gross with so little fuel, even if you wanted to. Maximum zero fuel weight is 3,509 pounds, so if you were planning a flight at gross, you'd need to pump at least 26 gallons/154 pounds into the tanks.) More realistically, you could carry a pilot and four passengers with about half tanks, worth 1+30 at high cruise or 2+00 at economy settings.
Over the years, I've flown a half-dozen Bonanzas across a few oceans, and they're generally delightful modes of transport, despite a narrower cabin than the only remaining six-seat competitor. The Cessna Stationair has a 42.5-inch-wide cabin and 30 knots less cruise, but it does boast five-seat capability.
If the Bonanza isn't the most spacious airplane in its class, at least Beech makes maximum use of what space there is—even finding room for armrests at center cabin. The G36's aft right cabin doors make entry/egress about as simple as possible, the fold-down writing table allows business travelers to work in transit, and the addition of a satellite phone makes the aft cabin a friendly place to travel while staying in touch with the world below.
Alternately, I have hard evidence that a 36 Bonanza can function as a cargo hauler. Years ago, while flying a Cessna 152/150 taildragger around the bush country of Alaska, I was amazed to see an older 36 Bonanza landing at an 1,800-foot dirt strip across the Cook Inlet from Kenai. Admittedly, the runway was reasonably smooth, but a Bonanza was the last airplane I would have expected to find on an improvised airport.
Perhaps I shouldn't have been so surprised. Though the 36's takeoff distance is twice its landing requirement—so you can't automatically assume the aircraft can leap back into the air in the same distance required to return to ground—it does use essentially the same tough gear and brakes installed in the turboprop Navy T-34C, a trainer used to prep naval aviators for carrier operations. (No, the T-34C never made actual carrier landings.)
The pilot of this Alaskan bush Bonanza had removed all seats except his own, and claimed the resulting available floor space allowed him to carry very large cargo. He had the advantage of most often departing heavy from long, paved runways, offloading in the boondocks and departing light, but the luxurious A36 nevertheless seemed out of place in the land of Super Cubs and Maules.
---
It's hard to imagine anyone flying a new Bonanza into such a hostile environment. The airplane's luxurious appointments and sophisticated avionics would seem more at home on an ILS to KLGB than a visual to No-Name, Alaska. Beech added the "G" in G36 back in 2006 in honor of the airplane's popular Garmin G1000 do-everything NAV/COM system with the GFC 700 autopilot. Most pilots who've been reading this magazine for a while know that the G1000/GFC 700 combination now reaches from practically the bottom rungs of general aviation to the top. Even the new Cessna Mustang jet flies behind a G1000.
Predictably, the Bonanza plays to the most affluent demographic among piston pilots. For 2009, the G36's base tab has been set at $605,000. Contrary to the punch line of the old catch phrase about buying quality, even if you do have to ask how much it costs, perhaps it's worth it.
Ask An Owner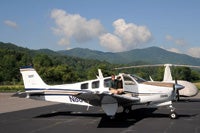 The American Bonanza Society (ABS) is one of the most active aircraft owner organizations around, and we contacted the group to identify members who had recently purchased G36 Bonanzas. Predictably, we were overwhelmed with responses.

It turned out Bonanza owners are nothing if not enthusiastic. We asked for two owners (some 60 responded to the ABS request and suggested they'd be happy to talk about their Bonanzas). These are their comments on the joys of flying the new G36 Bonanza:

Joe Budd of Winston-Salem, N.C., flies a pair of Hawker Beechcraft products all over the East Coast almost exclusively for business. Budd is the CEO of the Budd Group, a company involved in corporate security, landscaping and janitorial services in the Mid-Atlantic and Eastern United States. The executive has been flying a C90B King Air for four years and purchased the G36 specifically to handle short-range missions with reduced passenger loads.

"We typically fly the Bonanza on stage lengths shorter than 250 nm," Budd comments, "most often with three or four people on board. I put 200 hours on the Bonanza in my first year of use, and it's been an excellent asset for our missions."

Budd bought the airplane with most of the available options (including air-conditioning and TCAS) and says the G1000 is ideal for showing airspace, weather and traffic, all of which he has plenty to deal with along the East Coast.

"The airspace is very busy on the East Coast, and the TCAS has really paid for itself with its excellent warning system, especially in IFR conditions. We typically fly the airplane out and back in a day. We can go to a job, get practically a full day on site and be back home comfortably the same evening. We block the G36 at 160 knots and 18 gph, and those are very reliable numbers," says Budd. "The airplane is almost ideal for our short missions. About the only thing I wish we had was more payload, but that's rarely an issue since we're usually flying short distances.

"For our purposes, the G36 is almost the ideal single-engine business airplane."

Toby Wells (pictured left) of Pinehurst, N.C., bought a Skyhawk to learn to fly and became a true new millennium pilot by earning his private ticket on January 1, 2000. An entrepreneur who manages real estate, Wells used his Skyhawk to help his travel needs for the first two years.

"I bought my first Bonanza in 2002," says Wells, "and my wife and I spent 300 hours flying to 20 eastern states." Wells purchased his G36 in 2006 and has put about 200 hours on the new model, flying mostly solo business flights.

"It's a remarkable airplane," Wells says. "The engine is incredibly smooth, Beech quality is excellent, performance is very good—max cruise is about 170 knots on 17 gph—and it's a very comfortable airplane to fly, especially in IFR conditions. I use the GFC 700 autopilot quite a bit, and it's truly excellent for IFR approaches.

"I go to FlightSafety Academy once a year to maintain proficiency for flying manually, but the Garmin autopilot does coupled approaches better than anything I could do manually. It's a smooth autopilot that doesn't kick off in turbulence. That's very reassuring in rough weather."

Wells also enjoys the aft cargo doors. "My wife and I flew to New Hampshire to pick up some furniture a while back. We removed the aft four seats, and the airplane made a great freighter. There aren't many missions the Bonanza can't do."