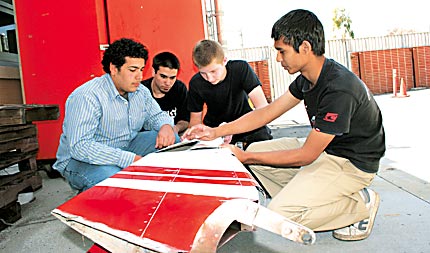 It was late in the afternoon by the time the big truck pulled up outside of John Burroughs High School in Burbank, Calif. The kids had been waiting for hours and they crowded around to see if there was any truth to the news that had flashed throughout the school.
"I didn't believe it at first when he told us," said Patrick Hanna, a student in teacher David Vezina's class. Vezina had given up a job piloting Learjets to teach kids about aviation. He took over the high school's abandoned auto mechanics section as well as its collection of lawnmower engines (for use as teaching aids). It wasn't quite aviation, but it was a start. Now Vezina stood with his students and watched the power of intention unfold. After two years of trying, it was finally happening. The truck outside his classroom began unloading a complete Cessna 150, the school's new Build A Plane project.
"It was awesome when the truck arrived," Pasan Kahantawa, another of Vezina's students said. "You can't imagine how cool it is to see a real airplane at your school!"
"I heard about Build A Plane, so I e-mailed them. Almost immediately I got a call and an offer to help," Vezina said. Build A Plane is a nonprofit organization that hopes to make aviation more accessible to young adults by soliciting donations of real airplanes. Students build or refurbish real aircraft as a basis to learn science, technology, engineering and mathematics.
"We took David Vezina's request for a real airplane directly to Jim Lauerman at Avemco Insurance Company," Build A Plane's Lyn Freeman recalled. "Within a few days, Lauerman located a Cessna 150 that had been damaged in a windstorm in Northern California, and the wheels were set in motion."
The Cessna's owner, Frank Ashby, was told that his airplane would never fly again, but that it could, in effect, have a "new life" as a Build A Plane project at a high school. "I was sad about what happened to my plane, but I was so glad to hear about Build A Plane," Ashby said. He gave his blessing to Avemco and the nonprofit organization, allowing them to make preparations for moving the aircraft into the classroom.
Enter Martha Jones, a vice president from CTC Services Aviation who supervises claim activities for Avemco, including the professional transport of aircraft that need to be moved for repair or salvage. She called Jerry Wallace, a CTC employee in Van Nuys, Calif.
"I immediately fell in love with the idea of getting a real airplane to a high school," Wallace said. "In fact, everybody I talked to about it got excited!" Jones, in turn, spoke with Dennis James who works for a company called Plane Parts. When he learned about Build A Plane's efforts to get the Cessna to Burbank, he immediately offered to transport the aircraft at no charge.
"It was so cool to see all the pieces come together," said Lauerman. From that moment on, Avemco agreed to help other Build A Plane groups find aircraft.
In addition to providing real airplanes to high schools and other interested groups, Build A Plane is working with the National Educational Association, the Wathen Foundation, the FAA, NASA and several key aviation and aerospace organizations to create an aviation-based curricula that teaches science, technology, engineering and math. And for groups that don't have the room or the faculty to construct real aircraft, Build A Plane will soon release a software package and lesson guide that will allow kids to build airplanes virtually. Working on a simple desktop computer, Build A Plane participants can design, construct, then test-fly aircraft using the same software that was used in the development of SpaceShipOne, the first civilian spaceship. Build A Plane groups and individuals can also communicate with one another via the real-time bulletin board at www.buildaplane.org. Currently, there are 16 Build A Plane projects across the United States, more are on the way.
At John Burroughs, David Vezina's class has already begun to disassemble its Cessna 150, but not before each of the kids wrote a personal thank you letter to Build A Plane and Jerry Wallace of CTC Services Aviation.
Alison Cornejo wrote, "Now I'm interested in becoming a pilot in the future." In his letter, Nevin Sliders-Garcia mentioned, "I am planning on going to the Universal Technical Institute, but working on a real airplane such as this one could change my mind and turn me into the aviation field!" Marielle Pizarro wrote, "Thank you for helping us get the airplane donated to our school. It will help us out so much. This will help us now and in the future. When a kind person like you goes out of their way to help, it makes the world a better place."
If that doesn't convince you that a real airplane in the classroom can make a difference, here are some of the other insights that Vezina shared:
Pasan Kahantawa is enrolled at a community college in pursuit of an airframe and powerplant (A&P) degree. Though he's still in high school, he attends the A&P classes on weekends.
Andrew Godin is in the same class as Pasan. He plans on getting his A&P and interning as an aviation mechanic this summer. "I love airplanes and go to air shows like the Blue Angels and the Thunderbirds!" Godin said.
Another of Vezina's students, Patrick Hanna, mentioned, "I want to fly for the Marines!" He has more than 30 hours of flying time logged toward a private pilot license.
A fourth student, Luke Castro, is enrolling at Embry Riddle Aeronautical University. He's learning to fly and has already soloed. "All of us here think we're the luckiest kids in the world," he asserted.
For more information about Build A Plane, visit their Website, www.buildaplane.org.