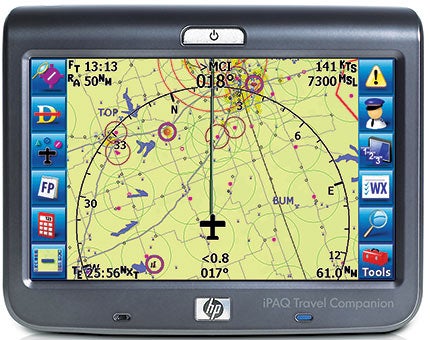 The ATC comes in a compact package with a horizontally oriented screen (above). The higher-end Anywhere Map XP (below) is available on Samsung's Q1 Ultra.
For years now, Control Vision has offered GPS moving-map software on portable devices based on assorted versions of Microsoft Windows. When I first looked at Anywhere Map, it ran on a Pocket PC and required cable connection to an external GPS; the result was a nice (but small) color moving-map display. Today, the company offers several versions of its software on a variety of devices. I recently looked at two: an HP iPAQ 310 preloaded with both aviation and ground navigation software, which Control Vision calls the Anywhere Map Travel Companion (or ATC), and a larger (and more powerful) Samsung Q1 ultramobile PC with a higher-end version of Control Vision's software that runs on Microsoft Windows XP.
Each device has a plug-in USB (Q1) or built-in (ATC) GPS receiver, which eliminates much of the cabling required with earlier Anywhere Map devices. You'll probably still want to run one power cable from the device to a 12-volt outlet (if you have one) to keep the batteries charged (though I was able to operate either device continuously for several hours on internal power).
I was impressed with the ATC. It's a shirt-pocket-sized (4.3×3.4×0.7-inch), 6.6-ounce device with an extremely bright, high-contrast, 4.3-inch, horizontally oriented, LCD screen. Control Vision preloads it with a custom version of its Anywhere Map software for aviation use, but the device also has HP's turn-by-turn navigation software, which I used on a test-drive from my home to my local FBO (I had to type in the street address, but once that was done, the directions worked perfectly). It also has a Bluetooth radio modem that can connect to an XM Satellite Radio receiver for in-flight weather, or with a Bluetooth-compatible cell phone as a hands-free kit.
Using the touch screen to select Anywhere Map brings up Control Vision's moving-map software. View modes include VFR, IFR, TAWS, Approach (an enhanced version of the IFR view with additional detail) and Weather options. Basic waypoint-by-waypoint flight planning is provided. A built-in simulator allows you to set direction, altitude, airspeed and rate of climb/descent for practicing on the ground. Once you have the simulator started, you can jump to any waypoint using the "universal finder," which lets you search for any airport, navaid, fix or user-defined waypoint. I set up several simulated routes with no difficulty. A particularly useful option searches for cheap fuel near your current location, destination or any named airport or fix based on data from www.100LL.com.
I see two problems with the ATC: The device has only an on/off button, and all access to in-flight functions is through a touch screen (including a pop-up alphabetic keyboard). This works well on the ground, but I suspect it may be difficult in rough air. And the only way to update the device is to hook it up to a PC that's connected to the Internet and runs Control Vision's Anywhere Update Center software. The small screen limits what can be shown on the display. The device I was provided with included a "coming soon" advertisement for Control Vision's Pocket Plates software (which displays FAA instrument approach plates, departure procedures and airport diagrams), but the small display will only show partial charts.
---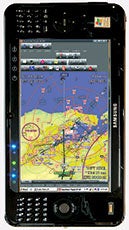 On the other hand, at a suggested retail price of just $745, the ATC offers a lot of capability. I found the display usable even while wearing sunglasses, and in addition to providing solid navigation functions in the air, the device works well on the ground. In comparison with competing devices, the one thing missing is a simulated instrument panel for emergency use.
For more demanding users, Control Vision offers Anywhere Map XP software on a variety of devices, including Samsung's Q1 Ultra. That's a larger (9×4.9×1.2-inch), heavier (1.9-pound) device, but it's a full computer with a 1.33 GHz processor, 1 GB RAM, a 40 GB hard drive and a seven-inch display that will show a complete approach plate with legible (if small) text. It also has built-in wireless Ethernet, which can be used for updates and to download weather through the extra-cost Anywhere Link service that offers features comparable to those available through XM Satellite Radio (including NEXRAD imagery, lightning strikes, cloud tops, METARs/TAFs and TFRs). When I tested this feature while planning a trip in San Francisco, it alerted me to two TFRs of which I hadn't been aware.
The Q1's small keyboard is split between the left and right sides of the display (when held horizontally), but I found that useless when operating the device in vertical mode, which makes more sense for aviation use on a yoke mount. Just like the ATC, Anywhere Map functions on the Q1 are accessed using a touch screen, including a very small pop-up keyboard. That works fine on the ground, but I have some doubts about how well it will work in the air, particularly in turbulence. The Q1 display is good, but not as bright as the ATC's, and it has a polished top that reflects glare in some situations.
The biggest issue for both the ATC and Anywhere Map XP on the Q1 (or other hardware) is documentation. Currently, neither unit comes with a printed manual (though Control Vision says a printed manual with an index will be available for the ATC by the time you read this article—users will be able to download it or have a copy mailed to them). Control Vision provides online manuals in PDF format, which I downloaded and printed, but they were inadequate in both cases. The ATC Operations Manual is just 34 pages and lacks an index. The Anywhere Map XP manual is even shorter at 22 pages, much of which describes how to install the software if you have an existing computer. Users should expect to spend time figuring out how to use the software on the ground before flying with it. Control Vision has a number of helpful videos on its website. Still, there's no substitute for getting comfortable with the unit for a day or two, then trying it out in the airplane with a safety pilot on board who can keep you from running into anyone else while you puzzle over how the software works. To be fair, that's equally true of any other moving-map GPS you might bring on your airplane.
The Anywhere Map Travel Companion sells for $745, and a bundle containing Anywhere Map XP and a Samsung Q1 Ultra sells for $1,595. Anywhere Link service (for wirelessly downloading weather and TFRs to Anywhere Map XP on the ground) is $95 per year. In-flight weather requires a $700 XM Satellite Radio receiver and an XM Weather subscription. A Pocket Plates subscription costs $145 per year. The Q1 can also display traffic from a $1,795 Zaon XRX portable collision-avoidance system. Control Vision also sells a variety of yoke mounts, power adapters and other accessories. Visit www.anywheremap.com, or call (800) 292-1160.