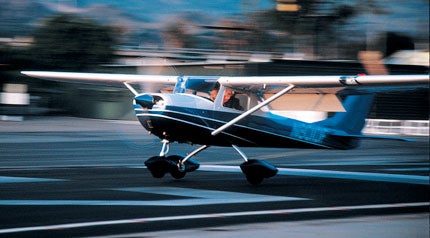 Even though a takeoff requires only 2% or 3% of a typical flight's duration, the maneuver produces more than one-fourth of our light-plane accidents. A significant portion of these departure mishaps occur on the ground during the takeoff run—most often the result of a pilot's loss of directional control.
Because of the relatively slow speeds involved, few of these accidents are fatal. Many result in personal injury or extensive aircraft damage, however. Let a plane swerve to hit something at just 40 knots—or overturn—and someone is going to get hurt. Even a tattered wingtip is expensive to fix, and if a gear collapses to put the prop into a runway with sudden stoppage, your cost rises to a second mortgage on the airplane. Like many accidents, there isn't just a single cause, but several. The following is a list of measures that can cause loss of directional control on takeoff and the corrections to these problems.
Problem: Improper tire or strut inflation
Solution: Consult your Pilot Operating Handbook (POH) for correct pressures and verify with a pressure gauge. Don't inflate aircraft tires or struts unless you've had instruction in the procedures and follow POH recommendations. Personal injury or equipment damage can result.
Problem: Excessive front-end vibration
Solution: A malfunctioning shimmy damper, which allows the nosewheel to flutter during taxi, may adversely affect directional control late in the takeoff run. Always report excess shimmy immediately and confirm corrective repairs before the next flight.
Problem: Loss of control at rotation
Solution: Make a longer than normal takeoff roll when heading into a crosswind. Hold the mains on the ground until deliberate back pressure lifts the aircraft off the runway, allowing for more control as it begins to climb out of ground effect and establishes the proper drift correction.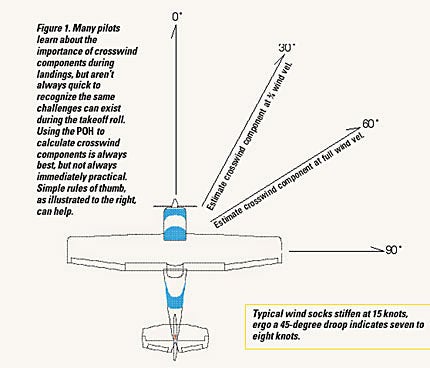 Problem: Crosswind control
Solution: Avoid takeoffs when the crosswind component exceeds your POH recommendation or one-fourth stall speed (Figure 1). Remember that crosswind components are important during landing and can make an aircraft hard or impossible to control on takeoff.
Problem: Wake turbulence
Solution: Delay two minutes or more for corporate- or commuter-sized planes. Large airliners normally operate from towered airports. Controllers either provide established separation or issue a precaution that gives you the option to request a delay. Don't forget that slight crosswinds can cause wake turbulence to drift—either away from you or into your path from a different runway.
Problem: Runway crowns
Solution: Runways often are laid with a high crown for quick drainage. Using its sloping side compounds your task or directional control. Take off astride the center stripes.
Problem: Flap and lift
Solution: Take off with your flaps set to the POH recommendation for conditions at hand. Incorrect flap settings can interfere with directional control just prior to liftoff.
Problem: Crosswinds and ailerons
Solution: Begin a crosswind takeoff with ample aileron correction. Smoothly reduce aileron deflection as your plane accelerates to achieve near-zero at liftoff.
Problem: Propeller slipstream
Solution: Anticipate the left-turning tendency of the "slipstream effect" (caused by a corkscrewing propwash) when you open the throttle. Respond quickly with the rudder and visual cues to maintain the centerline.
Problem: Concentration interruption
Solution: Keep your eyes on the runway. Double-check all pre-takeoff responsibilities before departure so there's nothing left to do but the business at hand—getting the airplane safely into the air. Otherwise, if you look down to perform a cockpit task, a swerve is most likely possible. So stay focused on the liftoff.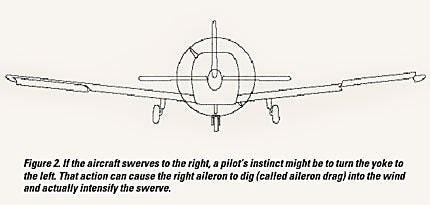 Problem: Aileron drag
Solution: Correct any minor swerves with rudder and nosewheel. A misuse of ailerons may produce "aileron drag," which causes or intensifies a swerve (Figure 2).
Problem: Inadvertent braking
Solution: Keep your heels on the floor to prevent inadvertent toe pressure against the brakes.
Problem: Blown tire
Solution: A blown tire on your takeoff run need not cause a loss of directional control. Respond promptly with a closed throttle, firm rudder control and smooth braking. Clear the runway while still rolling as safely as possible. Once stopped, you may not get the plane rolling again.
Problem: Imprecise rotation
Solution: Rotate at or near the speed recommended by your POH. Rotating either above or below this speed creates forces that disturb stability and directional control at the plane's most vulnerable moment.
Problem: P-factor
Solution: Anticipate the left-turning tendency of the P-factor at rotation. Since the P-factor makes an airplane yaw to the left, you need to pull back on the yoke or stick. Know that it will likely be immediately followed with rudder and aileron.
Problem: Inability to maintain on-course departures during the climb
Solution: After taking off, maintain a runway-course climb up through pattern altitude by using the aid of extended landmarks, such as tall buildings, a tower, a field or anything that stands out in your eyes. Here's a rule of thumb you can remember: Typical light-plane climb speeds require approximately one degree of wind-correction angle for each knot of crosswind component. Remember, surface wind velocity and direction usually increase about 50% and shift about 30 degrees to the right at 1,000 feet AGL.
A multitude of details comprise airmanship, and maintaining directional control during your takeoff is one of the most important things you can do.