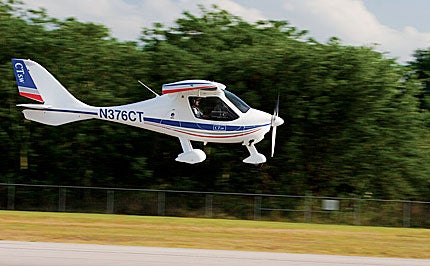 Light sport aircraft come in a variety of flavors. If you're inclined to go traditional, you can opt for the Legend Cub, an upgraded copy of the venerable J-3. At the opposite end of the LSA spectrum, many pilots are selecting the Flight Design CT.
Flight Design's LSA is a German product constructed in the Ukraine almost entirely from carbon fiber and Kevlar composites, and in many respects, it seems almost antithetical to the whole concept of an LSA, by definition, a minimal, entry-level airplane. Though Flight Design's airplane complies with all parameters of LSA certification, it's nevertheless one of the most sophisticated aircraft in the class. It was one of the first LSAs approved by the FAA, and it was granted its certificate at the 2005 Sun 'n Fun air show in Lakeland, Fla.
Apparently, many European pilots have long since acknowledged Flight Design's talents, as some 600 of the type have been sold in Europe since the company began offering the CT (Composite Technology) in 1998. In fact, the CT has been so successful that Matthias Betsch, president of Flight Design in Echterdingen, Germany, recently announced a 90,000-square-foot expansion to the Ukrainian factory.
Betsch feels the expansion should allow production to double in 2007, with as many as 100 airplanes earmarked for the critical U.S. market. Those will join probably another 100 CTs already operating inside American airspace.
Flight Design USA (www.flightdesignusa.com) of South Woodstock, Conn., is the United States' sole importer of the CT aircraft. Owner Tom Peghiny is one of the advisors for the LSA movement in this country. Peghiny also manufactures the very popular FlightStar series of lightweight aircraft, and imports the HKS four-stroke engine.
Sebring Aviation (www.sebring-aviation.com) in Sebring, Fla., is the Southeast regional distributor, and Sebring's John Hurst says the airplane has been well received in his area. "It's a very modern design," says Hurst, "more reminiscent of a fully certified airplane in many respects. It features a ballistic parachute as standard equipment, offers one of the largest cabins in the class, can easily accommodate two big men and has plenty of power to provide excellent performance."
Big question first: price? Flyaway list price of the Flight Design CT is $92,900, delivered to the East Coast and ready to fly. That's a fairly basic airplane with no options, but in this case, basic is reasonably outfitted for day VFR. In addition to the standard BRS emergency parachute, the airplane includes full instrumentation, strobes and position lights, plus three-axis manual trim. More on prices later.
---
At first sight, the Flight Design CT looks a little unusual, something like an aerodynamic pod suspended beneath graceful wings and a waspish tail. Indeed, the CT has a short ratio of length to wingspan, about 1.37. In contrast, the old Aeronca Champ and J-3 Cub scored more like 1.6.
The Flight Design CT's wings are a European C180 airfoil, 107 square feet in area with a 13.8% thickness, just under two degrees of dihedral and downturned tips. The airplane uses flaperons that automatically deflect down to improve lift when flaps are deflected to their full 40 degrees. Tail surfaces include a Piper-style all-flying stabilator and a conventional rudder above a small ventral fin.
The CT's gross weight is 1,320 pounds, the legal limit for an LSA. A typical unequipped empty weight is 646 pounds, so the airplane boasts a useful load of 674 pounds. Even with a full 34 gallons of fuel aboard, the airplane still sports 470 pounds of payload. That translates to a pair of 200-pound pilots and a reasonable allowance for baggage. If passenger and fuel weight will allow, baggage capacity is 110 pounds, with dedicated doors on both sides of the aft fuselage, a nice touch.
You climb aboard the Flight Design through either of two top-hinged doors that fold up against the bottoms of the wings. Despite the LSA designation, which sometimes implies sporty and cramped, there's nothing compact about this airplane's cabin. The front office measures a respectable 49 inches across, making it perhaps the widest LSA available. There's plenty of shoulder, leg and headroom for even a six-foot-tall pilot.
Flight controls and panel layout are compact but conventional. Pitch trim, choke, throttle and brake controls are mounted on the lower, center quadrant, with most other engine and system controls located higher where they're convenient to both pilots. All electrical switches are spaced across the top of the center console.
The CT employs dual control sticks mounted directly in front of pilot and passenger plus standard rudder bars without differential brakes. A brake T-handle applies equal pressure to both wheels simultaneously.
The CT uses a Rotax 912S for motive force, but this definitely isn't your great uncle's Rotax. With the help of a 10.5-to-1 compression ratio, two carburetors and dual electronic ignition, the little, 1,350 cc powerplant churns out 100 hp at a brisk 5,800 rpm. A 2.43 reduction gearing drops the Rotax's enthusiasm to 2,400 rpm, driving a three-blade, Neuform composite prop. Engine cooling is with both air and liquid, protecting the engine from even the hottest desert temperatures. TBO is 1,500 hours.
One of the nicest nonoperational features of the Rotax is that it's an extremely lightweight mill, less than 150 pounds installed. That's a critical quality in an airplane that grosses only 1,320 pounds.
Takeoff performance is better than you might expect, a function of an efficient wing and relatively low power loading. The CT jumps into the air in less than 300 feet and starts uphill with surprising enthusiasm. The Rotax offers 100 hp for the first five minutes, generating a low 13.2 pounds/hp. Compare that to the Cessna 152's 15.2, a Piper Tomahawk's 14.9 or a Beech Skipper's 14.6. Not surprisingly, vertical speed is superior to that of the other three, specifically 960 fpm.
---
In-flight visibility from the Flight Design CT is reminiscent of a bubble helicopter, with huge side windows that extend forward, a king-size windshield that continues well back into the roof and a large, overhead, Plexiglas skylight. In combination with the smooth, high-revving Rotax and a fairly quiet cabin, the CT's flight environment is comfortable and inviting.
This little airplane can move, too. Though my flight with Sebring's John Hurst didn't allow time for cruise checks, I had little trouble keeping up with a Skyhawk photo ship during the air-to-air shoot. Book spec is for 112 knots at about 4.9 gph, more than acceptable speed with only 100 hp out front. Such brevity means you can plan no-wind cross-country trips over distances of 600 nm with plenty of reserve. Throttled back to 55%, you could easily push that figure out to 700 nm.
Part of the reason for the airplane's speed may be its efficient, semi-NLF (natural-laminar flow) wing. The airplane offers a high 14-to-1 glide ratio, better than that of most certified airplanes and even most other LSAs.
That slick airfoil also generates enough lift to reduce dirty stall speed to an impressive 39 knots. Such a low no-fly velocity means short-field approaches are possible at speeds as slow as 50 knots. More-normal efforts demand 55 to 60 knots, but the slow approach speeds mean the airplane can use 1,500-foot runways with ease. This is one airplane that can probably jump off in the same or less runway distance that it needs to land.
As mentioned above, base price is $92,900, and while that does buy an operational airplane, it won't allow you to fly in anything but a non-radio, open-skies environment. If you want an airplane capable of anything more than a fun weekend country bird for uncongested airspace, you'll need to add a few things. Typical add-ons include an ELT, the night-flight package, leather seats, a panel-mounted Garmin 396, a Becker com and transponder, and a Tru Track Digiflight autopilot. The resulting well-equipped Flight Design CT winds up with a list price just under $110,000. There's nothing you can buy in certified ranks that has anything like the same talent for anywhere near the price.
The whole point of the LSA market is to offer a simpler, less-expensive alternative to conventional certified aircraft and standard pilot's licenses, and the Flight Design CT may be ideally positioned to cash in on that market. Typical of so many German-designed machines, it's a highquality product, well constructed, easy to fly and available new for a price that's well below that for most used singles.
…Not to mention it's one of the most unusual new airplanes you can buy.
SPECS: 2006 Flight Design CT