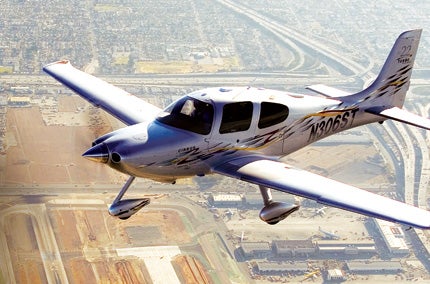 A Cirrus SR22 transits northwest bound through busy Bravo airspace via LAX Special Flight Rules.
V­FR corridors have served an important function in U.S. airspace since the creation of the old TCAs (Terminal Control Areas) and TRSAs (Terminal Radar Service Areas), now less telegraphically renamed Class B and Class C airspace, respectively. Depending upon how you count them, there are somewhere between five and a dozen approved VFR corridors for transitions through and around controlled airspace.
A few months ago, the Hudson River flyway was U.S. Airways Captain Chesley Sullenberger's only out when Canada geese FODed both engines of his Airbus A320, forcing him to make a power-off ditching in the water. More recently, that same flyway has come under criticism as being too dangerous for air traffic. The collision of a Piper Saratoga with a Eurocopter AS350 sightseeing helicopter has precipitated a wave of knee-jerk criticism.
The primary function of flyways is to allow reasonable transition of VFR traffic in acceptable weather conditions without burdening air traffic control with the job of traffic separation. Many nonpilots who feel the entire country should be under ATC radar coverage don't understand that current radars aren't capable of handling such a task. Controllers can barely handle the load they have now, much less take on additional low-altitude traffic.
Of the 40 designated blocks of Class B airspace in America, only a few approve VFR flyways adjacent to the major airport. These are intended to expedite the flow of traffic rather than funnel it 20 to 30 miles around busy terminal airspace. In some instances, this allows VFR aircraft to fly directly through the center of the "upside-down wedding cake" of many Class B airspace configurations.
Hudson River Flyway
The Hudson River flyway is perhaps the simplest of them all, and as a result of the latest accident, the most infamous. It allows traffic to transit down the Hudson River between Teterboro and Newark to the west, and LaGuardia and Kennedy to the east. The rules are simple: VFR traffic must remain over the water below 1,100 feet and is requested to transmit position and altitude on 123.05 MHz.
Technically, the flyway begins slightly northeast of Teterboro, at the George Washington Bridge, and extends south approximately 15 miles, five to seven minutes of flight time in most general aviation aircraft. The route passes well below the top of Manhattan's 1,250-foot-tall Empire State Building, continues past Ellis Island and the Statue of Liberty, and finally terminates at the Verrazano-Narrows Bridge, which connects Brooklyn and Staten Island at the end of the Hudson River. On a clear day (or night), it's a truly beautiful flight, providing an eagle's eye view of one of the world's most exciting cities.
Under normal circumstance, the Hudson River flyway is safe and easily navigable. This is the first midair collision in that flyway's history. Though I live on the opposite coast, I've flown that route on several dozen occasions, day, night, weekend and weekday. I've rarely seen it crowded with traffic. Most of the time, I've been the only airplane in the flyway, with airline jets drifting by overhead.
---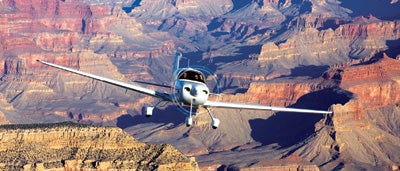 The NTSB has yet to determine a probable cause for the accident, but the amateur video most of us saw on the news suggests the conclusion will be the usual: "Both pilots failed to see and avoid…" One of the problems for those of us on the inside looking out is that we understand some level of risk is inherent in any human pursuit, whether it's something mundane, such as crossing the street in Des Moines, or romantic, such as bungee jumping off a bridge in New Zealand. We know that flying is generally less hazardous than driving, and the risk of a midair collision is so small as to be insignificant. Still, midairs do happen, and they get more headlines than auto accidents. We can't expect people who don't understand aviation to be impressed by the facts. Those facts are that VFR corridors are remarkably safe.
(At this writing, the FAA has announced it will be establishing new rules that include specific pilot frequencies and airspeed limitations within the Hudson River corridor.)
LAX Special Flight Rules
Los Angeles has a VFR corridor similar to New York's, though it's slightly better defined and more formal, but it's equally convenient for facilitating the flow of traffic from north to south. Again, it doesn't demand ATC services, and that's good rather than bad. Just as in New York, ATC in Los Angeles is often far too busy to contend with VFR aircraft.
LAX is at the far western edge of the megalopolis, flush against the Pacific. Most flights approach from points east, and that means Los Angeles airspace is split in the middle. The standard-profile descent brings traffic into Los Angeles on a long straight-in from Big Bear Lake, right down the center of the Los Angeles Basin, leaving six airports on the south side and five airports to the north. Without some form of transition route, it would be impractical to fly from, say, Santa Monica or Van Nuys on the north side, to Torrance or Long Beach on the south side.
For that very reason, the FAA established the LAX Special Flight Rules Area (SFRA) directly above LAX, a VFR corridor with two designated altitudes, 4,500 feet northwest bound and 3,500 feet southeast bound. Defining a corridor across the center of LAX is infinitely logical, as all airline traffic is either landing or departing below. For that reason, there's no cross traffic above the center of the runway. (Before you ask, airline go-arounds are instructed not to climb above 2,500 feet.)
Standard procedure is to announce position and direction on 128.55 MHz, flying at 3,500 feet southeast bound and 4,500 feet northwest bound. The route is further defined by the Santa Monica VOR 312/132-degree radial. Aircraft are instructed to operate with all lights on and to squawk 1201 while in the corridor. To keep traffic reasonably in trail, speed in the corridor is limited to 140 knots.
It's significant that the Los Angeles corridor has never had a midair collision, partially a function of the vertical separation of opposing traffic by the usual 1,000 feet. Another factor is pilots who are more diligent in assuring their own reasonable separation when they know there's no controller looking out for them.
---
Other Flyways
There are a few other flyways through Class B airspace in America, but most don't offer such close proximity to the major airports they surround. Atlanta Hartsfield-Jackson features a half-dozen routes around the airport, but most are 10 to 15 miles distant. In a similar sense, Chicago O'Hare/Midway offers the Lake Michigan flyway within 10 miles of America's second-busiest airport, at altitudes up to 2,500 feet.
The huge Dallas-Ft. Worth International Airport also features a number of surrounding flyways, most confined to 2,500 feet or lower and positioned at least 15 miles from the main airport. Detroit and Houston sport similar free-fly areas that don't demand ATC control and allow pilots to fly within 10 to 15 miles of the primary terminal without an ATC clearance or radar tracking.
There are many other places in America where the FAA insists all pilots must establish ATC contact and fly specific routes, and not all of those are Class B or Class C airports.
Grand Canyon is perhaps the most publicized of SFRAs where pilots must check in and fly prescribed paths, but airspace restrictions over national parks are rarely for reasons of excessive traffic. The U.S. National Park Service lobbied the FAA to restrict overflights of major portions of the Grand Canyon because of noise pollution, and succeeded in closing much of the airspace below 18,000 feet to VFR traffic.
There's little question electronic assistance is better than the human eye at sensing the presence of other aircraft, especially as our eyes age and we're less able to distinguish a white airplane against a white cloud. I've been using the TIS feature in my Mooney for five years, and it has identified thousands of targets I wouldn't have seen otherwise.
Until such time as the technology can keep pace with the problem, however, what the military calls the "standard-issue Mark I eyeball" will continue to be perhaps the most universally accepted method of keeping airplanes separated in America's VFR corridors.
Checklist For Corridors
1) PLAN AHEAD:

If there's a local chart, buy it. Yes, you could probably ad lib off the directions on the sectional, but the local may contain recommended reporting points and other information not included on the sectional.

2) CLEAN THE PLEXI: Clean and polish the windshield and all side windows before you fly so you won't mistake an airplane for a bug splat, or vice versa.

3) FAMILIARIZE YOURSELF WITH ENTRY AND EXIT POINTS: Know how to enter and leave the corridor, as well as the recommended heading and checkpoint for proper alignment.

4) USE THE RADIO: Most corridors have suggested CTAFs (Common Traffic Advisory Frequencies) to help coordinate traffic. Don't be afraid to use the Marconi as often as necessary to let everyone know your position and plans.

5) CONSIDER USING FLIGHT FOLLOWING: In some places, ATC often doesn't have time for VFR flight following, and you'll have to put up with "stand by" for longer than it will take to get through the corridor. Ask anyway.

6) GET IN-COCKPIT HELP: If you have TIS or TCAS, make sure they're up and running. If you have passengers aboard, ask them to be on watch for other traffic and to advise you if they see any.

7) CONSIDER FLYING SLOWER: The Los Angeles corridor imposes a speed limit of 140 knots, but even if your corridor doesn't insist you fly slowly, consider transiting the corridor 10 to 20 knots slower than you normally fly, and never go over 150 knots. A slower speed means more opportunity to see and be seen.

8) MAINTAIN YOUR ALTITUDE RELIGIOUSLY: Try to hold the same altitude throughout your transition, and announce your height on the CTAF.

9) TURN ON EVERY LIGHT YOU HAVE: Strobes, position lights and landing lights should all be on—day or night—when transiting a corridor. Anything that enhances your visibility for others is a good idea.

10) KEEP TO YOUR RIGHT AND STAY IN LINE: Unless there's a reason not to (such as over LAX), line up on the right side of the corridor and try not to pass anyone.

11) AVOID MANEUVERS: A 360 for photos of the Empire State Building may seem like a great idea until you meet someone coming the other way.

12) ANNOUNCE YOUR INTENTIONS ON LEAVING THE CORRIDOR: Let other traffic know what you plan to do after you depart the corridor, whether it's climb, descend, turn or any combination thereof.