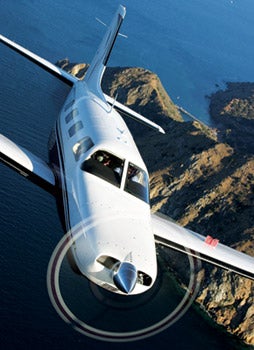 I was flying with a buddy in my Mooney, returning from a Saturday hamburger flight. We'd come home from the desert via the tall road, high-jumping to 10,500 feet to clear the San Jacinto mountains on the short 120 nm hop back to Long Beach, Calif.
I elected to overfly the LA Basin and head out to Catalina to check on fire damage from the island's recent forest fires. My passenger, Jack, was a new private pilot, still excited about everything to do with airplanes and eager to progress on to higher ratings and faster equipment. My little Mooney was the quickest thing he'd ridden in (except for Boeings), and he was convinced it was a truly wondrous machine. (Obviously, he's a very astute pilot.)
As we began our descent over the Catalina Channel, well south of Los Angeles Class B airspace, I left the power up and popped out the speed brakes. Jack was fascinated as two aluminum brakes per side arced up out of the wings and began to disrupt the airflow.
The Mooney responded as if it had flown into a wall of Jell-O and tried to decelerate, but I pushed over to hold the same speed and watched the VSI swing down to a 1,000 fpm descent. Predictably, the ride was a little rougher, as the brakes interrupted the smooth flow of air across the wings.
I maintained the same speed and gradually reduced power as we descended into thicker air. Vertical speed increased slightly on the way downhill, but airspeed remained the same. As we approached the airport, I reduced power even further, extended the rubber to meet the asphalt and turned downwind at 1,000 feet. I was careful to explain everything that was happening to Jack to minimize any concerns he might have.
Jack had never seen such effortless descent control, and he commented that this was the only way to fly. I noticed him looking out at the right wing twice during the approach but thought nothing of it.
I touched down normally and exited the active runway. As I was switching to ground control, Jack said, obviously a little irritated, "Do you know you left the speed brakes out during the landing? You could have killed us."
I couldn't help smiling a little at his question, but I knew better than to dismiss an honest concern by a passenger, pilot or not. "Jack, that's not the way it works," I said, and to prove it, I asked ground for a taxi back for one more time around the pattern. I left the Precise Flight speed brakes (www.preciseflight.com) extended on takeoff and until we reached pattern altitude, then asked Jack to put his hands on the yoke, close his eyes and tell me when the speed brakes were extended.
No big surprise, he couldn't do it. I deployed and retracted the binders several times during our circuit. At a typical 80-knot pattern speed with gear and flaps extended, there was no perceptible change in the Mooney's handling as the brakes cycled in and out.
---
That, in fact, is one of the primary benefits of speed brakes. They provide aerodynamic braking when you need it and have essentially no effect when you don't. They're an ideal advantage for those slam-dunk, go-down/slow-down directives that some nonpilot controllers love to command. Speed brakes double parasitic drag instantly and provide easy glidepath control.
Pilots who operate turbine equipment are very familiar with speed brakes and refer to them as "the boards." Virtually all jets include speed brakes as standard equipment, and many turboprops also feature aero braking to help slow things down.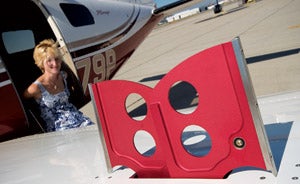 Turbines need glideslope help by the nature of their operation. They must operate far up in the flight levels to realize any semblance of efficiency. A Malibu JetPROP, for instance, burns about 34 gph at max cruise up at 25,000 to 26,000 feet, its normal cruise height, and delivers around 260 knots. Descend to 18,000 feet, however, and fuel burn remains 34 gph while speed in the thicker sky drops to about 230 knots, somewhat less efficient. For that reason, turboprop and jet drivers like to stay as high as possible for as long as possible.
Flying higher means more altitude to lose during the approach, however. Turbine aircraft, airline or corporate, are nearly always pressurized, so descent rates of 2,000 fpm or more are reasonable and common without causing passengers any discomfort. Trouble is, most turbine equipment is so aerodynamically clean that simply pushing the nose over, even after reducing thrust to idle, may sometimes drive airspeed through the barber pole, better known in piston parlance as the redline. Jets are clean machines, often sporting glide ratios of 18 to one compared to nine or 10 to one for most piston aircraft.
Speed brakes or spoilers are the answer. They hold speed in check while allowing the pilot to maintain a manageable descent rate. They can be deployed right up to the aircraft redline without undo stress on the surrounding wing structure. Despite the dramatic effect they have on ride and attitude, they place little stress on the wing spar.
Spoilers have an extra benefit for piston airplanes. In addition to artificial speed reduction, they can be especially helpful in reducing shock cooling in some private and corporate piston models. There's still some debate about the negative effects of shock cooling, but most engine shops agree that quick cooldowns of big-bore engines are a bad idea. Different metals expand and contract at different rates, and the more consistent you can keep temperatures inside the engine, the better.
Joe Polizzotto, manufacturer of the world's most popular GA engine analyzers, J.P. Instruments' EDM series (www.jpinstruments.com), says shock cooling is a definite factor in premature failure and reduced TBO on engines over 250 hp. His instruments have an electronic page that indicates shock cooling. "Lycoming issued a recommendation a while back suggesting no more than 50 degrees per minute of cooldown," says Polizzotto, "and any abrupt increase in airspeed or reduction in power could easily generate much more than that."
With or without speed brakes, an occasional operating practice in big twins, such as Commanders, Cessna 421s, Dukes and Chieftains, is to actually lean the mixture slightly during letdowns to run the engines hotter and compensate for the cooling of descent.
The beauty of speed brakes for piston airplanes is that they allow you to descend at cruise speed without reducing power or increasing the flow of cooling air through the cowling. Speed brakes allow you to leave the throttle(s) alone during the initial letdown, then reduce power gradually to maintain a reasonable descent profile. Chop and drop approaches aren't necessary when you have the speed brake option.
---
Some piston pilots have a philosophical objection to speed brakes, arguing that it's a cardinal sin to deliberately fly a fast airplane slow. In the VFR world where pilots can pretty much do their own thing, that's partially true. Most pilots of unpressurized piston airplanes plan their descents for 500 to 700 fpm, dependent upon such factors as wind, terrain, turbulence and temperature.
This means if you're descending from a 10,500 cruise altitude to a near sea-level airport, you'll need to start down somewhere between 19 and 14 minutes out. Letdowns quicker than about 800 fpm may cause some passengers problems in equalizing air pressure in their ears. A properly executed descent and approach can recover some of the time lost in climb and improve block speed.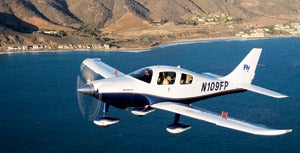 Spoilers commonly come in two varieties, depending on aircraft type. Most piston singles employ a pair of bridgework-style brakes that rotate up out of each wing (they're usually mounted to the rear spar just forward of the outboard flap hinge). This allows for maximum lift disruption with a minimum of structure and weight, but not in the critical forward portion of the chord. Larger aircraft such as 421s and other corporate twins employ larger, rectangular "boards" to block more air, but produce the same result.
(Military airplanes may mount spoilers practically anywhere, on the sides or top of the fuselage, on top and/or bottom of the wing, even on the vertical stabilizer. These can be huge and have dramatic effects. I flew with the nine-plane Canadian Snowbirds team many years ago, and their little Tudor jets mount large speed brakes on the sides of the aft fuselage, providing them with spectacular braking action for rejoining formation after breakup maneuvers.)
The concept and design of speed brakes is so simple that flying with spoilers installed doesn't demand a nuclear brain surgeon. Unlike flaps that may be partially extended in piston aircraft, spoilers or speed brakes are all or nothing. You either need them or you don't. Glider pilots learn to use spoilers in their first hour of training, and without the benefit of power, they must rely on them to help regulate descents on practically every flight. Extending the boards is a little different than operating with a clean wing, but there are rarely operational problems.
Asymmetric deployment is an obvious concern, though it's a highly unlikely event. If one brake begins to deploy and the other doesn't, a sensor will automatically clue the rising brake to stop and retract. Even if you did suffer a full asymmetric deployment, the companies that produce spoilers are required to demonstrate easily controlled flight with one up and one down. Icing is sometimes a concern and can cause delayed deployment or only partial extension.
Sadly, the principle of TINSTAAFL (there is no such thing as a free lunch) still rules. Nothing is free, and installing speed brakes will subtract from both your payload and your bank account. Payload reduction is minimal, about nine pounds, and there's little or no performance loss (although the brakes do require cutting a slot in the top of the wing, it's so far aft that airflow is usually long since separated). There's no noticeable drag penalty when the brakes are stowed.
The brakes themselves and the actuation mechanism aren't too expensive, but installation is fairly labor intensive. My Mooney mounts a set of electrically activated Precise Flight brakes, and installation required about 40 hours of labor. Fill in your own shop rate, but you'll probably pay at least $3,000 for the install.
Speed brakes are approved for a wide variety of airplanes. As mentioned above, Precise Flight of Bend, Ore., is perhaps the most prolific producer of GA speed brakes. Precise Flight has certified several dozen aircraft models for speed brakes and has delivered some 6,000 systems since 1982. Another prominent manufacturer is Spoilers Inc. (www.powerpacspoilers.com) of Gig Harbor, Wash., which specializes in spoilers for corporate twins like Cessna 300/400s, Dukes and Aerostars.
Call them what you will, speed brakes, spoilers or boards definitely aren't for everyone. They wouldn't offer any significant advantages installed in a Warrior or Skyhawk, and it's unlikely you'll see them on any LSA. If you fly anything from a Lear to a Bonanza, however, speed brakes can help control glidepaths, reduce shock cooling, facilitate speed reductions to maneuvering, flap or gear limits and lend a welcome assist when it's time to return to the runway.