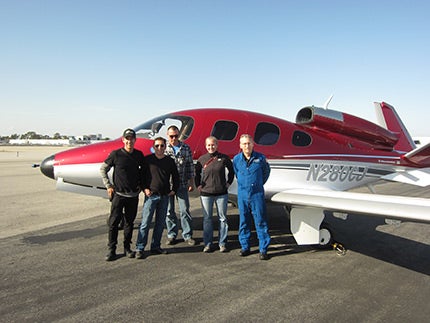 The Cirrus Aircraft and Plane & Pilot team before the air-to-air photo mission.
No matter how much you love to fly, 14 hours of flight in one day is a long time. That's how long it took Cirrus pilot and Senior Strategy Analyst Matt Bergwall and me to return to California from Sun 'n Fun. Not any fault of the Cirrus SR22T we were in—it's as fast as they come, and in fact, the pilot who ferried the plane to Sun 'n Fun had made it fromWest Coast to East in seven hours with just one fuel stop. But, headed west, we were at the mercy of 50-knot headwinds, as well as a nasty storm front that forced us to deviate off course. And then, there was simple bad luck that added mileage; at one of our stops, the fuel guy had left for the day, and the self-service pump didn't take credit cards. Our long cross-country wasn't a trip that would be endurable in many other airplanes, but the Cirrus rates high on comfort factors. Its roomy cabin features leather seats, air conditioning and XM Satellite Radio, but even better, we were in a brand-new 2011 Limited Commemorative Edition (LCE), of which Cirrus is manufacturing just 10 in recognition of the SR22's 10th anniversary. Feeling stylish and cool in the red, black and white sports-car interior (complete with a saddle-stitched leather sidestick control), 14 hours was, in a way, far too short, and it was with reluctance that I parted ways with the LCE upon arrival home at Santa Monica Airport. What's the longest day trip you've made in an airplane? Let us know at [email protected].
Marc Lee had the pleasure of flying N315CE, and shares his experience in this month's "Pilot Report." He and Cirrus demo pilot Ken Goble put the turbo through a trial of stalls, slow flight and maneuvers to test the Electronic Stability And Protection system, designed to prevent overspeeds, inadvertent stalls and other deviations from stable flight. Marc also interviews test pilot Mike Stevens on what it's like to fly the Vision SF50 jet, and brings us up to date on the jet program and what's next. Visit our website to see a behind-the-scenes video from our air-to-air photo flight of the SR22 in formation with the Vision jet.
Also in this issue, James Lawrence goes searching for thermals and lift in the new motorglider from Phoenix Air. The LSA glider features swappable wingtips that grow wingspan from 36 feet, where it flies nimbly, to 49 feet, excellent for soaring. James also reviews the new Drift Innovation Stealth video camera this month in "Tech Talk." With a 170-degree field of view and wireless remote control, the HD "helmet cam" is ideally suited for cockpits. Check out his video footage on our website.
Retired Navy dentist Jim Miller first learned to fly at Vandenberg Air Force Base, earning his license in 1970. He has no formal training in aircraft repair or restoration, but that didn't stop him from tackling a complete refurbishment of his 1962 Piper Colt. Contributor James Wynbrandt visits for an up-close look at Jim's meticulous work, from new sight fuel gauges in the wing roots, to sheet metal fasteners in the aircraft belly.
This month's guest speaker, air show performer Melissa Pemberton, recently spent time in a part of the world where general aviation is relatively new. She shares her experiences in Ghana with a group called Medicine on the Move, formed with the goal of developing GA to provide an "air highway" to remote villages that need medical and other attention. The not-for-profit group helped to establish the Ghanaian National Pilots License, and is teaching natives how to build and fly their own aircraft. In Ghana, as in many parts of the world, GA can really make a difference in improving people's lives.