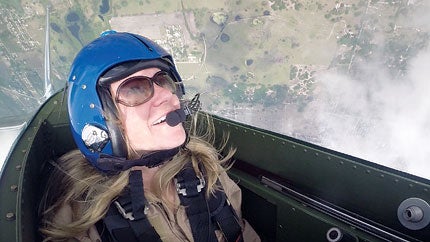 Stallion 51's Crazy Horse 2
As pilots, we all have strong opinions on the best day-to-day airplane to own. But at the top of most of our wish lists is the P-51 Mustang. This World War II machine represents the ultimate flying experience—a dream that Stallion 51 makes come true! Based in Kissimmee, Fla., the warbird operation offers orientation flights and checkout training in their dual-controlled Mustangs. This year at the Sun 'n Fun Expo, I had the opportunity to fly Crazy Horse 2 with one of Stallion 51's top pilots, John Posson. After departing KISM, Posson talked me through several rolls on our way to Lakeland, where we landed and taxied onto the warbird ramp. That afternoon, Lee Lauderback flew Crazy Horse 2 in a heritage flight with Glacier Girl, a P-38 Lightning and a USAF F-22 Raptor.
This year marked the 40th anniversary of the fly-in, which saw an increase in attendance over the past years. In his show report, James Wynbrandt rounds up the top news and products, including the touch-screen IFD540 panel from Avidyne, and new airplanes such as the Tecnam Astore LSA and the TBM 900.
For this month's pilot report, Wynbrandt flies the newest Daher-Socata model. He and demo pilot Wayman Luy depart St. Augustine, Fla., for flight level 280. The turboprop has been redesigned for speed—with winglets and a five-blade Hartzell composite propeller—and for sportiness, with a new carbon-fiber interior design option.
Taking center stage in the skies above Sun 'n Fun was air show star and Plane & Pilot columnist Patty Wagstaff. Her latest endeavor, the Patty Wagstaff Aerobatic School, is also in St. Augustine, at Southeast Aero, the U.S. distributor for Extra Aircraft. An Extra 300L and Super Decathlon are used to teach precision aerobatics, tailwheel training and upset training. Patty is passionate about instruction, and each year, she visits the Kenyan bush to provide recurrent and aerobatic training to pilots of the Kenya Wildlife Service. In "Let It Roll," Patty recounts her most recent journey to Kenya, across the Atlantic Ocean in a Citation Super II.
Also announced at Sun 'n Fun was a more affordable inflight internet service. BendixKing's AeroWave 100 works off of satellites, with coverage in North and South Americas, Europe and Asia. The system delivers 3G speeds in flight, and there are no limits on the number of users in the aircraft. A small round antenna is mounted to the top of the aircraft fuselage.
For those looking to update their older panels, Marc Lee's "Retrofit Roundup" has options for all budgets. There's a new 3D moving map for light jets, audio panels, engine displays, ADS-B solutions and much more. What's in your panel? Let us know at [email protected]