EAA AirVenture can't be adequately explained in words. It's an awe-inspiring event that needs to be experienced firsthand. With 10,000 airplanes, there's something exciting for each of the 500,000 attendees. This year, the Terrafugia flying car made its first air show flight. A screening of Disney's new movie, Planes, drew massive crowds, and a real-life Dusty Crophopper took to the skies. Swiss pilot Yves Rossy, perhaps better known as Jetman, launched out of a Breitling helicopter with jet engines mounted on his human-sized carbon-fiber wing. And our own Patty Wagstaff performed in a civilian-owned Short Tucano T Mk1. In this issue, James Lawrence gives us a sampling of the best of Oshkosh.
Like everyone else at Oshkosh, I spent the week exploring static displays, hangar booths, forums and more. But for me, the highlight was an afternoon spent mentoring three young women interested in aviation photography. Spearheaded by Debby Rihn-Harvey, EAA's Women Soar You Soar program introduces high-school students to women working in aviation, with the goal of inspiring them to pursue their dreams. What I hadn't anticipated was that I, too, would be inspired. Kathryn Kaminski, Laura Yenchesky and Mackenzie Ballauer were bright, inquisitive and as enthusiastic about flying as they were about photography. As we wandered through Warbird Alley snapping photos and discussing camera settings, their genuine energy was refreshing. Thanks to the Texas Flying Legends, the girls were able to shoot inside of Betty's Dream, a B-25 Mitchell, and sit in the cockpit of Little Horse, a P-51D Mustang.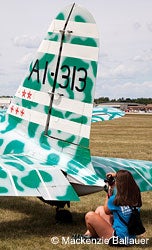 You never know who you'll run into on the AirVenture grounds—might very well be 91-year-old Bob Hoover, legendary for gracefully maneuvering a Shrike Commander with both engines shut down. He's undoubtedly a pilot's pilot and considered by many as the best of the best. Ask several pilots who the top 10 aviators are, and you're sure to get a hot debate. This month, Budd Davisson narrows down his personal picks, organized into categories such as "Best Air Show Pilot" (John Mohr, who flies low-level maneuvers in a stock 220 hp Stearman biplane) and "Bravest Pilot" (Maj. Bruce Crandall, who received a Medal of Honor for multiple flights into enemy fire to evacuate the wounded). Don't agree with Budd's picks? Send us yours at [email protected] planeandpilotmag.com.
Also in this issue, contributor Marc Lee gives an update on aviation careers and the dynamic professional pilot industry. Pilot demand is up and major airlines are hiring. Marc provides detailed salary comparisons, from charter turboprops to major airlines. He looks at both sides of the pilot shortage debate and trends for the future as indicated by airline training programs such as Airline Transport Professionals.
With 36 training centers, ATP is the largest flight academy in the country. An airline-sponsored career track lets carriers scout talent and hire students before they complete training. In the past 12 months, airlines have hired up to 300 ATP students. But ATP isn't just for pilots on a professional flying path. It's a great option for private pilots wanting to earn their next rating. I completed my multi-engine rating at their state-of-the-art Phoenix-Mesa Gateway Airport location. The 19,000-square-foot facility is home to a fleet of new Piper Seminoles and two CRJ-200 flight training devices. Look for my article on training in a twin in an upcoming issue.