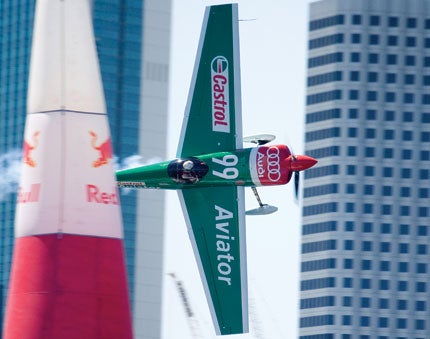 Everyone remembers their first solo flight. And so when I heard, "Student pilot, first solo," transmitted on the radio a few days ago at Van Nuys Airport, it brought me back to that chilly March morning when my instructor Liz DeStaffany hopped out of N2447B and I taxied the Cessna 172 to Santa Monica Airport's runway 21. It was the moment I had been waiting for, and with equal parts nervousness and excitement, I informed tower that I was a student, solo. It wasn't until downwind that I became fully aware of this. As I looked over at the right seat, I thought, "Oh, no! Liz isn't here." But when I glanced back, I smiled: "Oh, cool! Liz isn't here!"
In this issue, LSA Editor At Large Jim Lawrence achieves the same freedom when CFI John Lampson signs him off for his solo in the Flight Design CTLS. In the second installment of his series on earning a sport pilot ticket, Jim has learned to be active on the rudder and is much more comfortable, having grown to love the high-wing LSA and its dual Dynon EFIS displays. Be sure to read Jim's online blog, updated regularly with light-sport news at www.planeandpilotmag.com.
Another LSA we fly is the Luscombe Phantom II. Contributor Marc Lee flies the all-metal, radial-engine taildragger with John Dearden, president of Luscombe-Silvaire Aircraft out of Flabob Airport in Riverside, Calif. After the flight, Marc raved about the polished-aluminum beauty, complete with a leather and wood interior. "The thing about that airplane that really resonates with me is the feeling of going back in time," he commented. "It's like a ghost from the 1930s. The radial engine combined with the view from the cockpit make it feel classic. And the irony is that it's brand-new!" He likens it to a work of art, enhanced by art-deco lines and polished aluminum: "It's gorgeous. I almost want to own it just to put it in my living room and run my cotton-gloved hands over it!" We've posted video footage of his flight over Lake Mathews on our website.
From Lake Mathews to the Danube River, we speed it up at the Red Bull Air Race in Budapest. In this month's guest column, Edge 540 race pilot Michael Goulian guides us through the challenging pylon-defined course. He tells us what he's thinking, where he's looking, and how his body reacts as he zooms under the historic Chain Bridge and pulls up to 11 G's in front of hundreds of thousands of spectators. Check out video footage from the races at our online home, and visit us on Facebook (search: Plane & Pilot Magazine), where we post the latest photos, videos and news. You can reach other Plane & Pilot readers, including Mike, who's a fan!
—Jessica Ambats