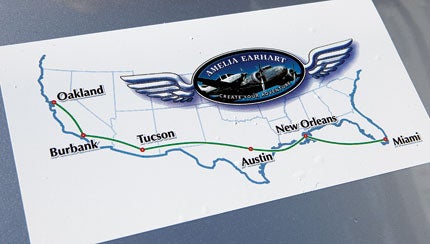 Amelia Rose Earhart and CFI John Post flew a Cirrus SR22 across the U.S. to re-create the North American leg of the original Earhart's 1937 flight around the world.
I first heard about Amelia Earhart three years ago on Facebook. The new Amelia Earhart, that is. She was a traffic reporter covering the gridlock of Los Angeles from a helicopter, and had contacted me, eager to learn more about flying and photography. Earhart's mother, I learned, had chosen such a notable name to provide an adventurous role model for her daughter, who does in fact share common ancestry with the original. And to her credit, adventure is a path that Earhart has been following boldly.
Today, Amelia Rose Earhart is a 150-hour private pilot preparing for her instrument checkride, while studying graduate-level meteorology and working full time at the local NBC affiliate in Denver, reporting on weather and breaking news. Her dream is to retrace the legendary Earhart's 1937 round-the-world flight (minus the ending), and contributor Marc Lee and I met up with her on the first segment: a stop at Burbank on a multi-day trip from Oakland to Miami in a turbo Cirrus SR22. Visit our Facebook page at www.facebook.com/planeandpilot to view a special video message from Earhart to Plane & Pilot readers. With the attention that Earhart receives on television and through her online blog and speaking engagements, she hopes to inspire others to seek adventure and learn to fly.
The reasons we learn to fly come in all forms. There's 17-year-old Sammy Mason, who grew up in an aviation family and spends weekends towing gliders in a Piper Pawnee when he's not looping a Boeing Stearman at an air show. There's 80-something-year-old Lou, who never misses a day of flying his pristine Piper Tri-Pacer around the patch. Marc Lee reaches out to them and others about what makes flying so special as part of this issue's theme of learning to fly. We cover recent developments in general aviation that have had a huge impact on flight training, from sport pilot rules to innovations such as the Redbird simulator, which focuses on real-world scenarios, and the Skyport, a Texas-based facility with a faster and more dependable way to earn your private certificate.
Recently, I queried a friend as to his all-time favorite plane, and his answer of Cessna 172 surprised me—at first. The Skyhawk is neither glamour nor glitz. It doesn't have the nostalgia of a hand-propped Cub, it isn't designed for snap rolls like an Extra 300, and it doesn't roar like a P-51 Mustang. But I realized why his choice made complete sense: A Skyhawk is a trusty best friend—one you count on, although one you sometimes take for granted. I had to agree that it held a special place in my heart, as well.
After all, the 172 is the first plane I soloed, as it was for many of you. Alone in the air! The right seat was so empty—I kept glancing over in astonishment; and the intercom was so quiet—I read the checklists out loud to fill the void. A safe return to Earth was up to me, and only me—well, with some help from my part-machine, part-friend Land-O-Matic ride that let me take all the credit as my CFI cut off my shirttail and immortalized the date with a thick black Sharpie. This month's pilot report is on the 2012 model, which includes upgrades from new paint schemes to a Garmin GTS 800 traffic system that's ADS-B compatible.
Also in this issue are two instructors who are changing general aviation one flight student at a time. The enthusiasm that 2010 National CFI of the Year, Jeffrey Robert Moss ("MossY"), has for flying shows no limits. His company, Flying Like The Pros, draws from the expertise of professional airline pilots to apply skills and techniques from the flight deck to the GA cockpit.
Michael Church, 12,000-hour CFI and owner of Sunrise Aviation flight school, undertakes the ultimate lesson: a long cross-country flight with a student in a stick-and-rudder biplane. Their three-day, low-level trip from Chicago to Los Angeles overflew telltale signs of the Midwest: grain elevators, crop circles and railroad tracks. Each stop, such as Otumwa, Iowa, a World War II Naval training station and Falls City, Neb., with a retired police vehicle as a courtesy car, was a treat and an insight into America. What's the most interesting and compelling small airport you've flown to? Let us know at [email protected]