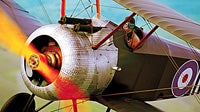 Just a few years after the Wright Brothers took their groundbreaking first flight, war broke out in Europe. The scant supply of airplanes that were on hand when World War I began quickly evolved into military machines, and for the first time in history, battles took place in the sky.
Fighter airplanes were designed with unrelenting haste, sometimes in a matter of weeks and almost always through a process of trial and error. Massive efforts were put into turning out flight-ready cadets. The popular belief at the time was that these pilots were dashing young warriors who merited the pomp and fancy of medieval knights (take, for example, Baron Manfred von Richthofen, a.k.a. the "Red Baron"), yet their life expectancy was tragically short. At the end of the war, a British study revealed that only 25% of these pilots survived a typical nine-month tour of duty.
Still, the airplanes of World War I mark a historic and early achievement in man's race into the sky. Though often crude and primitive, these airplanes represent remarkable innovation and imagination, from monoplanes to five-winged aircraft. Many of the discoveries made during this nascent period of aviation are still relevant today.
Thanks to the photographic genius of Philip Makanna, these warplanes (from the book Ghosts of the Great War) are now available for all of us to experience.