Hawker Beechcraft Premier IA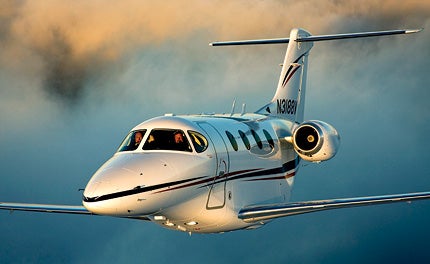 Thirty years ago, in what turned out to be a career mistake, I abandoned objective journalism and essentially sold out (for a pile of money, a big expense account and a twin-engine company airplane) to edit a group of corporate magazines for a major aircraft manufacturer. Nothing wrong with its products; nothing wrong with corporate magazines—just not the right decision for me.
Two years later, I corrected my mistake by forsaking caviar and filet in favor of hot dogs and beans. In other words, I returned to freelancing. I was once again free to do what I wanted: fly and write about it for this and other magazines.
One positive aspect of my brief investigation of subjective journalism was that I interviewed a number of very affluent owners of turbine aircraft. Almost without exception, they were all brilliant, driven individuals who had worked hard to achieve their financial station, were proud of their accomplishments and could make convincing arguments that a corporate aircraft was the only way to get the job done.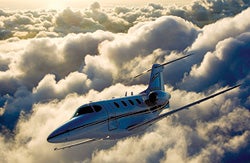 The Premier was introduced in 2001 as a competitor for Cessna's very successful Citation CJ series (at the time, the CJ1 and CJ2 models; since then, joined by the CJ3). From the beginning, Beech's concept was to create the most comfortable single-pilot-certified airplane in its class.
In this respect, Beech relied in part on research from the Starship project of the 1980s. Though the Starship wasn't successful, it did allow Beech to explore new avenues of composite construction and to certify an airplane unlike anything built before. Composite technology has been used extensively in military and commercial airline aircraft for the last two decades. The Hawker Beechcraft Premier 1A incorporates many of the technologies from that project.
Beech elected to construct the fuselage out of carbon-fiber/epoxy honeycomb composites (again, direct fallout of technology gleaned from the Starship). That's at least partially because composites are 20% lighter and three times stronger than aluminum. Because of their light weight and economical construction, the fuselage structure benefits from 13% more volume. Though the wing itself is conventional aluminum, the ailerons, flaps and horizontal stabilizer also are composite (also for additional strength).
---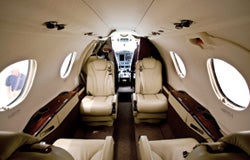 Designing the Premier with a composite fuselage freed up space for a spacious, quiet and comfortable cabin that's by far the largest in its class.
In fact, if you hadn't guessed from the airplane's generous cross section, the Premier's cabin is by far the largest in its class, essentially a tube measuring 5.5 feet in diameter. That's nearly stand-up headroom for some folks and eight to nine inches larger than the fuselage of the Cessna CJ series or Lear 31A, the Premier's closest competitors back in 2001. The first four seats are fully articulating, and the Premier's interior redefines first-class. Pressurization is 8.4 psi, allowing an 8,000-foot cabin at the airplane's certified maximum altitude of 41,000 feet.
Up front in the office, the Rockwell Collins Pro Line 21 digital integrated avionics suite incorporates every input and readout with maximum logic and minimum effort. All inputs are through a keyboard rather than twisting knobs. The Rockwell Collins Integrated Flight Information System is standard with electronic charts, airport displays, XM satellite graphical weather and map-overlay capabilities.
The Premier is blessed with a pair of Williams FJ44-2A turbofans, rated for 2,300 pounds of thrust per side, and that makes it an instant winner in all the performance parameters that count. It leaps off the ground in less than 3,800 horizontal feet at sea level, climbs at an initial 4,000 fpm and can level at FL410 in less than 23 minutes.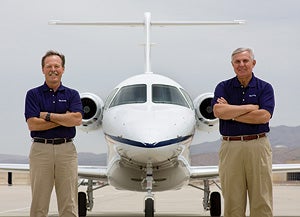 Retired astronaut Hoot Gibson (left) has flown three world records in the Premier IA. He and Product Manager Joe Grubiak (right) are an integral part of the Hawker Beechcraft team.
I talked to a half-dozen Premier owners, and all suggested that they enjoy the airplane's remarkable ability to leap tall heights in a single bound. One said, "I typically climb out at 250 knots below 10,000 feet, then transition to about Mach 0.65 for the remainder of the climb. I've had several instances when ATC needed me to slow down during climb, as I was climbing faster than some other jets were cruising."
Owners also suggested it didn't make much sense to fly a fast jet slowly unless there was a range issue, and most said once they reached cruise altitude, they operated at max Mach virtually all the time, typically flying as high as ATC would allow. Max cruise is about Mach 0.80, which equates to about 450 knots at optimum altitude. Perhaps more than coincidentally, this is exactly the typical cruise speed of most airliners. (Perversely, the fastest airliner is also the largest: the Boeing 747, which reaches Mach 0.85. Unlike the big Boeing, however, the Premier doesn't burn one gallon per second.)
Editor Jessica Ambats and I flew the Premier 1A demonstrator with a team of sales and demo pilots from Hawker Beechcraft: Product Manager Joe Grubiak, Chief Demo Pilot Peter Kennedy and consultant Robert "Hoot" Gibson, a former Navy F-14 pilot who saw combat in Southeast Asia during the closing years of the Vietnam War. After his Navy experience, Gibson was selected as an astronaut and logged some 36 days in space, flying five missions on the shuttle in the '80s and '90s. He served as Chief of the Astronaut Office in the early '90s. Gibson is also a world-record holder in the Premier 1A, with three city-to-city records: Seattle to Las Vegas at 426 knots (490 mph), Las Vegas to Wichita at 470 knots (540 mph) and Chester, England, to Geneva, Switzerland, at 445 knots (512 mph).
---
Rockwell Collins' Pro Line 21 integrated avionics suite consists of three 8×10-inch LCDs that present critical information while reducing pilot workload. All inputs are through a keyboard, and the setup includes Collins' Integrated Flight Information System, which offers XM satellite graphical weather, map overlay and more.
We met the Beech team at Santa Monica Airport and walked out to the airplane after a briefing on the why and wherefore of the Premier 1A. From the moment you see it, the Beech Model 390 is one of those designs that you somehow know you're going to love. Even parked on the ramp, it has a different look than most other business jets: visibly taller and wider with an elegant wing sweep and an area-rule fuselage concaved at the aft engine station.
The airstair door folds down with one hand, opening into the kind of cabin you might expect of a Beech turbine product. The interior is impeccably furnished—a typical comment in several of the owner interviews.
With 12,500 pounds to lift and 4,600 pounds of thrust to do it, the 1A has to gather itself for takeoff, but once the power kicks in, there's no question you're leaving. We hopped out to the former George Air Force Base, now known as Southern California Logistics Airport, in Victorville, Calif., for a series of touch-and-gos and some climb/cruise checks.
To no one's surprise, the Premier 1A did exactly what it was supposed to, climbing as if something bigger was chasing it and scoring an easy 445 knots at max cruise and FL330. Despite its speed up high, the airplane proved almost ridiculously easy to fly in the pattern, always the acid test for jets, especially those certified for single-pilot operation. Demo pilot Peter Kennedy kept me honest during the approaches, using a modest 120 knots down short final. The Premier proved friendly in all regimes.
Three years ago, when I went back to Wichita to fly the Cessna Mustang, I was impressed with how simple the airplane was to operate. The Premier was similarly easy to handle, a tribute to uncomplicated design that's specifically targeted at single-pilot certification. Kennedy even allowed me to fly the Premier 1A into the stick shaker, and the airplane manifested no unusual characteristics at super-low airspeed.
In fact, the Premier's docile manners and high performance may be the keys to its attraction. By the time you read this, there will be probably 270 of the type flying. At $6.4 million per copy, that represents a significant endorsement by some knowledgeable pilots who aren't afraid to tell the world they fly business jets.
---
We Interview 3 Owners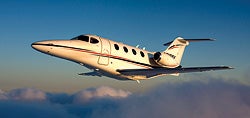 Frank Perryman


Frank Perryman of Perryman Company in Pittsburgh, Pa., says he couldn't do what he does without his Premier 1A. Perryman's company produces titanium products for the medical profession, and his travel needs range from visiting far-flung customers or suppliers in small towns to flying short hops to major airports around the Northeast, South and Midwest.

"We operate the Premier 1A into airports as short as 4,000 feet, and our missions can vary from a few hundred miles to 900 nm or more," says Perryman. "It's a rock-solid airplane, certainly the best Beech product we've owned—and we've owned a number of them."

The Perryman family has been enthusiastic about Beech airplanes for many years, starting with a Bonanza, then transitioning to a Baron and Duke, moving up to a King Air C90 and, finally, purchasing their first Premier seven years ago. "We looked at a CJ1, but the range/payload numbers didn't work as well for us," says Perryman, "and we decided on a Premier. We stepped up to our Premier 1A in 2007, and it's turned out to be the right choice. The 1A is very quiet, the Collins avionics package is intuitive, and we use the XM weather feature all the time."

Frank Perryman says there are four family members who've flown the Premier 1A at one time or another. "Everyone likes the fact that you can typically fill the tanks and fly with two pilots and three to four passengers. We see 433 to 439 knots on about 820 pounds per hour, typically flying at 38,000 to 40,000 feet most of the time. We couldn't be more pleased with the Premier."

Jack Roush
Jack Roush of Roush Fenway Racing in Detroit, Mich., was first attracted to flying simply because it was the fastest way to travel between racing venues. Roush operates five Sprint Cup Series Nascar teams and he tries to make it to as many races as possible when his cars are competing.

"I got into flying back in '92 when I bought a P-51 Mustang and didn't have a pilot's license," he says. "In 1993, I dedicated myself to the private ticket and earned the license in 10 days. I bought a 421, flew with a check pilot for quite a while and finally became qualified to fly the Golden Eagle."

His next stop was a Cessna CJ1, and Roush stepped up to a Premier 1A in 2007. "I'm personally sold on the Premier," Roush explains. "I'm a short guy, and I have nearly stand-up headroom in the Premier's big cabin, so it's very comfortable. Additionally, my schedule demands the ability to ad lib. For example, I may be flying 200 to 300 nm on some legs, and 1,100 to 1,200 miles the following day. Recently, I flew Detroit to Indianapolis to Detroit in one day, then Detroit to Charlotte to Detroit the following day. Then Detroit to San Jose to Napa, and Napa to Colorado Springs to Milwaukee to Detroit."

As you might expect, Roush flies as fast as the jet will go all the time, typically up at FL390 or higher. "One thing that stands out about the Premier is that the combination of area rule, a 20-degree wing sweep and 4,600 pounds of thrust lets me fly 100 knots faster on the same fuel as the CJ1. In combination with the comfort and the easy handling, that's enough to sell me right there."

Roger Hannay & Tim Nelson
Tim Nelson, a corporate pilot for Hannay Reels of Westerlo, N.Y., reports that the Premier 1A fits his company's mission profile almost perfectly. Hannay Reels produces a line of reels for hoses and cables associated with aviation, firefighting and other industrial applications. "Our products are distributed all over the United States, so we never know where we're going next," Nelson comments. "We probably average 600-mile stage lengths, though it's not unusual to fly one 200-mile leg, followed by a 1,000-mile leg. We fly max cruise all the time, and 100% of our trips are for business, usually with three or four people aboard."

Company CEO Roger Hannay operated a Cessna 414, King Air F90 and Citation CJ1 before the Premier 1A, but the Beech is something of an ultimate. Nelson is especially enthusiastic about the airplane's climb performance. "On our trips west, we'll frequently stop in Pueblo, Colo., for fuel," he says. "Pueblo is right up against the mountains, and that means we need to climb very steeply to get up to a safe altitude for topping the clouds that frequently guard the ridge of the Rockies. The Premier has no problem with that mission. It jumps right up to 25,000 feet on trips west and we can be at 30,000 or above in usually 10 minutes."

Nelson reports that support from Beech has been outstanding, though there have been few real problems: "Dispatch reliability has been excellent. I can't remember the last time we had to delay a flight for a maintenance problem. When you combine the speed, comfort and reliability, it adds up to a jet we can live with for some time."