From free training to discounts and rebates, this is the place to find great promotional deals from the aviation industry's leading companies. Be sure to check this page every month for the latest offers.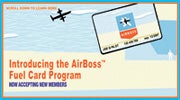 Discounts At The Pump
Last year, AirNav.com launched its AirBoss program, providing fuel discounts at over 400 FBOs. Now, the new AirBoss Visa Rewards card enables you to join free for one year and get discounts at participating self-serve FBOs. Earn a point for every dollar spent, and build points toward cash back on all ­purchases. Use your points for air travel on any airline with no blackout dates, or name-brand merchandise and gift cards. Contact: AirNav, www.airnav.com/airboss.

Free Shipping
CheckMate Aviation, the official checklist system for the Civil Air Patrol, produces checklist systems for 300+ models of aircraft; it now offers free shipping on checklists for P&P readers. Mention this P&P special to receive free shipping, or enter P&P as the coupon code when ordering online. Offer ends March 31. Contact: CheckMate Aviation, (800) 359-3741, www.checkmateaviation.com.

TKS Fluid Prices Cut
CAV Aerospace is pleased to offer its ice-protection customers significant price reductions for Kilfrost TKS fluid. Shipping charges will vary according to destination and quantity. Contact: CAV Aerospace, (888) 865-5511, www.weepingwings.com.
Get Your Instrument Rating In 10 Days Or Less
AFIT (Accelerated Flight & Instrument Training) has designed a training program for busy pilots who want to earn their ratings in a few short days. No matter how busy you are, you can become a safe, proficient and confident instrument-rated pilot in 10 days or less. And AFIT will come to you. P&P subscribers save 5% on the 10-day course when confirmed for training before February 28. Contact: AFIT, (866) 270-8224, www.afit-info.com.
---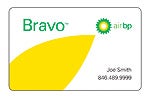 Air BP Rewards
Air BP has launched the Bravo GA rewards program, allowing members to track points, make purchases and get discount alerts online. Points can be divided between up to four crew members, in addition to schedulers and dispatchers. Membership is free and available at Air BP FBOs, MyBravoPoints.com and GA events. Points may be donated (as cash) to various causes.
Contact: Air BP, www.mybravopoints.com.

Free Gift With Bike Purchase
P&P readers qualify for a package deal from Montague Bikes: Order any 2010 Montague or SwissBike directly from the company and get a free set of folding pedals and kickstand (a $54.90 value). This offer applies only to Montague factory-direct orders and is valid while supplies last. Mention promotion code DW040 when placing your order. Contact: Montague Bikes, (800) 736-5348, www.swissbike.com, www.montaguebikes.com.

Free Subscription To Flight Guide
Owners who bought their AV8OR and AV8OR ACE prior to December 31, 2009, qualify to receive a free 90-day subscription to Flight Guide. Register online before February 28 to take advantage of this special offer. A subscription allows you to compare fuel prices while airborne and provides airport services information. Contact: Bendix/King, (800) 601-3099, www.bendixking.com/AV8OR.
Aspen Upgrade


Aspen Avionics has released its Version 2.0 software upgrade kit, which is provided to dealers and quickly loads Evolution Flight Displays with new software updates and optional performance packages. The 2.0 upgrade kit is free from Aspen, and any authorized dealer can perform the upgrades. Contact: Aspen Avionics, (888) 992-7736, www.aspenavionics.com.
Tempest Reduces Prices


Tempest has rolled back prices on its rebuilt and overhauled carburetor line, Tempest Volare. "Because we've lowered our manufacturing costs, we're passing that reduction on to the consumer in the form of a price rollback," stated John Herman, VP of sales and marketing. New prices are up to 25% lower than previous prices. Contact: Tempest, (800) 822-3200, www.tempestplus.com.