Cessna M2
It was once said, "Whoever said money can't buy happiness simply didn't know where to shop." And, judging from the crowds at NBAA last October, the shoppers are back, and whether it was for browsing or buying it's a good sign for a recovering turbine market. There are a few new models such as the Cessna M2, the Eclipse 550, and the HondaJet coming on line this year and a lot of incremental improvements being introduced. Pilatus has finally publically committed to the PC24, a long-studied project that will eventually move the company into the twin-turbojet market.
Prices never seem to go down, but it's still a buyer's market and manufacturers remain eager to offer incentives to keep production rolling. Whether you're transitioning from a piston, or you just need more capability, there are a lot of choices for anyone with the mission and means to burn Jet A.
Fixed-Gear, Utility-Class Singles
Want to haul a load of people or cargo into a dirt strip for a week of camping? A fixed-gear, single-engine turboprop might be the best tool for the job. Swap out the gear for floats and SETPs make for reliable, flexible operations on water.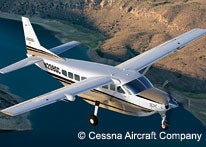 Cessna Caravan
Cessna Caravans
Since its first delivery in 1985, the Cessna Caravan has racked up well more than 15 million fleet hours and an enviable safety record. Cessna offers four different configurations to address a wide range of missions. Besides the cargo version, the 675, Amphibian and the Grand Caravan EX are the most interesting to owner-pilots. All have a fuel capacity of about 335 gallons, three-screen G1000 avionics and DOC of about $465/hour. Here is a quick look at each version:
Caravan 675
This is the original "short- body" Caravan that seats eight to 14 and has a maximum cruise of 186 KTAS and a range of 932 nm. The engine is a PT6A-114A with 675 shp. With full fuel it can take on another 1,086 pounds of payload. Base price (2014): $1.9 million.
Caravan Amphibian
This is basically an amphibian 675, with more storage room in the floats that can handle up to 725 pounds of cargo. Maximum speed is 159 KTAS with a range of 805 nm. Payload with full fuel is 1,006 pounds. Takeoff distance is 3,660 feet. Base Price: $2.3 million.
Grand Caravan EX
The Caravan Grand EX features an a PT6A-140 with 867 hp for improved performance. This is the largest Caravan with a stretched fuselage that can seat from 10 to 14. The maximum speed of 185 KTAS is achieved at 10,000 feet. Maximum range is 792 nm. With full fuel you can still carry an impressive 1,321 pounds of payload. Base Price (2014): $2.1 million. Contact: www.cessna.com.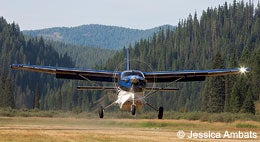 Quest Kodiak
Quest Kodiak
Now that 100 Kodiaks have rolled off the production line, it's safe to say that Quest has a hit on its hands and it's easy to see why. Designed for backcountry strips, the Kodiak is aimed squarely at the rugged, utility turboprop market. Power is supplied by a P&WC PT6A-34, 750 hp engine with a 4,000 hour TBO. The spacious cabin accommodates up to 10 seats or 248 cubic feet of cargo that can be loaded through the front cockpit doors or the large rear 49×49-foot cargo door. With a maximum of 320 gallons, the range stretches to 1,132 nm (at 135 knots). Top speed is 183 KTAS. At full gross weight, an average Kodiak pilot can get airborne in only 934 feet and touch down and stopped within 705 feet, without using reverse.
---
High-Speed SETP Cruisers
Single-engine retractable turboprops are serious traveling machines with low operating economics and high dispatch reliability that are very popular with owner- pilots, businesses and a wide variety of commercial operators.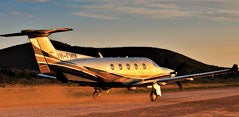 Pilatus PC-12
Pilatus PC-12/47 NG
The 2014 PC-12 has a number of new improvements. First, the landing gear is now fully electric. An electric motor moves the gear through push rods, so there's no fluid at all. The goal is to reduce maintenance and weight while maintaining the high reliability of the old system. Exterior lighting is now all LED for long life and low maintenance. In the cabin, Pilatus brought in BMW Design Works to create six completely new interiors. Four are designed for North American buyers, and two are aimed at the European market.
Up front, Pilatus has joined forces with three other manufacturers to create the "Connected Flight Deck" to allow wireless connection between the Honeywell Primus Apex avionics package and mobile devices. Four apps are currently available to allow wireless database updates (in about 20 minutes), up-loadable flight planning, downloading maintenance and trend data and the transmission of flight data for moving maps in the cabin.
The huge cabin has room for up a maximum of nine seats or a sumptuous, six-seat executive configuration. The ability to reconfigure the cabin has made the PC-12 popular for executive transport, air cargo, air ambulance and special government missions.
At maximum cruise of 280 KTAS, range is 1,573 nm and stretches to nearly 2,000 nm when slowed to 250 knots. The PC-12 also features a forward passenger air-stair door, a stowable enclosed lavatory and a large 52×52-inch rear cargo door. It can carry 1,029 pounds of payload with full fuel (402 gallons) and still operate out of a 2,650-foot runway while clearing a 50-foot obstacle. The maximum certified altitude is a weather-topping FL300. Base Price (2014): $3.8 million; typically equipped executive versions: $4.6 million. Contact: www.pilatus-aircraft.com and www.pilatusowners.com.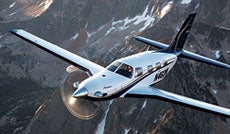 Piper Meridian
Piper Meridian
The 2014 Piper Meridian features a new exterior paint scheme, four interior palettes and a three-screen G1000 avionics suite with synthetic vision. Perfect for the owner-operator, the Meridian combines low acquisition and operating costs with impressive performance. The six-place cabin features leather seats with plenty of baggage room behind the rear seats. Top the tanks with 170 gallons of Jet A, take on 559 pounds of payload, and travel up to 1,000 nm with a 45-minute reserve. At the maximum certified altitude of FL300, it's easy to top most weather. In the mid-20s, the Meridian's 500 shp PT6-42 helps achieve a respectable top speed of 260 KTAS. The Meridian can clear a 50-foot obstacle to get in and out of a 2,438-foot field. Garmin GWX 68 onboard weather radar, GFC 700 autopilot and deice boots are standard. The options list includes XM radio and weather, TWAS, Stormscope and traffic-warning systems. Base Price (2014): $2.2 million; typically equipped: $2.3 million. Contact www.piper.com and www.mmopa.org.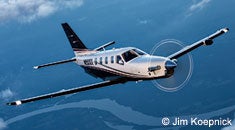 Socata-Daher TBM 850
Socata-Daher TBM 850 Elite
The 2014 TBM 850 Elite has matured with the release of a new POH that provides W&B information for all 42 possible interior combinations. Seven "main" configurations are provided for easy use. For example, the TBM can be configured with only four seats along with a spacious baggage area that hauls an impressive 507 pounds of baggage. This year, Socata has made the pilot door standard, so loading is easy, no matter how you configure the cabin.
Top the tanks with full fuel (291 gallons useable), load 931 pounds of people and baggage, and cover 1,410 nm at max cruise. Climb to the certified ceiling of FL310, slow to 252 KTAS, and range stretches to an impressive 1,585 nm (with a 45-minute reserve). Maximum speed at FL260 is a jet-like 320 KTAS and yet, the TBM 850 can still comfortably operate out of runways as short as 2,840 feet (with a 50-feet obstacle.)
Standard avionics include the three-screen Garmin G1000 with GFC 700 autopilot, Garmin GTS 820 traffic-warning system, Garmin TAWS, on-board GWX 68 weather radar and XM data weather link. Very popular among owner-pilots, the TBM fleet is over 640 with more than 1.1 million operating hours. Base price (2014), fully equipped, with five years of warranty and tip-to-tail maintenance: $3.7 million. Contact: www.tbm850.com and www.tbmowners.org.
---
Multi-Engine Turboprops
If you want two engines, multi-engine turboprops offer comfort, reliability and capability—generally without the need for a type rating.
Beechcraft King Air C90GTx
Emerging from chapter 11 with a strong book of orders, Beechcraft (formerly Hawker Beechcraft) is on a roll again. With more than 7,100 King Airs racking up more than 60 million flight hours, Beechcraft has produced one of the most successful GA turbine aircraft in history. Although it's the baby of the bunch, the C90GTX turns in very respectable payload and performance numbers. The C90GTx features composite winglets that look great and improve both climb performance and fuel efficiency. With dual PT6A-135, 550 hp engines, the C90GTx has a 272 KTAS top speed and can transport four passengers 1,236 nm with NBAA reserves. Payload with the tanks filled with 384 gallons of Jet A is an impressive 937 pounds. At MTOW, the C90GTx can operate out of runways as short as 2,552 feet.
The spacious cabin can accommodate eight to nine people and features a 48-cubic-inch, in-flight-accessible, interior baggage area that can handle up to 350 pounds. Throughout the cabin, 26 dynamic sound dampers are electronically tuned to damp propeller noise and produce an amazingly quiet ride. Passengers are treated to large, fully adjustable leather seats with plenty of shoulder room, light and luxury. Up front, the cockpit features the capable three-screen Rockwell Collins Proline 21 avionics package along with TWR-850 weather radar with four-color, six-range capability. The C90 series fleet size is over 2,000. Base Price (2014): $3.9 million. Contact: www.beechcraft.com.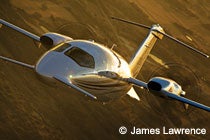 Piaggio Avanti
Piaggio P180 Avanti II
The Piaggio P-180 Avanti II is an Italian work of art. The rear wings, forward wings and fuselage all provide lift, help decrease drag and maximize cabin size. The result is the fastest, most efficient twin turboprop in the sky with an impressive top speed of 402 knots and a certified ceiling of FL410. New for 2014 is an extended range version of the Avanti II. Fuel capacity is increased from 2,826 to 3,226 pounds, with the installation of an extra fuel tank (in a portion of a lav-area closet) increasing range to 1,720 nm with four passengers and FAA IFR reserves. The roomy cabin is nearly tall enough for standing and features six large leather seats with materials and finishes inspired by Italian super-luxury cars.
The twin pusher PT6A-66B engines send exhaust and noise out the back, making prop deicing unnecessary, while creating a cabin environment that's quieter than most jets. PT6A power also helps the Avanti II use up to 40% less fuel, with less carbon emissions than any comparable turbojet aircraft. Fill the tanks (in the ER version) and you can still load an impressive 1,098 pounds of payload and get in and out of a 3,282-foot runway. Up front, the cockpit has excellent visibility and features the popular ProLine 21 avionics system. The Avanti fleet of 229 has racked up more than 800,000 flight hours. The 2014 model pits the P-180 against higher-end light jets in price, size and performance. Base Price: $7.9 million. Contact: www.piaggioaero.com.
Do-It-Yourself Turbine Kits
There are some impressive turbine kits available for anyone with a bug to build. Here's a popular option.
Lancair International Evolution
The Lancair Evolution is an all-composite four-seater with a top speed of 300 KTAS. Top the tanks and it can carry 837 pounds of payload and cover an impressive 1,133 nm between fuel stops. Build time is about 1,500 hours. Base price: $1.15 million. Contact: www.lancair.com.
Light Jets
Want to go higher and faster and still fly it yourself? If you've got the means, the light jet market provides a lot of single- pilot certified options. All of these jets are equipped with more technology than many airliners and provide a whole new level of comfort for long-distance travel.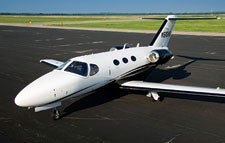 Cessna Citation Mustang
Cessna Citation Mustang
With nearly 445 deliveries and 360,000 fleet hours, the Citation Mustang has been a very popular entry-level jet, and it's easy to understand why. Low operating cost, ease of operation, passenger comfort, outstanding field performance and handling all contribute to its success. The cabin features comfortable leather, four-place club seating, side tables and a curtained lavatory.
Top the tanks with 385 gallons, load 765 pounds of payload, and the Mustang can climb directly to its max-certified altitude of FL410 in only 27 minutes. Range at the normal cruise speed of 340 KTAS is 1,150 nm with NBAA reserves.
Baggage compartments in the nose, cabin and tail provide 63 cubic feet of space with capacity to carry up to 718 pounds. Standard anti-lock brakes help the Mustang operate out of runways as short as 3,100 feet (SL BFL at MTOW.) The well-integrated cockpit features a three-screen G1000 system with the GFC 700 autopilot. Deice boots keep the airframe free of ice, while the GWX 68 weather radar and XM weather link capability provide weather data. Options include XM entertainment, Garmin chart options and satellite phones. There's even a version optimized for air-evac ambulance missions. Cessna estimates that the Mustang costs about $2.73/nm to operate (at $5.50/gal fuel.) Base Price (2014): $3.3 million. Contact: www.cessna.com and www.citationjetpilots.com.
---
Cessna Citation M2
With first deliveries scheduled for around the first of the year, the Citation M2 brings new life to the successful CJ1+ airframe while creating an obvious step-up path for Mustang owners. Winglets and other aerodynamic improvements with new William FJ44-1AP-21 engines produce a maximum cruise speed of 400 KTAS with a range of 1,300 nm. The M2 can climb directly to its ceiling of FL410 in only 24 minutes, while operating out of runways as short as 3,250 feet (SL BFL at MTOW). Full fuel payload is 700 pounds, with seating for up to seven and maximum baggage capacity up to 725 pounds. The cabin features a fully enclosed rear lavatory, fully adjustable leather seating and the optional Heads Up "Clairity" integrated audio/video entertainment system.
Options also include provisions for both global and domestic inflight Internet service. The cockpit has been optimized for accessibility, comfort and convenience, including ample storage space for iPads and phones along with USB charging ports. The panel features the three-screen Garmin G3000 Intrinzic avionics package with dual touch-screen keypads. The WAAS-certified G3000 includes split-screen capability, advanced vertical navigation capabilities, standby flight plans and advanced FMS features. Base Price: $4.4 million. Contact: www.cessna.com and www.citationjetpilots.com.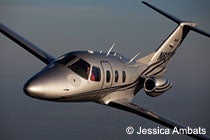 Eclipse
Eclipse Aerospace EA-550
Eclipse Aerospace reached a big milestone with the first customer delivery of a new fully certified EA-550 during NBAA in October 2013. With the ability to climb directly to FL410, the EA-550 will cruise at 375 KTAS while burning a total of only 59 gph. That makes it the most efficient and operationally economical twin jet on the market. Fill the tanks with 251 gallons, and you can transport 636 pounds at 1,125 nm with NBAA IFR reserves. The EA-550 can get in and out of a 2,790-foot field (clearing a 50-foot obstacle), and features anti-skid brakes for powerful stopping power. The interior features five leather seats in a number of different color themes with a dedicated 16-cubic-foot baggage area located inside the pressure bulkhead behind the seats.
Up front, the panel sports the Avio IFMS avionics suite supplied by Innovative Solutions & Support (IS&S). The Avio system ranks among the most technologically advanced cockpits anywhere. It features dual FMS panels, full system synoptics along with support for integrated auto throttles, synthetic vision and EVS (enhanced vision system). Numerous options let customers customize each airplane according to their needs. Base Price: $2.7 million. Contact: www.eclipse.aero and www.eclipse500club.org.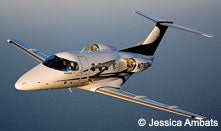 Embraer Phenom
Embraer Phenom 100
The 2014 Phenom 100 includes a number of new options and features. Multifunction spoilers now provide speed brake and lift dump capability, making speed control in the air and on the ground easier than ever. There are also 11 new interior themes to choose from. Reclining premium seats that allow swiveling and lateral adjustment are another new option. Buyers can also choose between a number of refreshment and storage cabinet options. With its six-to-eight-place interior, the Phenom 100 is an entry-level jet with more than entry-level performance. P&WC PW617F-E engines with 1,615 pounds of thrust help produce a top speed of 390 KTAS. Fill the tanks with 419 gallons of Jet A, load up 780 pounds of payload, climb directly to the maximum certified altitude of FL410, and the Phenom 100 can cover up to 1,178 nm with 100 nm NBAA reserves. Seventy-three cubic feet of dedicated cargo space provides plenty of room for bags. A fully enclosed rear lav adds to the big airplane feel.
Up front, the easily accessible cockpit features the Garmin G1000 Prodigy flight deck with three 12.4-inch screens. Onboard weather radar, XM weather, charts, TWAS, WAAS capability, system synoptic displays and traffic alerting all make single-pilot operations safe and manageable. Wing and tail deice boots provide ice protection. The Phenom 100 features numerous standard features like LED lighting, trailing link gear, low carbon emissions and brake-by-wire anti-lock braking. Base Price (2014): $4.1 million; typically equipped, $4.4 million. Contact: www.embraerexecutivejets.com and www.phenom.aero.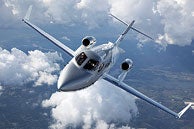 HondaJet
Honda HondaJet HA 420
With first deliveries now predicted toward the end of 2014, the HondaJet has been a long time in the making—but it just might be worth the wait. Honda may be new to the aviation market, but they aren't new to engineering excellence, quality control and customer support—and Honda has the means to get it right. The six-to-seven-seat HondaJet features a top speed of 420 knots (at FL300), a maximum certified ceiling of FL430 and a 1,180 nm range with NBAA IFR reserve.
The FADEC-controlled, Honda, 2,050-pound thrust, HF 120 engines were developed in partnership with GE and are mounted on the top of each wing to increase cabin space and quiet the ride. The highly efficient engines coupled with laminar flow wings and nose help make the HondaJet the most fuel-efficient aircraft in its class. Takeoff distance is less than 4,000 feet, and landing distance is less than 3,000 feet. External baggage volume is a generous 66 cubic feet. Up front, the HondaJet features the three-screen Garmin G3000 avionics suite. Payload data hasn't been released yet. Base Price (2014) $4.5 million. Contact: www.hondajet.honda.com.
---
Turbine Conversions And Upgrades
For many, the idea of simply hanging a new turbine engine on their trusty piston or turbine airplane makes a lot of sense. That might be a workable option depending on your pocketbook and what airplane you fly.

Aviation Alliance Excalibur 421
Aviation Alliance is working on a modification of the Cessna 421C with new PT6-135A engines to create a whole new airplane. This is essentially a complete tip- to-tail rebuild that provides a new interior, a Garmin avionics suite, winglets, aft strakes and a whole new electrical system. The projected top speed will be 327 knots with a 142- nm range (with FAA IFR reserves.) Initial pricing will be $2.5 million with first deliveries predicted "real soon now." Contact: www.aviationalliancellc.com.

Blackhawk Modifications, Inc.
With more than 300 customers, Blackhawk has one of the longest histories and broadest offerings of any company offering turbine conversions. Conversions are available for Piper Cheyennes and Cessna Conquests, but the most popular are new engines for the King Air 90 and 200 series, and Cessna Caravans. Compared to the stock aircraft, these conversions significantly increase climb and cruise performance while decreasing operating costs. In the case of the Cessna Caravan, a Blackhawk conversion can double the climb rate, improve MTOW, takeoff performance and increase cruise speed beyond a factory-new airplane. Contact: www.blackhawk.aero.

O&N Aircraft Modifications
In their 26th year of business, O&N Aircraft Modifications, Inc. has performed more than 100 Silver Eagle and Silver Eagle II conversions of Cessna P210s and 210s to turbine power. The conversion to a Rolls-Royce 250-B17F/2, 450 shp turbine produces climb rates over 2,000 fpm and cruise speeds of 215 KTAS. O&N also offers the 340 Silver Eagle a turbine conversion
of the popular Cessna 340 twin. Contact: www.onaircraft.com.

Rocket Engineering
Among the most successful companies converting pistons to turbines is Rocket Engineering in Spokane, Wash. Although the company has certified a number of different conversions, with nearly 280 deliveries, the most successful is the JetProp conversion of the popular Piper Malibu/Mirage. Buyers have a choice of three engines: the P&WC PT6A-21, -34 and -35.

The conversion takes about 12 weeks to complete and includes a full firewall forward conversion with new engine gauges, new fuel plumbing (with a header tank,) dual pitot tubes, new operating limitations, documentation and training. With the -35 flat-rated 560 hp conversion, the initial climb rate is about 3,000 fpm, with a maximum cruise speed of 268 KTAS at FL240 at only 39 gph.
At the maximum certified altitude of FL 270, the range is a respectable 1,000 nm with a full-fuel payload of 356 pounds. Rocket also offers conversions for the B36TC Bonanza, the Beech Duke, the Beech Baron and the Beech P-Baron. Contact: www.rocketengineering.com.

Soloy Aviation Solutions
Since 1983, Soloy, had converted over 60 Cessna 206 Stationairs to turbine power. The Mark I conversion utilizes the 418 hp Rolls-Royce 250-C20S turbine engines that have a 3,500-hour TBO. The Mark II conversion incorporates the RR 250-B17F engine with 450 hp for even more performance. These conversions add reliability, load-carrying capability and performance to a versatile airframe for applications in law enforcement, backcountry operations, skydiving and water operations. Contact: www.soloy.com.

Texas Turbines
For 20 years, Texas Turbines has modified a number of aircraft with Honeywell (Garrett) TPE331 engines that feature an impressive 7,000-hour TBO. They currently specialize in modifying DHC-3 Otters and Cessna Caravans. The Super Otter utilizes the TPE331-10 or -12JR engine to bring a whole new level of capability to backcountry operators flying in harsh conditions throughout Alaska and Canada. The recently STC'd Caravan conversion (the Supervan 900) incorporates a 900 shp TPE331-12JR engine to improve take off performance, speed, climb and operating economics for jump operators and others. Contact: www.texasturbines.com.

Twin Commander Aircraft LLC, Grand Renaissance Commander
There's a lot to love about Twin Commanders; but, it's an aging fleet. The Grand Renaissance program addresses that issue with a total aircraft overhaul to new standards. Engines are converted to Garrett TPE 331—10T with 1,000 hp and 5,000-hour TBO. All of the structures, hydraulics, landing gear, instruments, flight controls, cabin environmental equipment, ice protection systems and appearance items are completely disassembled, inspected, updated and repaired. The result is a modern, like-new, 300-plus-knot twin turbine with seven seats and a range of over 1,700 nm at an acquisition and operating cost unmatched by new production aircraft. Contact: www.twincommander.com.
---
Still In The Works
A number of new turbines are working their way through the design, test and certification process. Spec and delivery dates are a bit fuzzy, but here 's where things currently stand.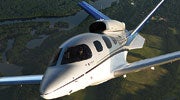 Cirrus SF50 Vision Jet
The single engine Vision Jet program continues on the long path toward certification. The SF50 will have a maximum altitude of FL 280, with a top speed of 300 KTAS, seating for five and a range of "about 1,000 nm." Garmin Cirrus Perspective with SVT has been selected for the flight deck. First deliveries are targeted for late 2015. Base Price: estimated to be less than $2 million.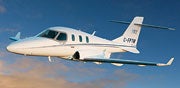 Diamond D-Jet
On again and off again, Diamond continues to talk about their single engine D-Jet that will be certified to FL250 at speeds up to 315 KTAS. With seating for four to five, the D-Jet is projected to have a range of 1,350 nm. So, stay tuned. Base Price: $2 million.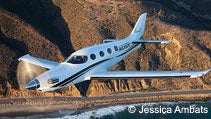 Epic Aircraft
Epic recently discontinued selling kit planes to focus on developing a certified product based on the Epic LT. It will be similar to the LT with all-composite construction, six seats, a top speed of around 325 KTAS, large full-fuel payload and an IFR range of over 1.300 nm. Introduction will be in 2014 with full production expected by mid-2015. The price will be $2.75 million. Contact: www.epicaircraft.com.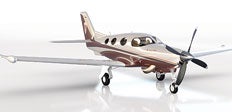 Kestrel
The company continues to make progress toward certification. The aircraft will seat up to eight with a full-fuel payload of 1,200 pounds. A 5,000-hour TBO Honeywell TPE331-14GR 1,000 hp turboprop engine will produced a 320 KTAS top speed with a max range of 1,300 nm. Delivery dates and prices haven't been announced yet.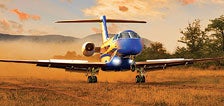 Pilatus PC-24
The just-announced PC-24 twin jet has a projected top speed of 425 KTAS, a range of 1,950 nm and will seat 10 to 12. The design is for operations on short, non-improved strips and features a large rear cargo door with a fully reconfigurable cabin. Balanced field length will be 2,700 feet at MGW, and it will be certified to FL450. First deliveries are projected during the 2017-18 timeframe. Base Price (in 2017 dollars): $8.9 million.