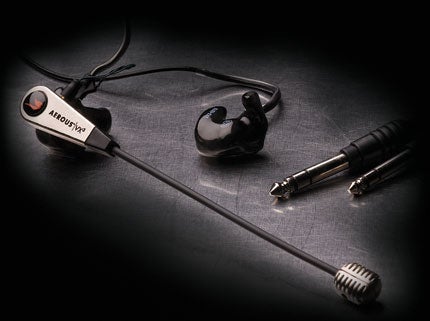 For most pilots, aviation headsets are a necessary evil. They protect your hearing from long-term damage due to engine noise and make it easier to hear passengers, other pilots and ATC on the radio. But most do so by clamping down hard over your ears to block out sound; if worn for more than a few hours, they can give you a headache. I started with the generic passive headsets sold at my flight school, and when I started making long cross-country flights (up to 10 hours in a day), I upgraded to somewhat lighter and more comfortable automatic noise reduction (ANR) models. With those, the clamping pressure is less, the background noise is cut down, and it takes longer for me to get a headache—but I still get it. And while aviation headsets generally do a good job with voice—with rare exceptions (i.e., Bose Series X)—they don't offer audiophile-quality music response.
Now comes Jerry Harvey, an experienced audio designer (and founder of Ultimate Ears, which makes headsets for professional musicians) who happens to be a pilot. He wasn't satisfied with the options available in aviation headsets, and decided he could do better. After trying one of his headsets, I'm convinced he has.
Harvey's Aerous VX-series are stereo, in-the-ear headsets. They're extremely light—less than three ounces. Though it's passive, I found his VX3 almost as effective at blocking outside noise as my ANR headset. And with no headband and no clamping pressure, I didn't get a headache!
The process of buying an Aerous VX headset is, in a word, different. When you call JH Audio to order one, you'll be referred to a local audiologist who can make custom molds of your ears. Harvey has an arrangement with the Sonus network (www.sonus.com), which has member audiologists in most cities.
The audiologist near me gave me a brace to bite on, then put small pieces of foam in my ears with strings attached so he could pull them out. He then injected plastic mold material into my ears using what looked like an old-fashioned grease gun. Waiting with the brace in my mouth for the plastic to harden was the worst part, but it took just a few minutes. I was then given the molds, which I shipped to JH Audio (in the provided box).
From those molds, a custom set of earpieces are made, attached to lightweight cables that end with either conventional aircraft audio jacks or a Bose LEMO connector (used on Cirrus and Columbia aircraft and some helicopters). One of the two earpieces has a boom mic attached—by default, it's on the right, but you can order one on the left if you prefer. The low-end VX1 model comes in a plain plastic case; the two higher-end models (including the top-of-the-line VX3, which I tested) come in a custom carbon-fiber case that can be laser-engraved with your name (or your aircraft number) at no extra cost.
---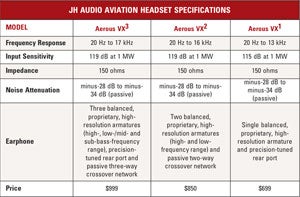 To view at a larger scale click above
To don the headset, you pick it up from the case, and slide a button on the cable to free up the earpieces. The one with the boom mic goes in first—twisting through a quarter-turn locks it securely into your ear. The cable goes over the ear (the first inch or so has a plastic-coated steel wire to help guide it) and down under your chin. Repeat the process for the other earpiece, then attach a clip to your shirt to relieve any strain on the cables, plug the cable into your intercom, and you're ready to go.
On the cable, there's a small box with a mono/stereo switch and a thumbwheel volume control. If you have a standard aviation intercom and audio panel, then you'll need to use mono mode to get audio in both earpieces. If you have a newer stereo intercom, then you'll be able to use stereo mode, which also works if you use the headset with an adapter to listen to your iPod or other music device.
I tested the Aerous VX3 on a flight around my home airport in Modesto, Calif. At first, it feels weird to have earpieces inside rather than over your ears, but after flying for half an hour, I pretty much forgot the headset was there. The boom mic also seemed odd at first—too short to place in front of my lips. Instead, it sits at the corner of your mouth and works just fine there. Other pilots, Modesto Tower and Northern California Approach Control had no trouble hearing me. And I had no trouble hearing them—voice clarity was comparable to my ANR headset, even though the VX-series headsets are passive and don't require electrical power. The VX3 cut background noise almost as much as my ANR headset, while still allowing me to hear the engine.
In the air, the only problem I experienced with the VX3 was a slight but annoying tendency for the wire attached to the right earpiece to lift off my ear when I turned my head. I reported that to Harvey, and he's looking into possibly using slightly longer steel wires to provide a more secure fit. Other than that, the headset was quite comfortable and worked very well.
My Skylane doesn't have stereo audio, so I wasn't able to test the VX3's music response in the air—but I did on the ground, using an adapter (supplied with the headset) to connect to my laptop. Classical music sounds like it's being played in a concert hall. I've also listened to some of my favorite CDs and to a Microsoft surround-sound demo using the VX3, and it's at least as good as any conventional stereo headset I've ever used.
It ought to be, considering the specs: Harvey has built the equivalent of separate treble, bass and sub-bass speakers into each earpiece, covering a frequency range from 20 Hz to 17 kHz. For pilots who have advanced audio panels with XM Satellite Radio or another music source, the VX3 is an excellent choice.
If you don't need (or can't afford) audiophile-class stereo performance, Harvey offers two lower-cost options. The VX1 and VX2 use exactly the same kind of custom ear molds and provide just as much passive noise reduction as the VX3, but they offer single and dual armatures, respectively (think of a single speaker and a treble/bass), for a savings of up to $300 over the VX3's $999 price. All come with a two-year parts and labor warranty. (The custom ear molds, which Harvey says average $50 to $75, aren't included.) If a customer is unhappy with the product, and Harvey can't resolve the problem, he says he'll refund the money. He also says that, in his experience making headsets for musicians, that happened very rarely!
For more, visit www.jhaudio.com or call (866) 485-9111.