About a year and a half ago, I wrote about Randall Fishman. He's the enterprising entrepreneur—he likens himself to a kind of electric-flight general contractor—who quietly blew everybody's mind at Oshkosh in 2007. The retired jeweler displayed—and flew—an electric-powered trike (hang glider with lightweight, three-wheeled frame) with more than an hour's endurance. As such, he became the first to bring an electric flying machine to market, and the EAA appreciatively pinned a couple awards on his chest.
He followed that bombshell the very next year with yet another "voltsplane." This time it was what some folks like to call a "real airplane," which means wings forward, tail behind and engine up front. His ElectraFlyer C was his own modification of a Monnett Moni motorglider kit bird. The C cruised for 1.5 hours at 70 mph on a single charge! Cue the EAA award-medal-pinners again for Randall Fishman, who walked away with the prestigious Dr. August Raspet Award.
You could say his bold steps were the sparks seen 'round the world: Electric flight projects popped up everywhere. In 2009, a stunning prototype project drew the Oshkosh spotlight—the Yuneec International E430, a graceful if still-rough prototype, Chinese-made, 45-foot-spanned, futuristic composite with a Yuneec-built powerplant. The eSpyder, Tom Peghiny's electric-powered FlightStar ultralight, also debuted with a Yuneec motor.
It seemed big money was now coming into electrics. Not to be overshadowed, Randall Fishman had more lightning bolts up his sleeves, including a two-seat motorglider prototype, the ElectraFlyer X, set to debut in 2010. But the year came…and went. Another year passed. No X model.
Meanwhile, Yuneec came out with two more sailplane-based electric-powered designs and a whole line of powerplants for paragliders and trikes. The NASA Green Flight Challenge was announced, and more than a dozen companies and individuals announced they'd field an electric or hybrid aircraft to compete. Many, including myself, believed the electric future was here.
Then tragedy struck Yuneec: In 2011, its designer and creative force, Martin Wezel, was killed in the flight of his E1000 two-seat electric prototype. Next, the eSpyder, after those impressive (and soooo quiet!) flights at Oshkosh and promises of imminent production, seemed to drop off the radar. More than three years after the debut of both models, word is still mum. Where did they go? The only hint from company insiders: Yuneec intends to "get things right" before it comes to market. Take from that what you will.
Other projects made news, including the Lange Antares 20E, the first self-launching electric motorglider to be sold, Pipistrel's Taurus Electro motorglider and Elektra One all popped up. Headline-grabbing, megabuck research projects such as the Solar Impulse caught the public's fancy. And a lot of ballyhoo arose this summer around motorcycle racer Chip Yates' 200 mph-plus stunt flight in a modified VariEze canard kit plane. His stated intention, much publicized, is to fly the Lindbergh route over the Atlantic solely on electric power in 2014. The aircraft has yet to be built, and the challenge of employing several orbiting electric UAVs across the Atlantic has yet to be met.
---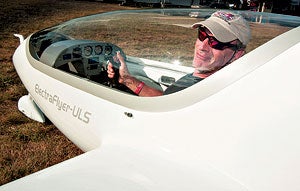 Randall Fishman's new all-electric, all-composite ElectraFlyer ULS is priced at $59,000.
But where were all those electric airplanes under $150,000 that we had thought were about to fill the skies like lightning bolts in a thunderstorm?
Back to center stage came Randall Fishman. At Sebring 2012, he introduced his updated, folding version of the the ElectraFlyer Trike, and a totally new aircraft, the ElectraFlyer ULS, an all-electric, all-composite ultralight (FAA Part 103-legal) priced at $59,000.
I think of Randall as a diehard throwback to the days when one person could make a difference. I don't mean exactly like Thomas Edison or Wernher von Braun. He's more of a hunter-gatherer of electric flight technology. Randall studies and learns what's out there, what's practical right now; then he gathers airframe and electronics builders, designers and engineers to supply him with the components he needs to build electric airplanes.
"I'm a hang-glider guy. I love soaring machines," he reminded me, as we sat next to his prototype ULS, a lovely, carbon-fiber, twin-boomed, 20 hp electric outrunner-powered, single-seat ultralight motorglider.
That's a lot of adjectives to cram into one sentence, but then Randall is a lot of personalities stuffed into one persona: dreamer, researcher, capital investor, businessman, technology innovator and doubtless other categories I've overlooked.
Meanwhile, the ULS is, in fact, a rather slick piece of work. Short tell: He enlisted a Slovakian designer to craft a carbon-fiber-composite airframe with some gratifying specs, and it should be ready for production (90 days from order to delivery) by the time you read this.
The ULS sports a 24:1 glide ratio, 220 fpm sink rate and 245-pound empty weight. The 37-foot-span single-seater flies up to 63 mph—the Part 103 legal limit—takes off in 250 feet, and lands under 24 mph, thanks to flaps and speed brakes. The bird flies for either an hour or two, depending on which size LiPo (Lithium Polymer) battery pack you buy.

I think of Randall as a diehard throwback to the days when one person could make a difference. He's a hunter-gatherer of electric flight technology. He studies and learns what's out there.

The airframe was tested to Czech Republic ultralight airworthiness standards. The airframe carries a +4G/-2G utility load limit. Power comes from a 20 hp (15 kW) outrunner-style electric motor. All-up gross weight is 520 pounds for a useful load of 266 pounds. The ULS will also be marketed with gas-powered engines.
Before too long, we'll see electric aircraft that will truly blow our socks off. Perhaps Yuneec, but certainly companies like Pipistrel, Lange and PC-Aero (Elektra One) are likely candidates to produce electric aircraft at somewhat affordable prices.
Meanwhile, amid the surge of building this new and exciting industry, let's remember the Glenn Curtiss of electric flight: Randall Fishman. His ElectraFlyer designs may never be sold in significant numbers. But he's one guy who's making things happen right now. I imagine him out there in his workshop, soldering together battery packs and assembling components, working out the kinks along the way, and patiently proving to the world that two-hour electric flight is already here, and it costs half what a typical LSA costs.
Hats off to you, Randall Fishman. Keep dreaming. Keep tinkering. Keep reminding us that one person can open the door to the future…one quietly humming flight at a time.