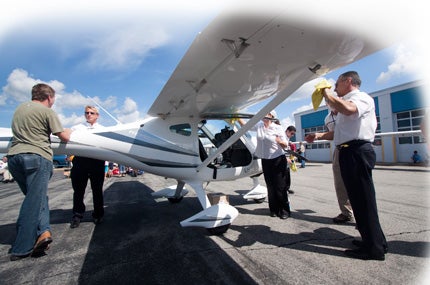 THE CO-OWNERSHIP EXPERIENCE. LetsFly takes care of all the hassles of ownership (such as maintenance, insurance and hangar fees) and helps set up pilots in aircraft cooperatives.
I love this concept of sharing ownership in an aircraft, new or used. Last month, I delved into David Kruger's Aircraft Partnership Association (www.theapa.com), a type of online matchmaking service to bring like-minded pilots together for sharing the costs of aircraft ownership.
Kruger made a compelling case for shared ownership. While most pilots think they can't own a plane due to the high initial cost, Kruger's research shows that we should focus on total hourly cost of operation, which, at $50 to $150, is about the same as hourly costs for boats or other motorsport vehicles.
When you consider that most of us only do our boat/ski/plane thing on weekends and holidays, those very vehicles we're obsessed with owning end up shivering in the boathouse/garage/hangar 98% of the time!
Partnerships can be challenging to get right, but what if you could co-own an airplane and have all the hassles—from initial purchase to final sale (including all the maintenance, insurance, hangar fees and whatnot)—managed by someone else? And what if you still got as much personal air time as if you owned the airplane all by yourself?
Eldon Corry bills LetsFly (www.letsfly.org) as an "international aircraft cooperative," and he's helping set up aircraft cooperatives with figures that will get your juices flowing:
• Initial investment: $2,900
• Flight time: $30 per hour
• Total monthly payment: $400
• All maintenance, storage, annuals and other fixed costs included
• Positive cash flow potential
Imagine: no insurance payments to remember, no maintenance scheduling, no inspections, no coughing up extra to pay for overhauls. This is a turnkey deal, like buying a condo in a quadplex. You make monthly payments, and the landlord takes care of everything, right down to edging the lawn. Dude…I'm in!
LetsFly started a decade ago. "I got out of general aviation for a while and flew for the airlines," Corry says. "By the time my kids were ready to learn to fly, many flight schools had gone under in our area. I knew several people who wanted to learn to fly but lacked access to aircraft, so I shared out three airplanes."
While fine-tuning the process, Corry asked himself: "Why not build a system for affordable flying that will work anywhere? Why can't we put mom and pop back in the air?"
Using the three planes already in shared ownership as a test bed, he enlisted Mark Teal, a senior software engineer for NetJets, to develop a turnkey automated package that would run the entire program.
"We provide the tools and expertise for people to invest in and run their own cooperative," explains Corry. "Additionally, we provide or facilitate financing to help cooperatives get started."
LetsFly's members have two prime ways to go: as owner/managers (i.e., landlords) of an airplane, or as co-op members (condo buyers) who own 1⁄4 shares in an airplane.
Corry has confidence in his brainchild: "We guarantee this—if anybody shows us a company with a more economical way to own and fly an airplane, we'll give them $10,000! Banks are still stingy with money, so when we see a good area and investor to start a cooperative with, once they can qualify for the aircraft's primary financing, we'll come in with secondary financing."
---
The realtor terminology isn't offhand: Corry studied the most successful styles of real-estate investing and found the fourplex model hard to beat.
"The data showed us that fourplex ownership creates win-win scenarios for both parties," he says. "The investor buys the property, looking for a reasonable return on investment and decent cash flow. Four people needing an economical place to live buy units with little down payment and low monthly costs: That's a win-win!"
To extrapolate the fourplex strategy to airplane ownership, Corry automated the entire process, from legal and financial aspects to flight scheduling and maintenance. But why only four people?
"Four is optimum for giving everybody plenty of flight time and keeping costs reasonable, such as insurance. When insurance companies see more than five owners, they look at it as a flying club—and the insurance rate triples!
"Our cooperatives almost are like owning your own airplane—you seldom have scheduling conflicts. The airplane is owned and managed by the principal. You come and go as you please. The manager takes care of everything. It's a form of hybrid between partnership and fractional ownership. But fractionals usually are very expensive: You'll pay a minimum of $500 a month for management fees alone—ours is zero.
LetsFly's involvement in "profits" is minuscule: $595 to set up the cooperative. It also makes money when private financing is involved. "Otherwise, we pass everything along to the cooperative. We don't charge for scheduling or anything else.
"Partnerships often enter into chiefs/indians conflicts," says Corry. "Nobody wants to lead, or everybody does. There's no center of responsibility. But just like in the front cockpit of an airliner, the buck stops with the captain. The co-op owner runs the ship—that's why fourplexes have worked so well, and often, why partnerships haven't."
LetsFly has put together 376 aircraft cooperatives. That's a lot of airplanes, and they're likely out flying four times more often than if just one person owned each aircraft. That means airport cafes are busier; mechanics are working more; and more people are flying. Once the five-year commitment is done, members can sell their shares or stay on board and enjoy the airplane.
"In light sport, everybody wants the $40,000 airplane. Well, we're giving it to them," says Corry, "with our nonqualified financing of $2,900 down and reasonable monthly payments."
If you do the math, a typical fully loaded LSA will set a LetsFly co-op member back about $35,000 to $40,000 over the life of the five-year agreement. That's roughly $7,000 to $8,000 yearly. If you rent a Cessna at the local FBO for $120 per hour for less than 70 hours a year, then you've spent that $8,000. And you don't own anything except memories.
Now, imagine a cooperative in a less expensive LSA, ultralight or used airplane, with even lower ownership and operating costs. If you take away just one point from this philosophy, make it this one: If you can afford to rent an airplane or own a boat, then you can afford to buy and fly an airplane.
Let's breathe some life back into our flying. Let's leave behind this lone-eagle craziness of overleveraging solo ownership in mostly unused toys, which hasn't served us well at all. Let's all get flying again and bring back the $25 hamburger for good!