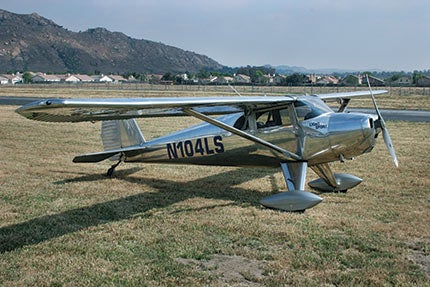 If you're a Luscombe lover (and most any pilot who's flown the type is), the new/old Luscombe 8F must strike a resonant tone. These days, in fact, the old Luscombe design has taken on a new persona, that of an LSA.
Yes, it's true the little Luscombe Silvaire has been on-again/off-again for several decades, but it appears the type certificate has finally come to rest in the hands of John Dearden, president of Luscombe Silvaire Aircraft Co. (www.luscombe-silvaire.com) in Riverside, Calif. Working out of Riverside's Flabob Airport, Dearden, his wife and a group of dedicated Luscombe fans are making a brave attempt to revive what many regard as Don Luscombe's work of art.
If you're not familiar with the Luscombe, you're in for a treat the first time you take the stick and guide the 8F up into the sky. In the late '30s/early '40s class of entry-level two-seaters, the Cub, Champ, Taylorcraft, Porterfield, Cessna 120/140 and Luscombe were regarded by many pilots as the least expensive and most enthusiastic methods of transitioning from ground to sky. Of those airplanes, the Luscombe Silvaire was one of the most respected; often considered a standout, it possessed better performance, improved handling and even a limited inertia-driven aerobatic capability. The original Luscombe sported a series of 65 to 90 hp engines, and its performance was generally a step ahead of the competition. In the '30s and '40s, Luscombes were regarded as the sports cars of lightplanes.
Today's Luscombe 8F Silvaire LSA is essentially the same airplane as the original, yet improved in the respects that count. It's still an all-aluminum airplane, and that may mean the most to some pilots who still believe aluminum is the best material for light aircraft. Unlike composite materials, the Luscombe's all-metal construction is impervious to UV radiation, cold temperatures and severe heat. This means there's no limiting airframe temperature that might result in delamination.
On top of that, many pilots have traditionally left Luscombes unpainted, thereby saving extra cost and weight.
---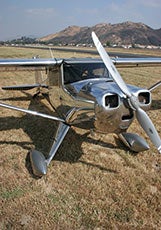 The original Luscombe was certified under the old CAR 4a regulations, and today's airplane is even more robust. "We have nothing whatsoever against composite structure," says Dearden, "but the final 1950s Luscombe airframe was done in aluminum, and we saw no reason to change what wasn't broken. The airplane's design load limits exceed the current utility standards, so they're far ahead of LSA limits."
The original production Silvaire's 90 hp Continental is long out of production, and the new engine of choice is the 100 hp Continental O-200. This is essentially an updated version of the mill that powered the Cessna 150 for so many years. It's rated for the same horsepower as the Austrian Rotax 912 used on so many other aircraft in the light-sport category.
By regulation, an LSA's gross weight is limited to 1,320 pounds, and the empty Luscombe Silvaire weighs between 830 and 880 pounds, depending, as usual, on avionics and equipment options. With a 30-gallon fuel capacity, that leaves a payload between 310 and 250 pounds with tanks topped. Baggage goes aboard behind the two main seats and is limited to 75 pounds.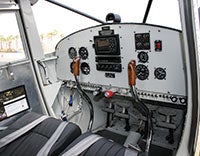 Obviously, you'd need to leave some fuel behind in order to fly the 8F with two passengers. That's not a particular problem, as the O-200's burn is only about 5 gph, and 20 gallons will provide you with enough endurance to stretch your limits, if not the airplane's. Figure 3.5 hours of endurance plus reserve, about as long as many pilots are willing to spend in a little airplane anyway. If you're flying solo, you can top the tanks and endure for six hours.
The Silvaire's performance was always a little ahead of the competition back in the '40s and '50s. Today, it's fairly close to what you'll see from the more modern, super-efficient, composite designs. Climb is about 900 fpm at gross, obviously better if you're flying solo. The stated service ceiling is 17,000 feet, so the airplane is easily capable of scaling the tallest mountain in the Lower 48. I didn't fly Dearden's demonstrator to tall heights in the hour I spent with the airplane, but it showed plenty of enthusiasm for climb at low level.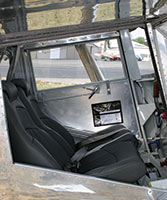 The all-aluminum, all-American Silvaire's minimalist design philosophy is apparent on its exterior and interior.
If you're willing to high-jump to medium altitude with the 8F, say 6,000 feet or more, you can expect cruise speeds of 120 mph or better. To some extent, high-altitude cruise defies the nature of the airplane. It's a perfect machine for chugging along low and slow, admiring the view and smelling the cows. If you're willing to ease back on the power, you can realize an extra 30 to 45 minutes of endurance and extend your range perhaps another 50 to 70 nm.
The wing is fairly large (140 square feet), and the airplane's big flaps, levered in with a manual lever mounted on the forward cabin roof, assure good low-speed control. Stall speed is down around 44 mph with full flaps deployed, so you need have no fear about slow approaches.
Luscombes have always been known for good short-field numbers, and the new Silvaire scores well in leaping off and plunking back onto abbreviated runways. The stall is so low that the airplane will levitate off a hard surface runway in 600 feet and land back onto the same surface in 500 feet. In other words, you could easily operate the 8F from any convenient grass field or local dirt runway.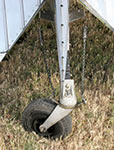 Dearden is careful not to criticize his predominately foreign competition, but he's obviously proud of the fact that his airplane is all-American. "Everything on this airplane is American-made, from the engine, propeller and airframe components to the avionics, tires, brakes and wheels," he says.
Base price for a brand-new Luscombe Silvaire 8F is $89,700. That will buy a 2008 airplane that looks exactly like a meticulously built restoration of an antique Luscombe.
SPECS: 2008 Luscombe Silvaire 8F LSA
---
The Luscombe Silvaire is one of the best deals on the used market. Check out some of the otherCheapest Planes In The Sky.