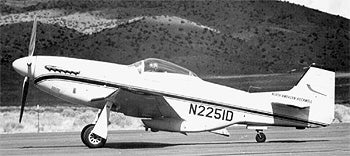 STANDARD DATA: (P-51D) Seats 1-2. Gross wt. 11,600. Empty wt. 7,125. Fuel capacity 269-489. Engine 1,720-hp Rolls-Royce/Packard Merlin.
PERFORMANCE: Top mph 437. Cruise mph 362. Initial climb rate 3,475. Range 2,300. Ceiling 41,900.
Many experts agree that the North American P-51 Mustang is the world's finest fighter plane in its class. Most air races around closed circuits include a large percentage of Mustangs. Quite a few P-51s have been converted to seat two persons. Although the Mustang went out of production in 1946, it is still in service in some places in the world. By civilian aircraft standards, the Mustang is a difficult plane to fly; it is considered especially tricky on takeoffs when the engine torque requires expert pilot handling. Designed originally for the V-12 Allison engine, the P-51's high-altitude and power performance did not live up to expectations. So, the 1,450-hp Packard Merlin became the standard powerplant.
There are several models of the Mustang, but the F-51 D was the first version to feature the trimmed-down rear fuselage and bubble canopy. Earlier Mustangs looked similar to the Spitfire. Today many Mustangs have been modified to handle engines with an output of over 2,000 hp. An interesting mutation of the P-51 was the F-82 "Twin Mustang." Essentially, it was two Mustang fuselages joined by a constant-chord center section and a rectangular tailplane. It was used as a two-seat long-range escort fighter and had a maximum speed of over 475 mph.