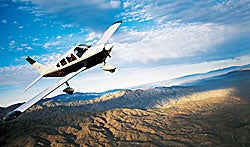 Cherokees have always had a deserved reputation as the most docile singles in the sky. Flown to the bottom of their speed envelope, they have practically no stall at all. Systems are so simple, even magazine writers can manage them, and control response is slow enough to keep the most ham-handed pilot out of trouble.
Combine such gentle handling with copious power, and the resulting airplane becomes even tougher to resist. That's exactly the formula that made the Cherokee 235/Charger/Pathfinder/Dakota such modestly popular machines. As the ultimate power application to the PA-28, the 235 was intended to steal sales from Cessna's 182 Skylane, and it did, though not as much as Piper might have wished.
Parts commonality can be a major contributor to profit, and Piper has proven to be a master at adapting a single airframe to a maximum number of models. Piper adapted essentially the original Cherokee 150/160 airframe to the 140, Warrior, Archer, Arrow 180 and 200, Seminole twin and the Cherokee 235, just as Cessna used a majority of Skyhawk pieces to produce the Skylane.
Unfortunately for Piper, Cessna was already way ahead in marketing a true, four-place airplane rather than merely a four-seater. The 1953 Cessna 180 was one of the industry's first full- fuel, four-seat singles, and the follow-up nosewheel 182 upgraded the same basic model to nosedragger configuration in 1956. Piper was practically a decade behind when they premiered the Cherokee 235, and the catch-up factor was probably a major reason the big horsepower Cherokee never really caught on.
In addition to the big engine out front, the first Cherokee 235 enjoyed two feet more wingspan than its little brothers, and the extended tips were filled with fuel to boost total capacity to 82 usable gallons in four tanks. Piper improved the airplane over the years in an attempt to replicate Cessna's success. Though the Cherokee 235 remained essentially unchanged through 1972, the '73 model was called the Charger (obviously named after the famous Charger Indians) and granted 100 pounds more gross, '74 through '77 models were known as Pathfinders and later versions were named Dakotas and featured the semi-tapered Warrior wing.
I know you've heard this song before, but here at Plane & Pilot, we're privileged to fly some of the very best examples of any given model. That was exactly the case with the Cherokee 235. Brian Kenny of Las Vegas volunteered his early Piper Pathfinder for our editorial abuse, and it was about as perfect an example of a PA-28-235 as you could ask.
---
A 1974 model, Kenny's Pathfinder incorporates the five-inch fuselage stretch (all absorbed in rear-seat legroom), elevator trim relocated to the lower sub-panel, the third side window, a larger tail, 100 pounds more gross weight than the basic 235 and a constant-speed prop. Piper wasn't done with changes to the airplane and would later modify the wing and search for a better name.
So why did Kenny choose a Cherokee 235 in the first place, more accurately, the second place (as this is his second airplane)? "My first airplane was one of the very first Cherokee 235s produced, a '64 model," says Kenny. "And I liked it so well, I decided to stay with the type. I bought my Pathfinder out of Nashville in the summer of 2000." Since the initial purchase, Kenny has upgraded several aspects of his airplane's equipment. Most of the avionics are new-generation Garmins, with a primary nav entrusted to a coupled Garmin GNS-530 and a secondary nav to a Bendix/King KX-155. A WX-900 Stormscope helps keep the airplane away from the worst weather. The owner also added one of JPI's EDM-700 engine analyzers to better control mixture and to troubleshoot potential engine problems.
Bachelor Kenny's needs rarely dictate a full cabin, and his airplane's performance benefits from the reduced weight of only two up front on most trips. A general and industrial contractor, Kenny uses his airplane for flying around the Southwest, "mostly for fun in Nevada, California, Arizona and Oregon," Kenny comments. "But I do sometimes fly the Pathfinder on business."
With typical stage lengths less than 300 nm, Kenny's Piper has fuel to spare. It sports four tanks, a pair of inboard 25-gallon containers, plus two additional 17-gallon tip tanks. The fuel system has been a source of more than a few operational problems for pilots with an "on/off" mentality. Kenny adds, "With four tanks, there's obviously no 'both' position, so the pilot has to actually manage the fuel to keep things in balance."
Contrary to what you might expect, the flight manual suggests running on the inboard tanks first to minimize loads on the aircraft center section. Kenny follows a strict schedule of alternating the inboards a half-hour per tank to maintain symmetrical loading, using the right tank on the right side of the hour and the left on the left side of the clock. After three cycles on each side, he runs down the outboards in a similar manner and plans to land on one of the mains.
Eighty-two-gallon tanks turn out to be more than enough for the Pathfinder. Piper actually decreased fuel capacity from 82 to 73 gallons with the introduction of the 1979 Dakota. The industry standard of four hours plus reserve is easily achievable in the 235. At a block burn of 14 gph or less (Kenny is religious about running 100 degrees rich on the EDM-700), the Pathfinder has an easy 5.0 hours endurance at max cruise, more like 6.5 hours at 65%.
The interesting thing is that all that range and endurance has no downside. Despite the heavy load of options, Kenny's Pathfinder sports a 1,309-pound useful load and a whopping 805-pound payload with full tanks. "We all tend to buy two seats more than we need, and I rarely use the rear pair, but when I need to, I can carry pretty much anything I want," Kenny brags. "I can lift four standard folks plus a pile of baggage or a quartet of 200-pound guys. I doubt there are many Skylanes that can lift that kind of load with anywhere near as much endurance."
---
The numbers would suggest Kenny is correct, although the Skylane has advantages in other areas. Take a look at our comparison chart, taken from the 1974 to 1975 edition of Jane's All The World's Aircraft, which listed the two models in a head-to-head comparison of load and performance. Though most specifications are taken from sales brochures, keep in mind that Jane's All The World's Aircraft often tends to be more conservative in performance analysis than the manufacturers.
Kenny says his airplane performs very close to book in virtually all areas, except fuel burn. He averages 14 gph, and the POH specifies more like 12.8 gph. "Cruise definitely isn't the airplane's trump card, but with all the Laminar Flow mods, it's either right on Piper's promise of 133 knots or better, and that lets me keep up with many of the early retractable Piper Arrows. Climb is usually better than 800 fpm," Kenny explains.
Cherokee stalls have long been notable for their supremely gentle nature, sometimes, hardly a stall at all. Usually, they're little more than a mild pitching moment 10 to 15 degrees above and below the horizon while the airplane mushes toward the ground at 700 to 800 fpm. The airplane's stall is so tame that some instructors suggest a full back yoke, power-off stall as a method of descending through an overcast in a Cherokee when all else fails, Piper's last-chance equivalent of Cirrus' ballistic parachute.
Factory Comparison:
1974 Piper Cherokee Pathfinder
1974 Cessna 182 Skylane
Average-Equipped New List Price:
$36,490
$30,475
Current Value:
$63,000
$79,000
Price Appreciation Factor:
172%
259%
Gross Weight (lbs.):
3000
2950
Empty Weight (lbs.):
1550
1645
Useful Load (lbs.):
1450
1305
Horsepower:
235
230
Power Loading (lbs./hp):
12.8
12.8
Wing Loading (lbs./sq. ft.):
17.6
16.9
Total Fuel Capacity (gals.):
82
79
Payload, Max Fuel (lbs.):
958
831
Cruise Speed, 75% Power (kts.):
133
139
Best Rate Of Climb, SL (fpm):
800
890
Vso:
52
50
Service Ceiling (ft.):
13,550
17,700
Takeoff Run (ft.):
850
705
Landing Run (ft.):
1040
590
Sources: Aircraft Bluebook Price Digest, Jane's All The World's Aircraft
The owner feels the Pathfinder's landing characteristics are among the best of the Cherokees, primarily because the airplane has a heavier feel than other PA-28s and isn't so flighty in the flare. "You have the ultimate panacea for a bad landing with the Pathfinder—power," explains Kenny. "If everything goes against you during the approach or in the flare, you can usually blast yourself out of trouble with power."
As a dedicated fan of the PA-28-235, Kenny has kept close tabs on maintenance problems and costs, and he feels the airplane is relatively simple and reliable. "Some pilots seem to have trouble with uneven oleo extension," says Kenny, "but I haven't seen that particular problem. With four tanks available, proper maintenance of the fuel selector becomes more critical. It would be fairly dumb to have all that fuel on board and not be able to get at it, so I place special emphasis on the check valve O-rings in the selector. The pitot blade has been known to become contaminated with water or bugs, but that's not much of a problem for me."
The owner is fairly cost-conscious, and while he flies for fun, he tracks operating expenses closely. Unlike so many of us who'd just as soon not know how much our airplanes cost to operate per hour, Kenny figures his Piper Pathfinder costs him about $110 for each flight hour. "Aside from those items you can't control, such as hangar and insurance—I spend only about $1,200 a year on the latter—I don't worry much about the cost," says the contractor. "I choose to fly for recreation, just as many people choose to own a sailboat or cabin cruiser or invest in a cabin by the lake. For me, my airplane is my escape machine, and it's worth any reasonable price to own and maintain."
SPECS: 1974 Piper Pathfinder N57347