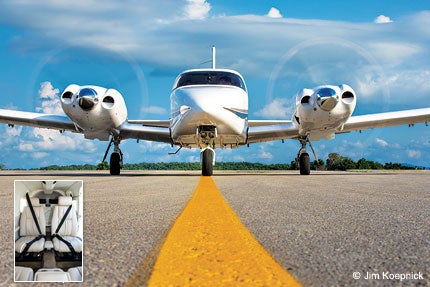 The Piper Seneca V is powered by turbocharged 220 hp Continental TSIO-360 engines and cruises at 195 knots. The cabin is entered via cargo doors at aft left.
Piston twins have gradually dwindled down to a precious few. Back in general aviation's modern heyday, there were at least 20 twins on the market. Today, there are five. Piper, a traditional leader in multi production, continues to produce two of them. Still, there may be an endless market for twin-engine trainers for the foreseeable future, especially in view of the coming pilot shortage. Additionally, owner-flown multis such as the Seneca and Baron provide the power redundancy that many pilots are looking for. There will probably always be a market for anything that improves the margin of safety and can help train the next generation of airline captains.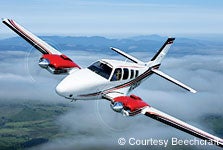 Beechcraft G58 Baron
Beech G58 Baron
This isn't your grandfather's Baron. The G58 may have a heritage and a basic airframe configuration that stretches back a half-century, but you'd never know it by looking at the 2013 model. The G58 is essentially a G36 Bonanza fuselage with four feet more wingspan and a pair of the same 300 hp Continental engines used on the Bonanza. Performance is impressive, with climb at 1,750 fpm and a cruise at nearly 200 knots. Useful load is 1,650 pounds, and that means the airplane can carry full fuel (194 gallons) plus about 500 pounds in the cabin or baggage compartments. While that's only three folks, you can easily off-load fuel for payload if the stage length is a short one. The Baron's Continental IO-550 engines are approved for lean-of-peak operation, and typical burn is only 32 gph, so endurance at max cruise is 5.5 hours plus reserve. Price: $1,373,900. Contact: www.hawkerbeechcraft.com.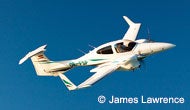 Diamond DA42
Diamond DA42 Twin Star
Diamond's innovative twin started off with diesels and took the twin market by storm. Then Thielert, the German manufacturer of its diesel engines, went bankrupt. Diamond transitioned to avgas, installing a pair of Lycoming IO-360s, and more recently returned to diesels with introduction of its own captive Austrian power plants. The avgas version remains available as an option. The DA-42 is certainly the most innovative of the entries in the twin class, featuring a pair of Austro AE-300 turbo-diesels, designed to develop 170 hp while burning standard jet fuel. The Twin Star is also the most futuristic of twins, featuring upturned winglets on each tip, a tall T-tail and doors on each side. The Diamond twin has a max takeoff weight of 3,935 pounds and scores 162 knots in cruise. Prices: DA-42NG $715,111 (Euro exchange rate as of November 2012); DA-42L360 $624,500 (Lycomings). Contact: www.diamondtaircraft.com.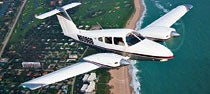 Piper Seminole
Piper Seminole
The PA-44-180 twin is the oldest multi-engine airplane still in production. Introduced in 1979, the Seminole found instant favor with the institutional flight schools because of its low operating cost, tough, student-resistant structure and Piper's extensive support network. Flight training facilities from the University of North Dakota, University of Oklahoma and even the Royal Jordanian Air Force have embraced the Seminole. Cruise speed is 160 knots-plus and climb with both engines turning is 1,300 fpm. Piper isn't liable to sell many to owner-pilots, but it's a safe bet the Seminole will have a continuing run in multi-engine flight training. Price: $622,900. Contact: www.piper.com.
Piper Seneca V
This is most emphatically NOT a trainer. In fact, the Seneca started out as a proposed tri-motor makeover of the PA-32. That idea didn't fly, so the PA-34 was hatched in 1972. The current Seneca may be, arguably, the most adaptable twin in the sky. The result of 40 years of evolution, the current Seneca V uses a pair of turbocharged, Continental TSIO-360 engines, developing 220 hp per side, and that's enough to push the airplane along at 195 knots at five-mile heights. The cabin retains the basic Saratoga configuration, with a cockpit entry door at forward right and a pair of cargo doors at aft left. The passenger enclosure is spacious and comfortable, but don't plan to carry more than three folks plus baggage in the six seats unless you're willing to download fuel. Price: $935,000. Contact: www.piper.com.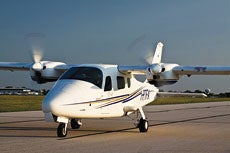 Tecnam P2006
Tecnam P2006T
This four-seat Italian twin was introduced in late 2008, and just as with the LSAs that have made Tecnam famous, the little twin takes a decidedly minimalist approach to a trainer. The folks at Tecnam like to call it a VLT (Very Light Twin). Power is provided by a pair of 100 hp Rotax 912S3 engines to lift a 2,600-pound airplane. The high-wing, mini-Aero Commander features two doors for entry, a fairly roomy cabin and performance little different from that of the Cirrus SR20 (which also uses 200 hp). Climb with both engines running true is over 1,300 fpm, and single-engine ascent is 350 fpm. Cruise is 147 knots, only a few knots behind the Cirrus. It's a comfortable machine, with good visibility, reasonable economy and probably the lowest operating expenses of any production twin on the planet. Price: $450,000 ($515,000 with glass panel). Contact: www.tecnam.net.