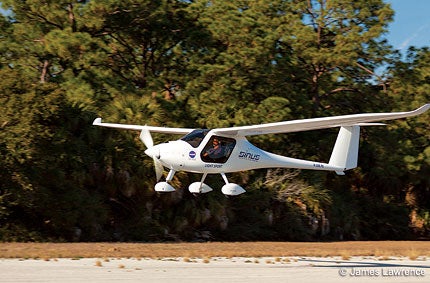 Rand Vollmer flies the Pipistrel Sinus LSA, a motorglider that has a 30:1 glide ratio and 202 fpm sink rate. On a long cross-country trip to Oshkosh last year, Vollmer averaged a fuel burn of under three gallons per hour.
We cruise along in the sleek, comfy Pipistrel Sinus motorglider on a northwest heading, plying the butter-smooth air at 8,500 feet and 105 knots. The iPad GPS app says groundspeed is 122 knots. Good; a bit of tailwind will help us across the 20-plus-mile stretch of Gulf of Mexico ocean.
Flaps are set in the negative position to increase cruise efficiency. And I'm enjoying the kind of pilot-report flying I rarely experience: getting several flights and multiple hours in a single LSA.
My host is Rand Vollmer, whose SALSA Aviation anchors at Zephyrhills Airport near Tampa, with a companion dealer in San Antonio, Texas. Vollmer has worked hard to make Pipistrel a prominent feature on the S-LSA map.
He has also been working on his glider commercial and CFI ratings, and invited me down from the frozen north to serve as a (very willing!) guinea pig. The last few days, I've met the Sinus and tried my hand at soaring above the green Florida countryside. But right now, we're kicking back, enjoying the wonderful economy, handling and speed of the Sinus on a long flight.
Long Wings, Long Range…And Speed
The Sinus in profile looks just like the company's Virus, Virus SW and Alpha Trainer models. They share the same all-composite bullet-shaped nose, high wing and tapering boom that ends in a lofting T-tail.
View the Sinus from the top, though, and you quickly divine what sets it apart from its siblings: While Alpha, Virus SW and Virus have 34.5, 35.1 and 40.8 feet wingspans, respectively, you don't need to be Burt Rutan to figure out that the Sinus, with 49.1 feet of wing, is meant for soaring.
---
The bird enjoys the gift of a 30:1 glide ratio and 202 fpm sink rate from that high-aspect-ratio (18.3:1) wing—excellent soaring potential. What makes the Sinus a fairly remarkable motorglider, though, is its long range and fuel-sipping personality. Vollmer, round-tripping to Oshkosh Airventure last year, averaged under three gallons per hour.
That economy comes from two prime origins: 1) gorgeous, clean aerodynamics, even though the landing gear (tailwheel or optional trike) live in the slipstream, and 2) the 80 hp Rotax 912 UL engine, which turns a 15-gallon (26 gallons optional) fuel load into an impressive range 650 nm (or 890 nm) reach.
And that's at a cruising speed around 110 knots. Many S-LSA don't cruise that fast…and on 100 hp! And that's at MTOW: Rand Vollmer and I weigh in at close to 400 pounds of passenger/clothing payload, yet right now, we're humming along at 105 knots on 4,800 rpm. And that's at full fuel (26 gallons), with 44 pounds of baggage more possible—max MTOW is 1,210 pounds.
The load factor spec is +4/-2G. Max tested load factor was +7.2/-7.2G! Strength doesn't take a backseat to performance at Pipistrel.
Considering those power specs, you'd be tempted as I was to conclude Sinus is a tad underpowered. Au contraire! In our climb from sea level to angels 8.5, we throttled back to a cruise climb of 80 knots at around 4,800 rpm. Our climb rate was still nearly 800 fpm! Another time, climbing from 6,500 to 8,500 to cross the ocean en route to Cedar Creek, Fla., we ran at 4,400 rpm at 90 knots. Climb rate? Better than 400 fpm.
Pipistrel specs max climb at an impressive 1,280 fpm at 65 knots…but still 1,240 fpm at 84 knots! We didn't quite reach the top value—it was a 70-degree day—but I saw 1,100 fpm, and our optional trike gear is more draggy than the standard tailwheel version.
---
And get this: at the economy cruise setting of 4,400 rpm, fuel burn is—wait for it—2.4 gph. That works out to around 45 miles per gallon. Yep, that's working.
Autopilot is an available option, but Sinus is easy enough to keep on track even in the bumps, due to a responsive control feel that firms up nicely at higher speed, yet lightens agreeably at slower speeds. Slower speeds as in…thermalling.
Let's Kill That Engine!
That's right: It's crankin' and bankin' time. At Vollmer's invitation (I call him "Colonel" sometimes—he's a retired Army veteran of Iraq War II), we try my hand at making those big motorglider wings grab thermals.
Just below cloud base, around 4,000 feet, the ever-smiling Vollmer talked me through the simple engine shutdown sequence. One push on the big knob at panel central feathered the prop, we slowed to best sink rate speed, (48.6 knots) and went hunting. Left wing bumps up: lift! Bank hard left, vario starts beeping. One turn, two, then fell out. Try again, maybe under that cloud over there, says Vollmer. Best glide speed is 51.3 knots, so I just bank that way. Sure enough, there's spotty but steady lift there.
First soaring impression of the Sinus: What a sweetheart! Second impression: I could go a long way and stay up a reeeeally long time on a good soarable day in this airplane.
This happy, comfortable feeling came after just a few turns in light, choppy little thermals. The most "up" air the compact digital Brauniger ALPHA-MFD vario sang about was about 400 fpm, and for just a few seconds at that. Not a great soaring day, but clearly a very capable soaring machine. By the way, the Brauniger also displays ALT, ASI, VSI and engine function—very nice device.
---
I quickly felt comfortable with Sinus' ability to drop that wing smartly on demand and set up a solid turn without having to counteract with rudder and stick a roll-out or over-bank tendency—a lovely, useful trait for soaring that lets you focus on staying in the lift without having to fight the airplane.
I managed to cop half an hour and gain hundreds of feet more than once, extending the power-off portion of our flight by half an hour in late-afternoon mild conditions. And remember, this was my first flight in the airplane. Most of my soaring experience is in hang gliders, not conventional aircraft. That should tell you what an easy-soaring sweetheart Sinus is.
The Training Part
The Sinus is by no means a touchy, overly sensitive thoroughbred. It handles beautifully with a measured control feel, and well suited for teaching students who want to learn both powered and soaring flight. Even with those long wings, it's not inclined to fall off left or right at the stall. No sharp nose breaks either, just a mushing nose-high attitude like many LSA exhibit. The stall warning burble is subtle but noticeable, control forces get a bit mushier of course, but for a 49-foot span, there's good roll authority even near stall, such as near landing.
Speaking of landings, I tested the bird's robust laminated composite gear more than once when I flared late and bounced. The Sinus in that regard absorbs the bumps as agreeably as the Alpha Trainer and Virus: very sturdy, very forgiving.
Longer wings require increased vigilance in crosswinds, but the Sinus rolls with surprisingly little adverse yaw, so you don't need much rudder. It feels less "wingy," too, than some LSA I've flown with 15-feet less span! Pipistrel's book says 45-to-45-degree roll time is 4.2 seconds. The company tends to be conservative in its performance specs, a trait of integrity. I did it easily in under three seconds, fine for banking smartly into a thermal that's just lifted a wing to let you know its there.
The airplane climbs well behind those 80 horses. Lift off at MTOW is under 300 feet: 50-foot obstacles are cleared in less than 500 feet. Ground handling is easy, thanks to the steerable nosewheel and effective toe brakes. Rudder pedal distance adjusts easily by a pull handle.
---
The friction lock on the throttle lever is only adjustable on the ground. I'd recommend Pipistrel change that. On our long-distance cruise, I had to hold the lever to keep the engine from de-revving.
The company claims pilots up to 6'4″ can comfortably fit the 43'6″-wide Sinus cockpit. Indeed they can, although the composite wing spar carry-through sits in front of a tall pilot's forehead and should be considered a potential head banger in a forward crash. I'm 5'11" and settling back in the seat, the spar isn't objectionable. Taller pilots slouch down into what's affectionately called "The Ivo," after tall, rangy Pipistrel CEO Ivo Boscarol's predilection for filling the cockpit in chaise lounge-style kickback mode.
Essential for big-span, high-efficiency wings is some form of lift killer—spoilers or air brakes—to control glide slope and avoid "ground effecting" the entire length of a runway. Sinus uses highly effective wing top air brakes that degrade sink rate to more than 1,000 fpm.
For landing, the drill is one all soaring pilots learn: roll out onto final, go to idle, ease in airbrakes, pitch to hold 60 knots, then 55 over the fence, and use the air brakes like a throttle to degrade or extend glide slope to touchdown. Once you get the hang of it, it's a breeze.

First soaring impression of the Sinus: What a sweetheart! Second impression: I could go a long way and stay up a really long time on a good soarable day in this airplane. This happy, comfortable feeling came after just a few turns in light, choppy thermals.

Soaring. Econo-cruising. Training. For those of us (my hand raised) interested in learning to fly an airplane that takes you long-distance cruising in comfort while accommodating your desire to skyhook the invisible energy of the air with engine off, at a price ($125,000 equipped) that's doable for a small group of pilot-owners or a soaring/touring club, get to know all three persona of the Pipistrel Sinus. It's quite an airplane.
---
The Glories Of Soaring Flight
Soaring pilots quickly learn to discern and make use of the distinction between glide ratio and sink rate. Both come at specific speeds.

Minimum sink rate means the actual loss of altitude per second at the optimum speed, which in the Sinus is 48.6 knots.

Maximum glide ratio indicates how far the aircraft will glide forward for every foot of altitude lost. A glide ratio of 20:1 means in optimal conditions and at best glide speed, 20 feet across the ground will be covered for every foot of altitude lost. For the Sinus, a one-mile altitude would ideally yield a 30-mile glide. Soaring pilots all learn to use these numbers to maximize time aloft and distance traveled.

Several types of lift exist. Some are terrain-dependent, such as ridge lift, (or orographic lift), where air rises on the windward side of a hill or mountain ridge. In the early 1970s, I hovered stationary in a hang glider for two hours 100 feet above a sand dune in 25 knot winds. Talk about pole sitting!

Wave lift comes from the harmonic, wave-like undulations of higher-altitude winds moving across tall mountains. These standing waves in the lee are predictable, often marked by lenticular (lens-shaped) clouds, and have glass-smooth lift. Severe turbulence often is endured getting up into a wave.

The current altitude record, set in a wave, is 50,699 feet! In South America, waves in the Andes helped a German pilot, Klaus Ohlmann, fly 1,869 statute miles. Both records were set in unpowered sailplanes.

Thermal lift derives from columns of rising air (think: dust devils) that break loose from ground areas heated by the sun. When that hot air rises high enough, colder air aloft makes the thermals' moisture condense into clouds. Pilots often find thermals marked by these cumulus clouds. Birds use thermals (think: vultures, hawks, eagles) to circle up.

Soaring pilots learn to circle to stay within the typically small lift "core" of a thermal. The tighter a glider can turn without losing too much sink rate performance, the better it will climb.

Thus, best sink speed is used to maximize lift, especially when thermalling or ridge soaring. Best glide speed is used to glide the greatest distance between thermals or to hop gaps with high sink rates enroute to the next ridge. Glider pilots have soared more than 1,000 miles on ridge lift alone.

There are few flying joys comparable to hooking a thermal and flying downwind for miles and miles without burning an ounce of gas.