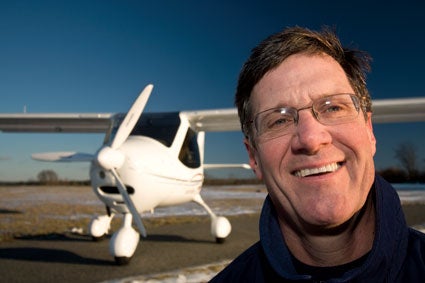 AN LSA Visionary. The president and founder of Flight Design USA has more than 35 years of aviation industry experience.
I like employing people and making things," Tom Peghiny, president and founder of Flight Design USA, told me on a snowy winter day last January.
This month, I wanted to peek behind the big green curtain in LSA's Land of Oz to jaw with a true wizard of the light-sport movement. Peghiny has been a mover in light-sport aviation since he was knee-high to a J-3 Cub. His company, Flight Design USA (www.flightdesignusa.com), distributes the top-selling CT line of German-made carbon-fiber LSA. The quality, performance, beauty and aerodynamic sophistication of the aircraft, partnered with Peghiny's 35 years of business savvy, gleaned while pioneering new flight technologies, give hints as to why his company does well even in these tough times.
Time to tap his noodle on what lies ahead for the industry—but first, let's get up to speed on Captain P.
Tom Peghiny is, and no doubt will remain, a birdman. He's much more than that, of course: successful entrepreneur, aviation trailblazer and visionary, test pilot, industry leader. Scratch just below the surface though, and you'll find feathers.
Bursting onto the scene, literally hanging by his armpits from the truss of a "bat-wing" Rogallo hang glider in the early 1970s, he quickly became a top competition pilot in the new sport. In his storied career, 35 firsts included the prestigious Masters of Hang Gliding.
Peghiny helped put Sky Sports, an early hang-glider manufacturer, on the map. His Kestrel was the first true double-surface hang glider. It foreshadowed today's remarkable high-performance flying wings, which make soaring flights of hundreds of miles.
In 1975, when "hang diving" was still working through the "death-wish sport" image it had so deservedly earned through a catastrophic run of pilot fatalities, Peghiny, just 19, made his first powered hang-glider flight.
Six years later, he was the test pilot for early ultralight-aircraft company Pioneer International. As engineering manager, he led the team that developed the Flightstar ultralight, a significant advance in the fledgling sport of ultralight flying.
To this day, Peghiny markets refined and updated versions of the ultralight through his company, Flightstar Sportplanes (www.flyflightstar.com).
The main thing to get about this man: Nobody knows more about the winding path of passionate vision, hard work, clear thinking and sacrifice that led from those first exciting, but truly scary, early hang gliders to today's amazing light-sport aircraft.
I'd also argue that Peghiny has a kestrel's eye view of what it's going to take to survive this crunch time and keep growing sport flight.
---
"I do believe many of us will make it through this," he says with conviction. "And I felt from the beginning of the LSA 'movement' that my 'assignment' was to make sure we're one of the four to six main companies that survive long-term. So I never wanted to play the big shot by over-expanding our business or hyping up our image. I've always intended for Flight Design to have a true brand identity in aviation in the United States."
Peghiny thinks of Flight Design as an independent company, like Rans, Vans or Maule. This means realizing that FD is neither a subsidiary of a major corporation, financed by a megabuck oil emirate, or the plaything of a millionaire likely to make the proverbial small fortune in aviation—by starting out with a big fortune.
Flight Design also has tried display shows, such as the Porsche Jet Preview; the broad-based event, however, proved somewhat disappointing in the end.
Peghiny's company also brought the new MC (for "Metal Concept") prototype from manufacturer Flight Design Germany to the annual NBAA Convention in 2008—the first LSA ever displayed at that event.
"They're all great shows and are cost-effective. They just didn't hit our target demographic efficiently. What really worked for us were events like EAA's nationwide Sport Pilot Tour."
He would love to see a major corporate sponsor resurrect the concept, currently inactive, through LAMA, the Light Aircraft Manufacturers Association. Founded by another early visionary, Chairman Emeritus Larry Burke, LAMA continues to play a foundational role in implementing LSA.
"Another plus," Peghiny continues, "is the great partner we have in Mathias Betsch." Betsch, head of Flight Design Germany (and recent winner of LAMA's 17th annual President's Award for industry leadership), "has found ways to keep us in a good position with a big parts supply, and by not pushing us to over-expand or go crazy with our marketing budget."
Anybody who has spent time around him at air shows or at his Woodstock, Conn., headquarters knows that Peghiny's a hands-on guy. He enjoys all the aspects of running an aviation business.
"What's good is, I feel I'm qualified to lead an airplane company. I've been studying for it for the last 35 years—I should know how to do this by now! There are so many parallels between the growth of hang gliders, ultralights and LSA."
He confesses he loves getting in the truck and driving to a show. "And I test-fly every airplane that comes through our operation. That's more than 35 airplanes just in our New England region."
Now for the 64,000-euro question: What's it going to take to, well, keep on keeping on?
"My personal thesis is, to be successful these days, you have to do everything and you have to do it all the time. That includes mastering guerilla marketing, running a competitive website, maintaining great relationships with dealers, working closely with banks and staying savvy about a lot of stuff. Maybe it's always been that way: It's true now for sure."
---
A big part, says Peghiny, of Flight Design's successful national presence is the infrastructure the company has built: "Instead of a centralized personal fiefdom, where all the airplanes and parts from Germany come to us, we have seven centers coast to coast. That allowed us to immediately set up a service network that was national, not just local. And it will help us get through the slow down: We don't have a 40,000-square-foot factory to run and 50 employees to feed."
Even so, economic realities have meant that Flight Design has had to lay off a few people recently.
"In my 17 years of making and marketing ultralights, I've seen ups and downs in the economy," he says. "I saw this coming. Nobody can say that there has been a shortage of irrational exuberance about LSA over the last couple of years—there had to be a 'correction' of some kind."
We chat a bit more about the glory days of hang gliders and ultralights, and the recent boom in powered parachutes. All three movements were also fueled on unbridled enthusiasm and, too often, shaky business models. Today, only one U.S. hang-glider company, Wills Wing, and very few ultralight and powered-parachute makers survive.
"Market 'shakeout' is a natural phenomena. I do honestly believe, though, that the LSA movement has greater legs than those earlier sports because we offer more utility. We dovetail into mainstream aviation better; there's more value in LSA, which makes it a better investment with better longevity. There will be a shakeout though, unless the industry works together to help grow the market."
How, I ask, do we do that?
"LAMA, LAMA, LAMA," he answers. "It's the best vehicle for manufacturers and distributors to work together. By recognizing LAMA's good works, and buying space in its LSA Malls at trade shows, where often smaller manufacturers can't afford their own booth space at all, we can build awareness that we're all in this together. I truly don't believe, as a company, that we compete with other LSA manufacturers anyway. We really compete with ourselves to succeed. The decisions we make as a company determine our success or failure. What we offer as an industry has value. There's enough of a market for a lot of us. We do need to focus on what we're doing, though."
In a recent, comprehensive owner's survey, Flight Design received more than 90% "satisfied or very satisfied" accolades from its customers.
Tom Peghiny's pleased with that review, to be sure. But ever the hands-on guy, he quickly follows with, "It shows we've still got some work to do." I don't know about you, but that's the kind of guy I want standing behind my airplane.