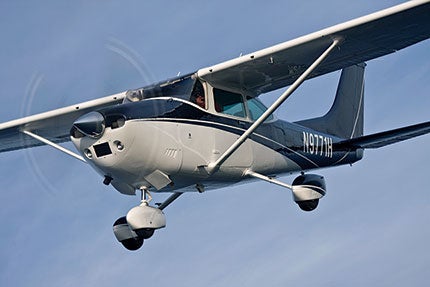 Renovation on N9771H is complete! In "Project 182, Part I" [April 2008], we covered the modernization of the aircraft's avionics panel. We took care of the interior in "Project 182, Part II: Redressing A Skylane" [June 2008], and in this final edition, we address the exterior.
If you're into sports cars and buy a classic Austin Healey, Jaguar, Alfa Romeo or Porsche, your first concern may be the paint job. Appearance is often all-important in a sporty automobile, designed from the outset for aesthetic appeal and fun on the highway. For aircraft owners, the priorities are often a little different. The very nature of painting an airplane demands a modified set of priorities, primarily because mechanical reliability is more important than aesthetics.
Still, there comes a time when all of us look to the possibility of refinishing the family Mach-buster. It can be a major project, not only because airplanes have quite a bit more surface area than most automobiles, but also because they must be completely stripped of old paint to avoid accumulating excess weight. To sand and paint is certainly possible with an airplane, but aside from the weight gain of applying new paint on top of old, no one has yet figured out a way to sand without weakening rivet heads.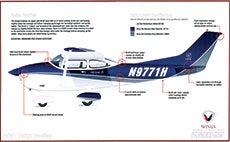 Wings Aviation Design Group's paint and color scheme blueprints for P&P's Cessna 182
Unlike automobiles, aircraft typically must be painted on top, both sides and bottom. Additionally, airplanes often demand much more exotic paint schemes, sometimes employing two to four colors, stripes, emblems and all other manner of decorations. Accordingly, aircraft paint jobs are usually intricate and time-consuming. You may be able to run your car to a paint shop on Tuesday and pick it up on Wednesday afternoon, after a quickie $395 repaint, but that's just not possible with an airplane. From start to finish, a typical aircraft paint job can require from three to six weeks and cost upwards of $10,000.
There are three basic considerations with an aircraft paint job: 1) the scheme and colors; 2) repair or replacement of fiberglass parts; and 3) the actual preparation and painting process.
In considering the paint scheme and colors for P&P's Cessna 182, we contacted Brian Smith of Wings Aviation Design Group in Dallas, Texas. We had worked with Smith five years ago on P&P's Project Bonanza. Smith's company offers consulting on all aspects of exterior paint design, from selection of scheme and colors to the actual design layout.
---
As you might imagine, we deal with plenty of spectacular paint jobs in our quest for editorial perfection, so we were well aware that the best design may be the simplest or, in fact, none at all. All-metal airplanes such as Luscombes, Bonanzas, Cessna 140s/170s and many warbirds can look spectacular in polished aluminum trim with an occasional stripe.
If you do choose to paint (as most pilots do), Smith adheres to the KISS principle ("keep it simple, stupid"). Some airplanes may actually benefit from a simple, single-color paint scheme, or a single color and some stripes. White is the most common single color, but we've all seen airplanes that looked striking in all-red, all-yellow or all-silver paint jobs.
Should you opt for a multicolored scheme with stripes or swooping curves, Smith has some advice. "The most common repaints are adaptations of current paint schemes that simply upgrade an older airplane to look like a newer model," says Smith. "If you're planning to adopt a nonstandard scheme, it's important to remember your goal in a paint job, because that can make a big difference in which colors or scheme you choose. Remember that the folks who design paint jobs for most manufacturers are professionals with an eye toward complementing the flow of the fuselage and wing.
"Painting with a nontraditional design or colors simply because you want to express your individuality is fine as long as you accept that sometime down the road, when you decide to sell, others may not share your taste. In other words, a highly individualized paint scheme may cost you money when its time to resell." Conversely, a sharp, conventional paint scheme can increase the value of your airplane by several thousand dollars.
Before (left) and after (right) images of the C-182's landing-gear fairings.
Smith has dealt with a wide variety of designs, and part of his service is to advise how a given scheme will look on a particular model. "Sometimes, it's not practical to adapt a paint design from one manufacturer to another," says Smith. "If you see a great design on a Learjet, don't automatically assume it will adapt straight across to your V-tail Bonanza. Similarly, a high-wing scheme may not work on a low-wing airplane, and vice versa. You're generally better off sticking with designs that complement the configuration of the airplane."
One question that Smith frequently fields regards the use of small N-numbers that don't convolute the paint scheme. "If you don't plan to take your airplane outside the United States, and it's more than 30 years old, you can have it repainted with the small, three-inch registration. Then, if you subsequently decide to travel internationally, say to Canada or Mexico," Smith explains, "you can stick on temporary, vinyl 12-inch numbers and letters to comply with international requirements."
Smith charges $400 for his services on singles and $500 on twins; he'll work with you through as many changes as you need. "I'll submit as many as two-dozen possible concepts to a client to give some ideas of what works," says Smith. "We'll lay out the scheme and colors so the client can preview them on the computer, then we'll work with the paint shop to help configure the actual paint application."
Wings Aviation Design clients include everything from small singles to large corporate jets. "Business airplanes tend to be sold and repainted more often than privately owned singles," Smith comments, "and as a result, we've worked on some corporate airplanes several times."
The second ingredient in most paint jobs is the treatment of fiberglass parts. If you don't have fiberglass pieces on your airplane, you won't need to worry, but these days, most airplanes feature a number of composite parts.
---
For our 1982 Skylane project, we contacted Karen Mowrey of Globe Fiberglass in Lakeland, Fla., and asked about the advantages and disadvantages of nonmetal exterior pieces. "Metal may be stronger, but fiberglass offers the obvious benefit of being lighter and more easily shaped into compound curves," says Mowrey. "Whereas metal has very little flexibility, fiberglass can be more adaptable in areas that need to flex. Metal tends to dent when it suffers an impact, but fiberglass has some give and will bounce back with little or no damage. Wheel fairings, wingtips and horizontal and vertical stabilizer end caps are commonly constructed of some form of composite."
Mowrey was quick to emphasize the difference between plastic and fiberglass parts. "Plastic is far less forgiving," Mowrey explains. "It's much more subject to embrittlement. When it begins to crack, you can try stop-drilling, but it's like putting a Band-Aid on cancer. The crack will probably still migrate, especially if it's in a high-vibration area and, eventually, the part is almost bound to split. If an airplane with plastic parts is left outside, especially in a very hot or humid climate, plan on no more than a five-year life for plastic components.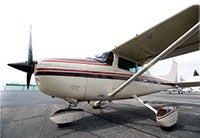 "Properly constructed fiberglass fairings last quite a bit longer, and they're repairable," Mowrey comments. "If the airplane is housed inside a hangar, fiberglass components can last for 20 years or more. In the event of hangar rash or other damage, it's often possible to sand, repair and paint a fiberglass piece, something that may be unlikely with plastic." All of Globe's parts are finished in a battleship-gray primer, are easily adaptable to painting and are consistent with many standard aircraft metal primers.
Not surprisingly, any part subject to high heat, such as pieces installed in close proximity to an aircraft engine, must be constructed of flame-retardant materials. Globe uses high-end, eight-ounce fabric that's designed for strength and durability. In most instances, Globe's parts will outlast the original manufacturer's components, and the company builds virtually every external composite part for most of the major manufacturers. That includes the parts listed above, plus tailcones, ventral and dorsal fins, empennage fairings and a variety of other fairings. Globe's parts are approved for most composite pieces on Pipers, Cessnas, Beeches, Commanders, Aerostars, Bellancas and McDonnell Douglas helicopters.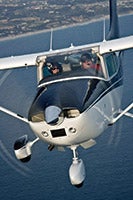 Finally, of course, once you've decided on the colors and the paint design, you have to commit to a shop. In our case, we chose Art-Craft Paint Inc. at Santa Maria Airport on the California coast. Art-Craft has been painting airplanes since 1982, so the company knows a thing or three about the process of applying paint to everything from corporate jets and helicopters to warbirds and homebuilts.
Esmeralda Mendoza, VP and director of operations at Art-Craft, suggests that, by far, the biggest factor in a good paint job is the preparation. "Prep consumes about 80% of our time," Mendoza explains. "If the surface isn't properly prepared, it really doesn't matter if you use a high-quality polyurethane and paint and have a world-class artist do the spraying.
"Total downtime for our paint jobs is 22 days on most aircraft, and we spend 18 days of that in the preparation of the surface," says Mendoza. "The stripping process is extremely critical in that you have to totally clean all metal surfaces but avoid any contact with fiberglass, Plexiglas or composite parts.
"We can usually strip the old paint in one day; then we begin preparing the airplane for new paint," Mendoza continues. "The standard contract includes 10 hours of body work to correct minor dings and hangar rash, and that usually covers most aircraft that haven't suffered any major damage. Our mechanics will survey the airplane and determine if anything is serious enough to demand re-skinning."
---
Mendoza suggests that it's critical for the surface to be totally clean and uncontaminated before the application of the primer. Art-Craft takes great pains to assure a smooth surface for the paint application, but that rarely includes sanding. "Our maintenance manager is called the maintenance police around here," Mendoza laughs, "and he gets furious if he sees anyone near an airplane with a power sander. We generally don't even consider sand-and-paint proposals unless we did the previous paint job within a recent time frame."
Art-Craft doesn't strive to be a high-volume shop, but it still paints about 120 to 140 planes a year. "We use both enamel and lacquer paint, according to a client's preference, and our technicians are equally schooled in the differences between the two," says Mendoza. Unusual colors don't present any special challenge "except for chameleons, those deep colors that shift shades as you look at them in different light," Mendoza explains. "Those can cost extra, as the paint itself is very expensive. The flake of a chameleon makes it about double the price of a standard color.
"Our paint technicians are actually happy to see unusual paint jobs, as the standard white base with two colors is all too common and doesn't present much of a challenge," says Mendoza. "Our guys love to do things in bright red or yellow with emphasis stripes in gold or something else equally interesting." For that reason, Art-Craft welcomes unusual paint schemes, and Esmeralda works directly with clients to assure the design is exactly what an owner wants. "Sometimes, what seems like a good idea in concept isn't so good in execution, and we try to warn clients of the final configuration."
Art-Craft typically applies a clear coat to aircraft that will be hangared, but not to those that are stored outside. The heat and humidity of open-air storage can cause a clear coat to lift and separate. The Santa Maria company charges $12,500 to $14,500 for full aircraft paint on a typical Cessna, Mooney, Bonanza or Piper; that includes a one-year warranty.
In the case of our Cessna Skylane, we couldn't be happier with the new paint job. The airplane garners appreciative comments everywhere we go, often something to the effect of, "How do you like your new Skylane?" We just love to answer with something like, "This airplane is 26 years old."
CONTACT:
• Art-Craft Paint Inc.: (805) 925-5934
• Globe Fiberglass: (800) 899-2707, www.globefiberglass.com
• Wings Aviation Design Group: (214) 206-7199
RELATED ARTICLES (available @ planeandpilotmag.com/aircraft/modifications):
• "Project 182, Part I," April 2008
• "Project 182, Part II: Redressing A Skylane," June 2008