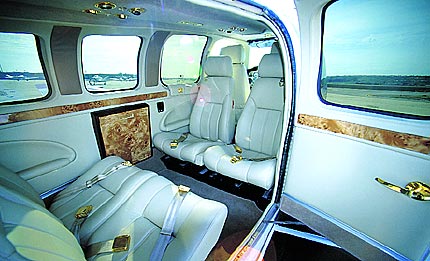 Our plan was simple: Choose a relatively economical, high-performance airplane for business and personal trips. Find one that's in great shape, but as "original" as possible to simplify the upgrade process. Then add avionics, interior and paint to transform our selection into a modern, exciting aircraft. "Project Bonanza: Part I" chronicled how we decided on a 1982 Beech B36TC turbocharged Bonanza, completed a prepurchase inspection and pilot checkout, made some initial upgrades, and flew the airplane for a year as we evaluated options and planned our "project."
The time finally came to get to work. Although many of our upgrades satisfy multiple goals, we can classify the items of our project into three areas: avionics, safety and comfort, and style.
Getting There
With very few exceptions, the panel of the Project Bonanza was strictly 1982. Then-top-of-the-line Collins Microline radios, including a Bendix/King KFC-200 flight director/autopilot and HSI (horizontal situation indicator), were (and are) still extremely capable avionics. But they're decades old. Modern lightplane navigation allows for far greater precision and situational awareness in the form of Global Positioning System (GPS), "direct-to" capability and moving-map displays with overlays of weather, terrain and traffic information. We wanted the Project Bonanza to be our version of a "high-technology transport," the best-looking, best-equipped Bonanza out there.
A search of the growing GPS and MFD (multi-function display) market zeroed in on the UPSAT Apollo MX20 as our display of choice. Boasting a full six-inch diagonal screen with 640 x 480, 65,536-color clarity for moving-map situational awareness, the MX20 takes input from a variety of navigation, weather, charting and traffic-plotting sources, and displays it all in an easily understood, sunlight-visible picture—doing in nanoseconds what pilots in the past had to do by scanning multiple indications, overhearing air traffic control (ATC) and forming a picture (likely somewhat erroneous and incomplete) in their heads, all while trying to fly the airplane. We can now display our track and course information on sectional or en-route charts, choose to highlight rising terrain or access airport and ATC information, and/or monitor Stormscope™ and traffic information on the same picture (more on those options in a moment). With the JeppView™ option, we can display instrument approach procedures right on the panel. It even has SIDs and STARs (Standard Instrument Departures and Standard Arrival procedures) and airport diagrams in the database for navigation to, from and even on charted airports. What a workload reduction and improvement in safety! Yes, we wanted the MX20—and that made the rest of our avionics selection far easier.
To take advantage of UPSAT's equipment integration, or the ease with which various "boxes" exchange information, we chose a full UPSAT suite to drive our MX20 picture. GPS navigation and our number-one communications come from the UPSAT GX-60 GPS/comm. Even without the MX20, the GX-60 is impressive. A moving-map display aids in orientation alongside displays for the 760-channel VHF communications radio. The GPS is certified for en-route and terminal operations, and can store up to 30 reusable and reversible flight plans (up to 20 legs each) to reduce button-pushing for those heavily-trafficked routes. The comm side includes an active and standby frequency display, a "frequency monitor" function that allows listening to the standby while using the active, a memory of up to the last eight frequencies used (or stored), a "stuck mike" timer that stops transmissions after 35 seconds, capability to monitor non-aviation National Weather Service transmissions and a built-in intercom.
Backing up the primary GPS is an SL30 nav/comm, providing secondary radio capability (with all the features of the GX-60's "comm side") and a VOR with localizer and glideslope capabilities that can drive the HSI for ILS (Instrument Landing System) approaches. The SL30 also has a built-in Course Deviation Indicator (CDI) display and a unique Morse code feature that automatically decodes the signal for ease of station identification. At the bottom of the UPSAT stack, the SL70 transponder provides Mode C capability for ATC functions and also feeds altitude information to the GPS for vertical navigation (Vnav).
---
Not all was discarded from the Project Bonanza's 1982 panel. We were able to retain the King HSI and attitude indicator, the original BF Goodrich Stormscope, and the dated, but superb, KFC-200 flight director/autopilot system, all now coupled to the UPSAT avionics. We found the quality unbelievable, truly transforming this Reagan-era Bonanza into a high-technology transport for the modern age.
Safety
UPSAT avionics and especially the MX20 provide tremendous navigational capability. And while they also enhance safety, we weren't done with safety-related upgrades for the Project Bonanza.
Knowing that there are always other airplanes out there when we fly, we chose to add the Ryan International 9900BX Traffic Advisory System (TAS). The TAS actively "listens" for other airplanes' transponder signals and displays aircraft location and altitude information on the MX20 MFD up to 20 miles away ("six minutes decision time at a closing speed of 400 knots"). The 9900BX is unique in that it not only visually displays traffic information, but also verbally warns of nearby airplanes, announcing, for example, "Traffic, six o'clock low, one mile"—exactly the way ATC warns pilots of potential conflicts. This encourages a visual traffic scan in busy airspace, instead of flying "head-down," watching inside for what's outside the airplane. The Ryan TAS also includes an integral altitude warning system to avoid deviations. The TAS will verbally advise "1,000 feet to go," "500 feet to go" and "on altitude" when the pilot presets the alerter. On at least half of our flights, we realized what a vital piece of equipment our TAS is.
We mentioned replacing original, upholstered sun visors with tinted, see-through Rosen visors; adding a JPI EDM-800 Engine Analyzer; and replacing the Teledyne-Continental Motors TSIO-520-UB engine with an overhauled powerplant, including new or overhauled accessories, turbo GAMIjectors and an M-20 Turbo air-oil separator in previous discussions of Project Bonanza ("Project Bonanza, Part I," August 2003 P&P and "Got Heat?", November 2001 P&P). We replaced the windshield ("Kelly's Installations," July 2003 P&P), adding G&D Aero tinted window inserts. The fuel-injection system, oil cooler, landing-gear motor and all the turbocharger components were overhauled, the fuel cells in the right wing were replaced, and the propeller and prop governor were inspected. We've upgraded the original ignition system, including the harness, with components from Unison Industries. Consumables like tires and tubes have come and gone. Not as glamorous as new avionics or spectacular cosmetic upgrades, these seemingly mundane mechanical chores are what make our highly capable airplane safe and reliable for business and personal transportation. Safety upgrades are just as important when considering an airplane project.
Flying—And Arriving—In Style
What would the "best-looking Bonanza" be without a distinctive interior and paint scheme? We wanted to transform not only the way we fly and arrive, but also the style in which we do so.
Project Bonanza originally had a 1982-standard Beech paint scheme with a late disco-era orange shag carpet and cloth seats. That had to go, pronto. While still contemplating exactly what we wanted to do with the airplane, we saw a friend's brand-new Baron 58. He had added several new interior features to his three-month-old Baron. We had to have at least the same interior or better. The quality of the leatherwork was what made us want it. Each window and seat had impressive "French stitching" and beautiful shaping with armrests that you'd expect to see only in a Gulfstream. The Baron owner enthusiastically directed us to the artisans who sculpted his masterpiece.
Aviation Design of Camarillo, Calif., was responsible for most of the artistry. Tim Hallock and company stripped the interior and built it back up using supple Perrone leather supplied by Hemisphere International. All door and wall panels received matching leather, accented with Mappa wood trim by Pfluger's. The instrument panel, originally burled veneer, was recovered in the same lighter wood as the trim. A wool/silk-blended headliner completed the matching cabin. High Tech Finishing installed the brass fittings, and Aircraft Belt, Inc., provided new belts, buckles and harnesses. New carpet by Douglass Interior made the orange shag a thing of the past; the entire interior was installed over soundproofing products from Buckley Industries. The 1982 Project Bonanza's interior now stands out even among the newest-production Beechcraft—and even a few jets.
---
More "style points," from a passenger standpoint, come from the installation of a PS Engineering CD player piping music through an SL-15 audio panel for in-flight entertainment.
But what would it look like if we didn't lavish as much attention to the outside of the airplane? Brian Smith of Wings Aviation Design in Dallas, Texas, worked with us to design a distinctive scheme that's reminiscent of the latest Beech factory B36TC trim layout and the Jaguar scheme used by Beechcraft in the 2000 model year, but different enough to be one-of-a-kind. As homage to the Beech lineage, the exterior (applied by Artcraft) retains the Beech 50th Anniversary medallions affixed when the airplane was new, in the 50th year of Beech Aircraft—highly polished, of course. Featuring Light Burgundy Metallic paint with Carter Gold "swooshes," the Project Bonanza isn't likely to be mistaken on the ramp or flying overhead.
Project Airplane
We took our time, made a lot of decisions and spent a lot of money. We found an airplane that was a good candidate and planned a course of upgrades to turn it into the traveling machine we wanted for business and pleasure. But the process didn't end there—we're already thinking about upgrading to the UPSAT CNX80 for GPS WAAS (Wide-Area Augmentation System) capability, and we've purchased a Weather Data Link receiver and Air Cell telephone system, which hasn't been installed yet.
Unless you're ordering an airplane new from the factory, every plane is a "project airplane." The trick is to realistically answer questions like:
• What is the level of my experience and training?
• What typical missions will I fly (distance, weather, passengers and payload)?
• What equipment do I need to make those flights safely and economically?
• What should I add to make flying comfortable and enjoyable?
• What additional "nice-to-have"items would I like in my airplane?
• How important are qualities like paint and interior?
• What ownership, operating and upgrade budget do I realistically have?
By honestly answering these and similar questions, you can determine the type of airplane that best fits your needs and budget, and map out a (sometimes multi-year) strategy for turning your "project" into your dream plane. Then—go shopping!
---
Choosing The Paint Scheme
Since the exterior is the most visible part of the airplane, we wanted it to be extra-special. The standard 1982 Beech paint scheme had to go, but we wanted to stay with the Beech tradition. Brian Smith of Wings Aviation Design in Dallas, Texas, provided us with a folder full of suggestions. We settled on light burgundy metallic borders with gold accents in a design that combines the Jaguar Bonanza scheme and the latest Beech B36TC trim. While itwas scary to look at the plane in its naked form, we were extremely satisfied with the final results.
Avionics West
Avionics West, Inc., of Santa Maria, Calif., did the avionics installation for the Project Bonanza. Avionics West owner Tom Rogers tells us the installation was straightforward, with no real glitches, although upgrades for the MX20 came in from UPSAT, even as the installation was underway. In all, it took about four weeks to transform the B36TC from 1982 chic to 2003 state-of-the-art.
Rogers' shop installs all makes of GPS and MFD; about 30% of the high-performance single and light twin installations Avionics West completes feature the UPS Aviation Technologies line. UPSAT provides "good technology" and "great product support" at a "good price."
Founded in 1972, Avionics West is one of the best-known avionics installation shops in the United States. Contact Avionics West at (805) 934-9777 or visit the Website at www.avionicswest.com.
UPS Aviation Technologies
The Project Bonanza features avionics by UPS Aviation Technologies, Inc. Founded in 1982 as II Morrow, Inc. (read: "to-morrow," evoking a forward-thinking company), the company stormed the aviation LORAN and later GPS market under the brand name Apollo, culminating in the 2001 Nav Management System. In 1986, United Parcel Service (the "UPS" in UPS Aviation Technologies) purchased II Morrow as part of the shipping giant's pioneering work in satellite tracking of package delivery. The company name change came in 1999.
According to UPSAT's Sam Seery, Director of Sales and Marketing, UPSAT's strength comes from its systems integration, or the way individual avionics units "talk" to each other through a serial bus. Pilots need only enter information (such as a flight plan) once in a UPSAT unit, and the data will automatically transfer to all other UPSAT devices on the panel. The company's products also interface with weather and traffic warning devices (like those in the Project Bonanza), and are "industry leaders," according to Seery, in terrain warning and GPS.
Capability, ease of use and an industry-leading, 26-month warranty make UPSAT avionics increasingly common in general-aviation airplanes. The upcoming CNX80 Integrated Avionics System represents yet another "quantum leap" in situational-awareness capability. Learn more about UPS Aviation Technologies and its products at www.upsat.com or (800) 525-6726.