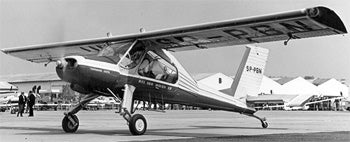 STANDARD DATA: Seats 4. Gross wt. 2,755. Empty wt. 1,624. Fuel capacity 51. Engine 230-hp Continental.
PERFORMANCE: Top mph 127. Cruise mph 93. Stall mph 40. Initial climb rate 865. Range 390. Ceiling 12,075. Takeoff distance (50′) 625. Landing distance (50′) 780.
The PZL-104 Wilga (Wilga translates to Thrush) is built in Warsaw, Poland, by WSK-Okecie. (The WSK stands for a company name that no Westerner would even attempt to pronounce.) The first PZL-104 Wilga-I flew in 1962 and was immediately followed by the Wilga-2 and Wilga-3 as design modifications were made. The Wilga-32 and 35 were further improvements to incorporate a redesigned landing gear, a more comfortable cabin, and a fiberglass-laminated tailwheel leg. The Wilga 32 is fitted with a six-cylinder 230-hp Continental engine, and the Wilga 35 has a 260-hp Ivchenko nine-cylinder radial engine. Various models were sold for various purposes, such as glider towing (32A), passengers (32P), or ambulance use (32S). The Polish taildragger features a cantilevered high wing without the need for wing struts. Construction is all metal with a beaded metal skin.