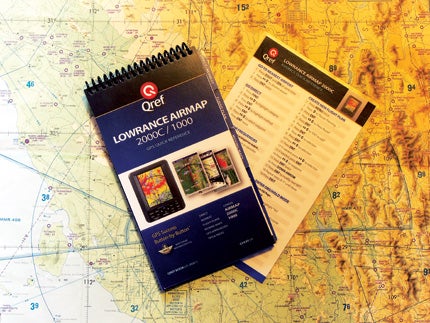 For most general aviation pilots today, a GPS is standard equipment, whether it's in the panel, on a yoke mount or in a flight bag as a backup device. Whichever way the GPS is used, pilots are at the mercy of the manufacturers, each of which has its own approach to the GPS menus and documentation. If you've been using the same GPS for many years, then you've probably memorized the features you use most of the time, but there are functions you may never have time to learn, and digging through the manual in the air isn't always practical (though it's a good use of spare time on a long cross-country leg). When you switch from one GPS to another, you have to learn the functions and menus all over again.
Quick Reference Media's Qref books and checklists provide a welcome adjunct to the manufacturer's documentation and fill a real need for pilot-friendly guides that can be used both on the ground and in the air. I recently spent a few days with Qref's documents for the Lowrance AirMap 1000 that my partnership keeps in the yoke mount of our Skylane, and while they're not a substitute for the original manual, they're definitely a big help.
For the AirMap, Qref provides two formats: A 16-page spiral-bound book and a one-page laminated card. The book covers just about every function you'd want to use in the air, as well as a couple of pages on the AirMap's land-mode functions. It's organized well, with a table of contents, graphical overview of the Lowrance menu structure, glossary of terms and generic GPS tips, followed by tabbed sections covering direct-to and nearest navigation, flight planning, moving maps, database access and GPS-specific tips and tricks. Each page in the tabbed sections provides step-by-step instructions, including the precise buttons to push for one or more functions of the GPS. These pages are single-sided so that, in the air, you can just keep flipping the pages and never have to turn the book over.
The single-page laminated checklist is two-sided and provides step-by-step instructions for the most commonly used functions, including locating the nearest airport, COM and VOR frequency lookup, creating and editing flight plans, and creating and deleting user waypoints.
Running through the checklist functions can be a good review and offer a better understanding of your GPS. While doing so, I learned the AirMap's less-than-obvious shortcut for its nearest-airport function (hold down the "zoom in" and "zoom out" keys simultaneously); how the omni-bearing selector (OBS)/hold mode of the unit's simulated horizontal situation indicator works; and how to set up vertical navigation. I also discovered the unique "man overboard" function (intended for use when boating). Space on the checklist card is limited, so it doesn't cover every function—for example, the AirMap's simulator mode isn't covered, though it's covered in the larger Qref book. For that matter, neither the book nor the checklist card can completely replace the owner's manual (among other things, there's no coverage of GPS setup, database updates or troubleshooting).
I have one minor complaint: Neither the book nor the card indicates the firmware version number it's intended to support. When I first tried to apply the book's instructions to access simulator mode on the AirMap, I thought I had found an error, but when I realized just how old a firmware version we were running, I decided to try an update—and with that, the Qref instructions worked perfectly.
If I had to choose between the book or checklist, I'd probably prefer the former, as it's more complete; but having both can be awfully handy, and I plan to keep both in our Skylane.
Qref books and checklists are available for a wide range of portable and panel-mount GPS units and glass panels from such vendors as Avidyne, AvMap, Bendix/King, Eagle, Garmin, Lowrance and Magellan. Recently, the company released 14 new titles covering the entire line of certified Cirrus aircraft and avionics. Single-page checklist cards cost $14.95, while multipage books vary from $19.95 to $49.95, depending on complexity. For more information, visit www.qref.com or call (877) 660-7733.