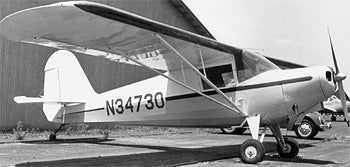 STANDARD DATA: Seats 2. Gross wt. 1,450. Empty wt. 910. Fuel capacity 48. Engine 80-hp Continental.
PERFORMANCE: Top mph 114. Cruise mph 103. Stall mph 40. Initial climb rate 650. Range 500. Ceiling 14,000.
Rearwin Aircraft and Engines introduced the Skyranger in 1940 as a side-by-side two-seat cabin monoplane. This aircraft was first produced in four versions: the 175 with a 75-hp Continental, the 180 with an 80-hp Continental, the 180F with a 80-hp Franklin, and the 190F powered by a 90-hp Franklin engine. After World War II, the aircraft was reintroduced as the Skyranger 185 by Commonwealth Aircraft, a company created from Rearwin in 1941. Its production was terminated in 1947. The Skyranger 185 differs from its predecessors in only one respect, an 85-hp Continental engine.