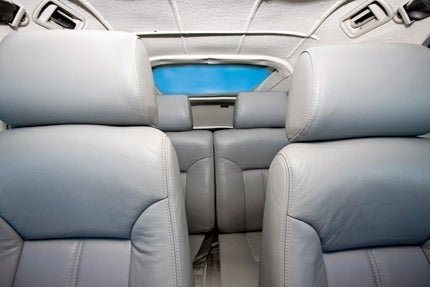 Someone in the aircraft refurbishment business once said (or should have said), "The paint may be what you see, but the interior is where you live." So it is with Plane & Pilot's Project Skylane. Since buying the 1981 Cessna 182 on the East Coast three years ago as a fixer-upper, we've done equal shares of research, hand-wringing and procrastination. Eventually, we had no choice but to actually give birth to the project. As a result, we've finally managed to finish the panel, paint and interior.
Two issues back, we described our Skylane's complete panel update [Project 182, Part I, April 2008]. This month, we'll recount the effort that went into redesigning and reconfiguring the Project Skylane interior.
As we learned on two previous airplanes, there's more to reupholstering an airplane than simply picking the shop, choosing the materials, waiting a month and paying the bill. Right up front, we knew Plane & Pilot's airplane had to be something special.
Okay, so it's only a stock, last-generation 182, but that's more of a positive than a negative. Cessna's venerable Skylane is, after all, one of the best mid-performance compromise airplanes in the world. Accordingly, it deserved the best interior we could justify.
To that end, we chose an artisan rather than simply a craftsman. Tim Hallock is a perfectionist when it comes to interior work. Hallock's company, Aviation Design (www.aviationdesign.com), based in Pine Mountain Lake, Calif., specializes in upscale conversions of everything from Skyhawks to Citations, and Hallock prides himself in doing it right or not doing it at all. He's an expert with leather, plastic and fabric—an artiste who, like Sinatra, insists on doing it his way.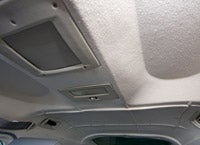 We'd worked with Aviation Design on the Plane & Pilot Project Bonanza three years ago, and the results garnered crowds of admirers at the 2006 AOPA Convention in Palm Springs, Calif. Hallock is an established professional who has been working with aircraft interiors for nearly 25 years.
He started his first upholstery shop at Santa Paula Airport in 1985 and moved to Camarillo Airport five years later, strategically close to the Los Angeles megalopolis and its large collection of general aviation airplanes.
In 2004, however, he finally said "enough" to the high cost of living in Southern California, shucked the whole big city thing and moved to the country. He relocated his shop 3,000 feet up in California's Western Sierras. The Pine Mountain Lake Airport in Groveland, Calif., is a semi-airpark with homes in close proximity to a single, 3,600-foot runway.
---
"Compared to L.A., Pine Mountain is a fairly idyllic existence," says Hallock, "a great place to live and work. At Aviation Design, we like to feel that we concentrate on quality, and to that end, we don't worry much about quantity. In order to turn out a high-quality interior, we do only about 12 to 15 full interior rebuilds a year.
"Since moving here," Hallock continues, "we've significantly modified our business. In addition to completely overhauling customer airplane interiors, we're now in the parts business for two of the most prestigious aircraft models in the industry. Aviation Design is now a PMA interior parts supplier for Hawker Beechcraft. Yearly, we produce roughly 130 ship sets of side panels, seats and headliners for the new G36 Bonanzas and G58 Barons, and we'll soon be doing window moldings, as well." Hallock is currently negotiating with Cessna to provide interior parts for the company's piston products.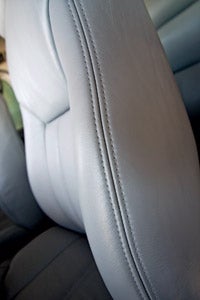 Hallock's eye for perfection appears in the details of his upholstery work, using high-quality materials from Perrone Leather.
Hallock and company work in both fabric and leather, but he acknowledges leather is, by far, the most popular option, if also the most expensive. "Some owners discard fabric out of hand, and that can be a mistake, as there are some excellent materials available. Fabric is lighter (often by 20 to 30 pounds), generally less expensive and can be very attractive," he explains.
"Still, there's a reason you never see Porsches, Ferraris or Lamborghinis outfitted in fabric," says Hallock. "Leather may be slightly more limited in colors and styles, but it's probably the most durable material for an airplane [interior]," says Hallock, "and even the less-expensive grades are almost universally regarded as richer-looking."
Whatever the material, Hallock says aircraft upholstery design is divergent from standard auto interior appointments. "In a car, the upholstery may be installed and remain in place for the life of the vehicle," Hallock comments, "but aircraft interiors often must be removed and reinstalled regularly, in some cases once a year, and that means there'll be mechanics and other technicians working inside the airplane. For that reason, I try to build an interior with an eye toward ease of removal and replacement. I'm also required by FAA regs to comply with fire-resistance standards on all materials that go into the airplane."
Hallock's quality workmanship wouldn't go far without quality materials, and accordingly, we chose some of the best. Perrone Leather (www.perroneleather.com) of Gloversville, N.Y., provided the various leathers for the Skylane's interior rebuild. We swathed seats, panel cover, side panels, headliner and most anything else we could find with some of Perrone's finest and most durable cowhides.
---
The man with his name on the building in Gloversville is Bill Perrone Sr., and together with his son, Bill Jr., he's justifiably proud of the fact that his company is the world's largest supplier of commercial aviation leather, serving such major airlines as Delta, US Airways, United, Southwest and American. Perrone also provides leather cover materials for a majority of general aviation companies, including Piper, Diamond, Beech, Cirrus and Cessna.
Drawing on four generations in the leather business, Perrone stocks more than two million square feet of leathers of all descriptions, from shearlings to a wide variety of luxurious cowhides. Materials are imported from all over the world, but most airliner products come from South America. Corporate skins often are imported from Europe, especially products such as Belgian calfskin. Colors aren't strictly limited to tans and browns, either. Perrone can shade materials to an individual client's demands. Of course, all Perrone materials comply with the FAA's burn requirement.
More than coincidentally, Perrone also produces a line of aviator's flight jackets. The company supplies some 100 commercial airlines around the world with flight jackets and markets a variety of aviator A-2s and other designs for both men and women. (My girlfriend has a Perrone Lady Liberty Flight Jacket that she practically sleeps in.)
For this application, Perrone deals in interior materials for everything from airliners and corporate jets to homebuilts and production singles, and the company sells bulk leathers that wind up on literally thousands of reupholstery jobs each year. There's even a special material called Featherweight, a superlight leather that weighs 25% to 30% less than the company's standard Skyline and upscale Elite lines, intended specifically for applications where weight is critical. Perrone also builds fully upholstered cushions for the popular Oregon Aero collection of aircraft seats.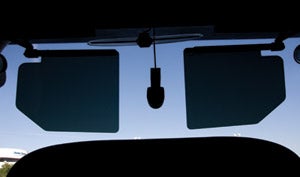 Rosen Sunvisors were selected for their mobility, giving complete cockpit coverage. Hallock's attention to workmanship is evident in every level of detail.
Aviation Design's Hallock says he loves to work in leather and that Perrone products are some of the best. Before he can get to the leather covers, however, he does a complete teardown of every component in the airplane—from side panels, headliner, panel cover and floorboards to the seats themselves. All surfaces are fully cleaned and reconditioned, then typically re-covered with the same fabric used on the seats.
"The seats and seat belts are perhaps the most important part of the reupholstery process, because they represent the pilot's point of direct contact," Hallock explains. "We put a major portion of our effort into reconstructing and updating every seat."
All seats are stripped to the frame, cleaned and repaired as necessary to make certain all adjustment mechanisms—fore, aft and sideways track, vertical, tilt, recline, thickness, lumbar and any other movement parameter—operate normally. After reconditioning, the seat frames are fully painted and prepared for padding and cover.
---
"We use varying density foams for different parts of the seats," explains Hallock. "High-density foams for the lumbar and side bolster areas, and medium-density foams for seat base and kidney support zones. Confor foam, a product developed by NASA for various applications in the space program, is applied over the base foams to dampen turbulence and vibration. This is the same material used in military ejection seats, and its excellent damping qualities have been proven to reduce G-impact loads by as much as two-thirds."
Soundproofing is typically one-inch-thick, closed-cell foam, and Aviation Design typically tucks it into any nook or cranny where there's even a possibility of noise transmission. Another important improvement many buyers select is new Plexiglas all around, from windshields to eyebrows to side windows. Thicker Plexiglas can further reduce cockpit noise, a significant fatigue factor.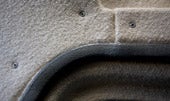 Side panels and headliners are stripped to the basic framework, repaired if possible or, in some cases, remanufactured using the original as a model. Hallock typically finishes the parts in the same seat-leather material and builds in larger or additional side pockets to customer specifications.
The bottom line for a typical general aviation single like our Skylane, refinished in leather by Aviation Design, is about $22,000 and four weeks of downtime. A six-seat aircraft, a Bonanza, Saratoga or Stationair, may run $10,000 more because everything is scaled up by a factor of at least 50%. Neither of these prices includes the new Plexiglas.
New upholstery won't make your airplane climb quicker or fly faster. It won't improve fuel burn, reduce maintenance or insurance costs or increase range. What it will do, however, is make your time in the cockpit more pleasurable. Remember that a comfortable, undistracted pilot is a safer pilot.