Her husband's love for aviation and camping inspired Carlana to learn to fly
Carlana Stone and her husband John Lawson love nothing better than going camping with their 1977 Maule M5-235, fondly nicknamed Molly. Lifting off from Whiteman Airport in the busy Los Angeles area, they fly to campgrounds ranging from remote bush strips, such as Idaho's Johnson Creek, to local romantic getaways in the vineyard country of Santa Ynez. Typical camping activities ensue: pitching a tent under Molly's wing, exploring the area and swapping flying stories around the campfire.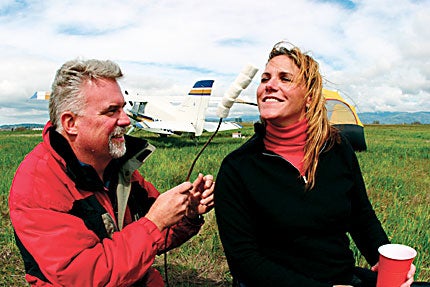 With so much energy, warmth and good cheer, it seems almost an afterthought that Carlana is a paraplegic. At age 17, Carlana lost the use of her legs when she was a passenger in a tragic drunk-driving accident. In an instant, her life changed completely—from gymnastics and cheerleading to a wheelchair. Nevertheless, there was no stopping Carlana, a self-described "winner, not a victim" who recently soloed in a Piper Cherokee 180! "Every time John and I would go flying, it would whet my appetite," she recalls. "He taught me so much about flying to the point that I finally declared that I was tired of riding in the copilot seat. I wanted to fly."
Carlana takes flying lessons with Mike Smith, president of Pacific Crest Aviation in Big Bear, Calif. Mike has more than 18,000 flight hours, holds an ATP rating and flies a turbocharged Cessna Skymaster on firefighting missions for the Bureau of Land Management and the Forest Service. He's also a paraplegic; he broke his back while flying a helicopter in a crop-dusting accident. "Carlana is on top of the enthusiastic scale," says Mike, who instructs in a modified 1973 Piper Cherokee 180 with hand controls. A lever between the pilot and copilot seats attaches to the vertical tube on the copilot's left rudder pedal. "You have to train your brain until the motions become instinct," Carlana explains. "It's up for right rudder and down for left rudder." There's also a hand control for the brake underneath the rudder lever.
From her home, it's a four-hour round-trip drive (her car has hand controls for accelerating and braking) to the flight school, but the reward of flight is well worth it. On occasion, Carlana and John will fly to Big Bear in the Maule and stay for a week so that Carlana can train daily. "It's absolute freedom," she sighs dreamily. "You think about being confined on earth in a wheelchair, but all of that disappears on takeoff. You leave the chair and worries behind and you gain a new perspective. The landscape mirrors the terrain of life: verdant peaks, deep valleys and the occasional patch of desert."
Carlana is a member of International Wheelchair Aviators, an organization that Mike runs. It was formed in 1973 by a small group of disabled pilots who were still interested in flying. The founder, Bill Blackwood, invented a hand control that fits on various aircraft and can be installed by the pilot. "I found them when I broke my back and joined right away," comments Mike, who distributes information to disabled flyers via a newsletter.
On the day of her solo flight, an audience of friends, family, fans and media gathered at Whiteman Airport. "I was bawling for my first landing," she remembers. "But then I got it together and went up for another two patterns. It was the best feeling ever!" With that flight, Carlana may have set a new record—she and Mike have been unable to find any other American female paraplegic who'd ever soloed before.
With her enthusiasm and energy, Carlana has an undeniable zest for life that's contagious. She's a role model for kids and adults, and uses her accomplishments (she also skis, skydives and is an accomplished TV producer) to inspire others. "It's an aura that people react to and it's infectious. When you're truly content with yourself, people sense it and they are drawn to you," she asserts. Shannon Cadegan, a recently injured teenager who's adjusting to life in a wheelchair, visited Carlana during our photo shoot in Big Bear. It was their first meeting, but Carlana immediately put Shannon at ease and introduced her to the world of general aviation, encouraging her to take up flying lessons. "My chair does not define me," Carlana asserts. "It's not what happens to you, it's what you do about it. Most of the time, opportunities are hidden in the obstacles we face."
Organizations all over the world have taken note of Carlana and hire her for speaking engagements. She visits elementary schools on behalf of NASA and JPL's Traveling Space Museum program, inspiring more than 800 children per visit. "It's really, really cool and I'm having a blast," she exclaims. "I often use Betsy Coleman—the first African American woman to become a pilot—as an example when explaining to kids that they can do anything they want if they believe in themselves." She fields all kinds of questions, from how she gets into the plane (she lifts herself up on the wing and pulls herself into the cockpit) to where she puts her wheelchair (it folds up into the baggage compartment). Carlana has been a guest on Larry King Live, and has spoken at the House of Lords in London.
Published last fall, Carlana's book, Never Give In, Never Give Up, documents her inspiring point of view. During an upcoming tour, she'll fly to local book signings with John in the Maule, and run a book drive in Louisiana, her home state.
Currently in the cross-country phase of her flight training, Carlana continues to work toward her private pilot license. "Flying is for anybody—the sky is the limit. Flying empowers," she explains. "During times of adversity, we discover what we're made of. For so many years, I've been told 'you can't, you can't and you can't'—but just watch me!"