The Reno Air Races are unlike any other contest in the world. Watching multiple airplanes round a corner in tight formation is exhilarating to watch and must be borderline terrifying to do, though the racers, Type-A personalities to the max, calmly admit only to "heightened awareness" as they race. Not only does Reno boast the fastest speeds and some of the longest courses of any motorsport, but it's illegal to practice! Not until low-level, high-speed waivers are granted can civilians fly so low and so fast.
There are seven classes of racing: Biplanes, Formula One, Sport, Super Sport, T-6, Jets and Unlimited. Each is carefully controlled by its own class committees and by the Reno Air Racing Association (RARA), and each has its own rules, controversies, stars, history and charm. If sufficient entries register, there may be as many as three or four trophy races (Gold, Silver, Bronze and sometimes Medallion) after a week of qualifying and heat races.
Every June, the hallowed halls of Stead Airport in Reno, Nev., are home to the Pylon Racing School, known to most as PRS or "Rookie School." New racers and veterans alike spend one week testing equipment and determining if the challenges of air racing really are for them. The atmosphere is informal, but with a seriousness and edge all its own.
The week that PRS takes place is the only time, other than the actual races, when the courses are open. Other than that, "practicing" for the Reno races is illegal worldwide, and that's significant, given that canopy-to-belly air racing is a fast and extreme motorsport. As such, many veterans show up for PRS. It's a chance for them to test new mods and sometimes entirely new airplanes. They work hard as instructors, too—when race week comes, they'll be up there with the "students," and they want to be confident in everyone's abilities.
The students may be Reno rookies, but they certainly aren't aviation ones. They're corporate pilots, ag pilots, air show performers, military pilots, airline pilots—all highly skilled. After graduation, they'll have a whole new skill. Some wash out, some can't get ready in time for September, some just never show up again. But it's true that almost all enjoy the school and learn things about flying that they never had fathomed. We met up with several rookies at different stages of training and aircraft preparations.
---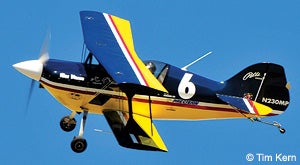 Rob Caster flies the Miss Dianne Pitts
Competitive Addiction
Rob Caster arrived at Stead in the left seat of a Lear 45. He's a FlexJet pilot who was bitten by the race bug in 2007. At Rookie School he was flying Miss Dianne, a Pitts owned by Jeff Lo. "My previous tailwheel time was in a Pilatus Porter, plus basic work in a Decathlon and a little time in a DC-3. They're not much like a Pitts," he smiles. "I learned pretty fast that aerobatics and competition are addictive."
Caster came to Reno expecting to learn how to run the course and was amazed at the level of help that's available. Daily pilot briefings generally are segregated by class and alternate with flying.
"It's really thorough," says one race pilot from England. "You have to pay attention all the time, and there's a lot of information."
The briefings cover race rules, including the reasons behind many of them. Safety is the main reason, money runs a distant second, tied with logistics, scheduling and perhaps tradition. "It's fun to talk to the more experienced guys who are here because they love it," he adds. "The approach stresses safety. They keep reminding us, 'Maydays are free.'"
All week the mood is one of helpfulness and mutual support, from lending tools (and even crew) to just lending an ear. I caught up with Caster again at the end-of-school volunteer banquet. "What I didn't expect was how much fun it is." The jump pilot and former flying law enforcement officer reflects, "Also, it takes some getting used to, flying so fast and close to the ground."
As if to prove Caster's thesis that competition is addictive, 13-time Formula One champion Ray Cote was the oldest "rookie" in the school at age 85. (When you haven't flown in competition in Reno for three years or if you're changing classes, you attend the school—no exceptions!) Cote comments that the most common flying mistake rookies make is climbing in the turns. The bank angles are fairly steep; as a pilot's braced arm moves the stick to the left, its motion tends to also pull. That, plus the fact that the ground is so very close, tends to make the pilot want to get a little altitude.
"We also look for erratic flying," Cote continues. "That's no good. Don't fight the airplane. And keep the ball centered."
Intense Sight Picture
Three female rookies attended PRS this year, a new record. Heather Penney, daughter of four-time Unlimited champion and two-time Jet champion John Penney, was flying an L-29 Delfin. It's not her usual mount: She has done two tours in Iraq in F-16s. Melissa Pemberton, who performs air shows in an Edge 540, also attended but was thwarted by a schedule conflict and couldn't complete the weeklong school.
---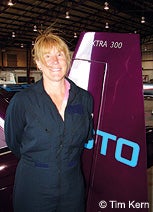 Vicky Benzing with her Extra 300.
California chemist Vicky Benzing was flying her own purple Extra 300. The aerobatic performer, who's also an airport mate of Sport Class president Lee Behel, notes, "In acro, where points are deducted for figures flown out of the box, speed actually hurts you, except in the vertical maneuvers. Acro is demanding from a G standpoint, but here at Reno it's about planning turns, holding a line, smoothness and as little G as possible. The sight picture is different too, as you're moving along, always in a bank. And unless you're in an aerobatic team, you never fly that close to other airplanes."
Benzing didn't have preconceptions about what to expect, but "intense" is a good description of her first training session: "I've got Race Control talking; there are other planes around me. I'm going 200 miles an hour and I'm 60 feet off the ground." With familiarity, things improved. "Later, I could tune out all the noise. Then, Lee took me around the course in his plane. It's about 100 miles an hour faster than mine. Now, my plane feels so slow. He spoiled me."
Le Moteur Diesel
The sleeper entry this year may be Team Big Frog, with aerobatic competitor Willy Gruhier ("Frog 1," who at age 14 did his first solo in a Pitts S-2A) and Christophe Delbos ("Frog 2," who usually flies a Mirage 2000). They will fly a new NXT, built in France and powered by a French-designed and -built SMA diesel engine.
Delbos thinks the SMA may be the engine of tomorrow: "Economically and politically, diesel is better than gas. Fuel is available; the concept is reliable; there's no external ignition; it's greener—and now, it has less vibration, less noise and good power." But will it make 600 horses? "Not this year," Gruhier notes. "The aero-diesel is just beginning. We have a lot of potential."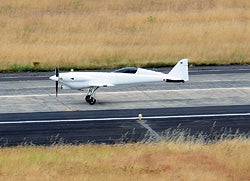 The NXT Big Frog is test-flown in France.
Team Big Frog was trained in tight formation flying through Delbos' contacts in the French Air Force. In fact, they have some use of a military practice area, including a mockup of the Reno course; and since it's on a military base, they can make the low-level practice very realistic. The team has solid sponsors, including CATIA/Dassault, which helped design the engine mount.
The Big Frog NXT's airframe is lightly redesigned to make it container-transportable. And they've created a special transport trailer that's exactly the width and length of a standard 40-foot container. It holds the whole NXT, plus its own suspension, tongue and wheels: Just unload it, open it up, attach the included pieces, and it's an over-the-road aircraft transport.
Their avion was first flown in France in July by Relentless owner and Reno racer Kevin Eldredge; then it was disassembled, containerized and air-freighted to the U.S. West Coast. It will be trailered to Eldredge's home field for Delbos and Gruhier to fly; after that, if all goes well—always a question with an all-new machine—it's over the mountains to Reno.
The Reno Air Races will take place on September 15-19, 2010. Visit www.airrace.org.