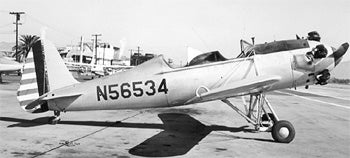 STANDARD DATA: Seats 2. Gross wt. 1,860. Empty wt. 1,313. Fuel capacity 24. Engine 160-hp Kinner.
PERFORMANCE: Top mph 131. Cruise mph 123. Landing mph 54. Initial climb rate 1,000. Range 352. Ceiling 15,500.
The Ryan PT-22 is another surplus military trainer of the World War II era that is still reasonably available on the used market. It is quite easy to operate and maintain. The fuselage is metal, but the wings are covered with fabric. The earliest versions had a Menasco engine, but the PT-22 trainers available in the largest numbers are powered by a Mimer radial engine. Beginning in 1941, the first model was the PT-21 powered by a 132-hp Kinner five-cylinder radial. The later version with a 160-hp engine was designated as the PT-22. Although the performance and range characteristics of these planes are too limited to make them practical, they are still popular with weekend pilots. The 160-hp Kinner engine is also a five-cylinder type, and the supply of surplus parts for it are still ample.