The first clue that I'm in for a not-so-ordinary demo ride is when pilot Kerry Richter takes me through a departure stall (power on) over a small Florida lake. He shoves the throttle forward, then hauls back hard on the stick, right to the stops. Suddenly, I'm looking through the windscreen…straight up at the deep blue Florida sky. The deck angle is ridiculous. What's this, rocket-launch time? And the SeaRey just hangs there and never breaks.
"Okay, how about an accelerated stall?" Richter asks, and before I can answer, and showing no inclination to finesse the poor widdle airplane, he racks it into a good 60-degree bank, again hauling the stick all the way back. I'm grinning even as I warily watch the lake just 300 feet below. I'm contemplating a stall, involuntary wingover and rapid descent toward watery doom. But again, the stall never comes. The SeaRey hangs on, grittily demonstrating its solid aerodynamic chops without so much as a stall burble or a foot of lost altitude.
Richter laughs and rolls the airplane out. "That's all it does. We could sit here all day and never stall it. This is a very strong, stable airplane." Amen, brother. His cavalier airmanship tells me my host is either (1) a Top Gun wannabe bored stiff with the air show meet/greet routine, or (2) a guy who really knows this airplane inside and out.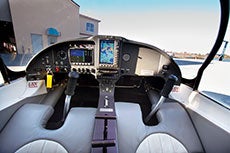 The 44-inch-wide interior on the SeaRey features center control sticks, side-by-side fabric seats and Garmin avionics.
It's number 2. In the rush to get airborne, I hadn't realized that Richter is the designer and manufacturer of the SeaRey, and knows it better than anyone alive. And he's not done with me yet. Still at low altitude, he kills the power, again yanks the stick to the stops, and the SeaRey pulls up into a, shall we say, vigorous nose-high angle (I won't say we entered an aerobatic pitch angle—I won't say that), and once more, I'm enjoying the Neil Armstrong view of the blue sky.
But wait: There's more. When the SeaRey stalls, he kicks the big rudder hard right, and we're pointing straight down…well, 70 degrees down, which feels like the same thing. Fifty feet above the water, he rounds out and slides us onto the near-glass, late-day, sun-kissed water. And that's all in just the first 10 minutes.
---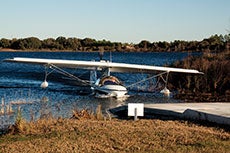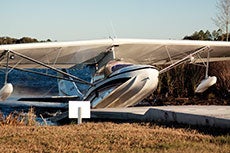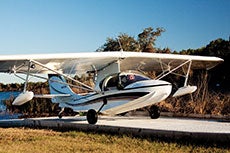 The SeaRey's hull was designed to handle a decent-sized wave, but retain the ability to minimize drag and get off the water quickly. Above, the SeaRey LSX transforms from seaplane to land plane as it pulls out of a Florida lake onto the ramp.
I'm taking you along on this (really, really fun) demo to drive home one simple point: Here's an airplane you'd have to try to screw up really badly to get into trouble with. After five more minutes and some water landings of my own, I feel I could easily and safely solo the SeaRey—and I'm not even floatplane rated (yet).
They should put a photo of the SeaRey in the dictionary under "fun." I love its control feedback: It really talks to you. The feel isn't overly light or twitchy. As Richter notes, you have to tell it what you want, but when you do, it complies smoothly and firmly, and with consistent, confidence-inspiring predictability and a harmonized feel between pitch and roll. A bit of rudder helps going into turns. Pulling some more stalls, the big moveable flipper back there makes keeping the nose centered easy.
Richter talked me through a takeoff using only rudder. The SeaRey lifted off on its own, without even a tug on the stick, at 50 knots. Normally, you push the stick forward to get on the step (the forward part of the composite-construction hull for less-draggy, faster "boating"), then ease it back, build more speed, then pull off in six to eight seconds around 40 knots, and all in well under 400 feet.
Its easy-to-fly exuberance, and the pure fun factor of flying a boat with wings, are two main reasons why the SeaRey is a big success by any airplane maker's standards. More than 550 kits have been produced over the last 15 years, and are actively flown worldwide. SeaRey owner/pilots are a devoted, fun-loving bunch. There's even a Splash and Dash social website and regular gatherings, events and XC gaggle flights short and long.
S-LSA Bound
The SeaRey LSX has evolved to its current refined state over the years as an experimental amateur-built aircraft. Progressive Aerodyne is currently meeting the ongoing demand by producing nearly four kits per month. The small, three-generation family company also is cranking and banking on S-LSA certification. The U.S. distributor is SportairUSA.
Richter tells me the rigorous testing and documentation required for ASTM certification is being wrangled by an independent engineering firm with strong aerospace credentials. "We're making sure we're squeaky clean throughout the whole process; I want everything right if we ever have an FAA audit."
---
More than 15 hull tests have been run. "We loaded and unloaded sandbags and concrete blocks for two days. The hull was taken to 150% of limit load, and passed everything with flying colors." Even more impressive: Kerry used a reject fuselage for the testing. "We took a worst-case hull, one that wouldn't have passed our own quality-control system."
A Hull Of A Plane
Plenty of cool features explain SeaRey's appeal to pilots bent on enjoying flight from both land and water runways. Reflecting the Richter family's ultralight background, the deep-chord, leading-edge sweep wings are fabric-covered, tube-and-ladder construction (with C-cell leading edge). The taildragger land configuration has a modest nose-high sitting angle: no major tail-swapping tendencies to worry about.
The pusher Rotax engine mounts just aft of the leading edge, on top of the wing, supported by a pylon. The hull is designed to generate a flat, low-profile spray pattern, to keep water out of the prop and engine compartment, and keep pilot and passenger, even with canopies open, cool and dry.
Boating around on the step is a hoot. You carve exhilarating turns using aerodynamic rudder, taking care to counterroll the wings with aileron for sharp turns so the inside tip doesn't bite the water.
A roomy interior (44 inches wide, same as a Cessna 182) includes side-by-side fabric seats that fit the body quite well, and are very comfortable. Dual slide-open canopies allow easy ingress, and you can fly with them open on warm days.
What else? Dual flight controls, a roomy panel for instrumentation, lots of storage space for outdoor gear and clothing behind the seats, well-placed hand controls, adjustable rudder/water rudder pedals, hand braking and more.
Once the SeaRey LSX is ASTM certified later this year, it will be offered in three forms: S-LSA, E-LSA (kit-built LSA) and EAB (experimental amateur-built). The company suggests the EAB kit takes about 700 hours to build. The E-LSA version will likely take less time and be more of an assembly project since the EAB 51% owner-fabricated rule doesn't apply…but owner customization isn't allowed, as it is with EAB kits, per the light sport rule.
There's an audible gear-warning device with two distinct voices (triggered by flaps or when airspeed drops below 51 knots), when it's time to lower gear for land ops—or pull it up for water. That's extremely handy: Nobody wants to do a water landing with gear down…or vice versa!
Landing the SeaRey on water is a breeze. The big stable wing and rudder make directional control a nonevent. Holding off at stall as the boat hull slides onto the water is so effortless. The sight picture is great, and the airplane responds well even at low speeds. And now I'm ready to get my water rating. Any SeaRey owners wishing to volunteer some seat time, please get in touch.
---
A Short Course In Duck-Feet Flying
"Amphibious" airplanes are equally at home on water or land, since their floaty parts have retractable wheels. Floatplanes by contrast can only fly off water, but are common in remote areas such as Alaska, where commerce is made possible largely because bush aircraft can operate exclusively from lake and ocean seaplane bases located near towns.

One advantage float-only plane pilots trumpet is the ease of hopping out on the float for better control as you glide up to the dock. But, as Kerry Richter notes, "Floatplanes and amphibious floatplanes will never match a hull aircraft for maneuverability on the water, or for coming up on soft-sand beaches. Even floatplanes with amphib wheels need firmer surfaces than an amphibious airplane."

An amphibian's hull is designed from the start to optimize water handling. They can be nimbly driven around on the water because, unlike a floatplane, there's just one floatation surface…and it's shaped like a boat.

Both types of seaplanes, however, must pay attention to wave-height limitations. "It has a lot to do," says Kerry, "with how steep the 'V' is in the float or hull." Generally, the deeper the V, the softer it will behave in bigger waves because it can plow through them easier.

"But bush planes, which need to get up in short distances, have a shallower V to minimize water drag. The flip side is, in rough water, they take more of a beating because there's more horizontal surface for the water to smack against.

"With the SeaRey, we tried to hit the middle with a hull that could handle decent wave height, but still get off quick," Kerry explains about the aircraft's design. "We advise new water pilots to restrict themselves to waves of one foot or less until they know what they're doing."