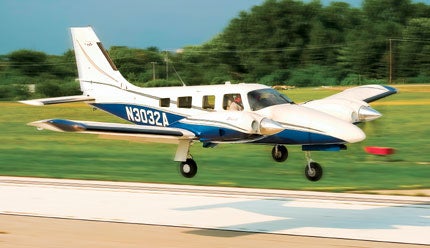 Old home week, I reminisced, as I sat in the left front seat of the 2005 Seneca V. Well, perhaps not exactly. The panel of the new Seneca V has about as much resemblance to my old company airplane's as does a new Ford Thunderbird's to a Model T's.
Still, I couldn't resist flashing back to those happy days of the late 1970s when I operated a Seneca II for three years and 500 hours. Despite the airplane's niggles (and there were several), I came to respect the little twin as a valuable business tool.
In 1979, the corn at the end of the runway in Fort Atkinson, Wis., looked to be at least six feet tall, but I had no major concerns as I turned the company Seneca into the wind and pointed the tapered nose down runway 21. The abbreviated grass strip was, by far, the closest to the home office of Johnson Hill Press—in those days, one of the world's largest publishers of corporate magazines and my part-time employer.
A summer rain shower had stormed through the night before, and the grass was still wet, so I'd need a soft-field takeoff. I held the brakes at the very threshold of the runway as I pushed power through 35 inches, then released the binders and felt the airplane lumber sluggishly forward. The grass runway was only 1,900 feet long, but at light weight, I knew I'd need far less than that to lift off on the short hop down to Janesville, Wis., for fuel on my way back to California.
I watched the corn grow in stature as the airplane accelerated down the strip. Must be at least 15 feet tall, I thought. Passing 55 knots, I pulled up on the floor-mounted Johnson bar to lever in flaps and improve short-field performance, but I was a little too enthusiastic. I had planned to add only the first two notches of flaps, worth 25 degrees. Instead, I wound up pulling the handle to its maximum deflection—40 degrees.
Bad idea. Although I was already holding some back pressure to keep the nosewheel off the grass runway, the Seneca reacted instantly as the big flaps deflected. The airplane lifted its main wheels off the grass and wheel-barrowed forward onto the nosewheel, plunking it back down hard into the grass. I was lucky to be flying light. I yanked the yoke full back, the twin leaped off the runway and vaulted over the corn in an ungraceful, elevator-like ascent, and I made a silent promise to always set the flaps prior to takeoff in the future.
Flying the new Seneca V out of Oshkosh, Wis., a few months ago was far less dramatic, but it was like revisiting an old friend—only better. Perhaps predictably, everything about the new Seneca is improved over that airplane I flew 25 years ago. The configuration is still the same with the Hershey-bar wing, aft-left cargo doors and familiar counter-rotating Continental TSIO-360 engines. Beyond that, the Seneca V is a dramatically revised airplane.
---
The improvements are both a little surprising and totally necessary. "My" 1975 Seneca II was a wonderful machine that taught me many lessons about multi-engine airplanes, but like so many early versions of anything, it was in serious need of improvement.
Three model changes later, the latest Seneca offers updates in every area, and that has kept it competitive in a shrinking market. As this is written, there are only four piston twins in production, Piper's everyman's Seminole, the Seneca V, the Beech 58 Baron and the new Austrian Diamond Twin Star. At press time, the promising Twin Star wasn't a factor, as it had yet to be certified for IFR. Even when it is, the twin-Thielert-diesel-powered twin isn't liable to have much effect on the Seneca market, although it very well could have a more dramatic impact on Seminole sales.
Unless you're looking for a multi-engine trainer (which the Seneca V definitely isn't), the inevitable comparison is between the Seneca and Baron. Aside from mounting two engines out on the wings and seating a theoretical six folks, the two types couldn't be more dissimilar. The Seneca V has consistently operated on the premise that less is more. Power is limited to only 220-turbocharged hp a side, compared to the Baron's 300 normally aspirated horses on each wing. Gross weight is only 4,750 pounds, compared to the Baron's 5,500 pounds. Even prices are far apart, $643,500 base for the Seneca V, $1,100,000 for the Baron.
One paragraph of history: The Seneca began life in 1972 as a normally aspirated, twin-engine, retractable version of the Cherokee Six with a pair of 200-hp Lycoming IO-360s on the wings. In 1975, Piper premiered the Seneca II and switched to early versions of the six-cylinder, Rajay-turbocharged, Continental TSIO-360s that survive to this day. The Seneca III introduced a 28-volt electrical system and three-blade props and upped power to 220 hp a side; the Seneca IV added optional de-ice, air conditioning and leather; and the Seneca V, announced in 1997, brought intercooling and a plethora of lesser improvements to Piper's workhorse twin.
In other words, no matter how familiar it looks, the current PA-34 is a refined airplane in contrast to the original machine. Senecas of one description or another probably serve in more diverse roles than any other model in Piper's fleet. As a result of their big cargo door, large cabin, fat, high-lift wing and turbocharged engines, Senecas are popular airplanes in the low lands and the mountains, the city and the country.
Specifically because of the PA-34's unusual flexibility, the type is in demand all over the world and has been pressed into service flying more different missions than you'd believe. The Seneca V makes an excellent, comparatively low-cost charter airplane, a reasonable corporate transport, an effective air ambulance, a reliable businessman's traveling machine, an economical check or mailer hauler and even a sometimes bush plane (when converted to STOL mode).
I've seen Senecas of all descriptions flying standard urban domestic missions, but I've also witnessed the type operating in the Alaskan bush, the Saharan and Australian deserts and the South American pampas. I've delivered probably a dozen of those international Senecas to destinations ranging from Cape Town, South Africa, to Kuala Lumpur, Malaysia, and from Singapore to Southampton, N.Y., so I can personally attest to their popularity in foreign lands.
As you may have guessed, I like the Seneca, and I'm not alone in my appreciation of Piper's workhorse twin. Over the last three decades, Piper has sold nearly 5,000 of the type.
---
The Seneca's attraction begins with the big cabin, essentially identical to that of the fixed-gear Cherokee Six single, recently revived as the New Piper 6X and 6XT (turbocharged). You can read about the dimensions in the specs, but the Seneca's passenger enclosure offers roughly the same width as the cabin-class Navajo, now long out of production. There's plenty of room for six full-sized people, although the airplane is payload-challenged. More on that later.
The double cargo doors at aft left are another big drawing card. In addition to admitting passengers, freight, a stretcher, a coffin or a piano, they're sometimes employed to let people and things exit the airplane—sky divers, bales of hay, emergency supplies and things like that.
The removable doors also have less obvious advantages. In a previous life, Plane & Pilot and Pilot Journal magazines used a Turbo Saratoga SP (the predecessor version of the current Saratoga HP) with the doors removed as an air-to-air platform, and it was one of the best airplanes imaginable for that role, offering a phenomenal range of photographic pan and tilt, including the ability to shoot nearly straight back, straight up and straight down. Those were the days.
Even in standard trim, Senecas come well-equipped for VFR and IFR, fitted with a full package of Garmin avionics—430/530 COM/VOR/ILS/GPSs and the popular 330 transponder that enables traffic uplink—plus an S-TEC HSI and 55X autopilot/flight director. Unlike the bad old days, when airplanes featured standard equipment that barely made them operational, the new Seneca makes an excellent IFR platform at its base price.
Naturally, it gets even better, and much more expensive, when you start adding options. Fitted with the FIKI (flight into known icing) package ($28,455), the latest PA-34 is a reasonable winter or spring traveling machine, willing to handle most modest icing situations. The Seneca, however, employs old-fashioned rubber boots rather than the more effective, "weeping wing" TKS system, so don't even think about taking on serious icing conditions.
Other popular options include the Meggitt/S-TEC MAGIC Electronic Flight Display System ($65,555), Honeywell Bendix/King Avionics Enhanced Situational Awareness package that includes weather radar, IHAS, Stormscope and a KMD-850 multi-function display to play it on ($101,350), air-conditioning ($14,500), oxygen ($8,410), three-blade props ($9,310), prop sync ($3,640) and unfeathering accumulators ($4,520). Put it all together, and you're facing a list price well north of $850,000.
What that buys you, in addition to electronic talent, is good operational performance with both mills turning true and acceptable numbers with one engine shut down. Specifically, plan on at least 1,300- to 1,400-fpm climb at sea level in multi-mode and a single-engine service ceiling higher than any mountain in the contiguous 48 states. Single-engine climb, however, is only 253 fpm at gross, and it'd be a long climb if you needed to clear those mountains. Critical altitude (the maximum height at which the engines can develop full power) is 19,000 feet, and if you opt for max cruise at that height, you'll see 195 knots or better. Down at 10,000 feet, expect more like 180 knots.
The obvious benefit of the relatively small engines is a low fuel burn, roughly 14 gph per engine at high cruise. The wings hold 122 gallons, so endurance at high cruise is about 3.5 hours—4.0 hours at normal cruise (12 gph per engine).
The bad news is that at 4,750 pounds gross, the Seneca V is a little short on payload. Top the tanks in a standard airplane, and you'll have little more than 600 paying pounds available to distribute between six seats. Yes, you can trade fuel for payload, but only up to a point. Max zero fuel weight is 4,479 pounds, so you're obliged to fly with at least 42 gallons in the tanks if you're operating at gross. In that loading configuration, you'd have just over 1,000 pounds of payload available. There's also a maximum landing-weight limitation of 4,513 pounds. If you depart at gross, you'll be obliged to burn down 39 gallons before returning to land.
In stock trim, Senecas aren't truly STOL twins, but they do very well in short-field performance. The short, grass strip at Fort Atkinson was always a challenge, but it was near sea level and there were no obstacles (if you discounted the corn at certain times of the year). I flew in and out of Fort Atkinson (now long since paved and extended) several dozen times and thoroughly enjoyed my 500 hours in a Seneca II, and now that Piper has addressed most of my complaints, I'd be happy to spend another 500 hours in a Seneca V.
For more information, contact New Piper Aircraft at (772) 567-4361 or log on to www.newpiper.com.
SPECS: 2005 New Piper Seneca V