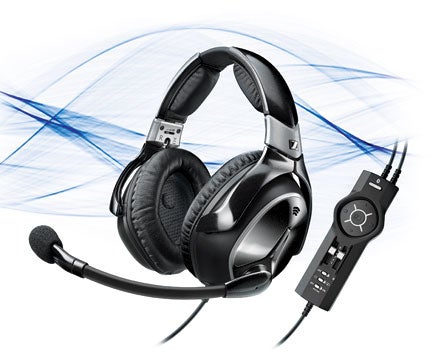 The S-1 features a special viscous foam that's light but creates a tight seal.
It's been a long time since I've been really excited about a headset. Over the past five years or so, improvements in headsets have come at a trickle. By now, headsets are so good that only minor differences exist in top-of-the-line models. While there have been new features added to headsets (Bluetooth, music- player inputs, multiple channels), the actual sound quality of the aviation headset has remained dormant for about a decade. Each year's new model is maybe just a little bit better than last year's. Not so with the brand-new S-1 Digital aviation headset from Sennheiser.
It should be noted that as a professional musician, I'm very familiar with Sennheiser. It is to recording studios and concert stages what the DC-3 or Beech Staggerwing is to aviation. The Sennheiser 421 is one of the most famous microphones in the world, and has been used to record drums and guitars on more hit songs than anything else to date. If you've heard the Beatles, you've heard Sennheiser. Since 1945, when the company started in Wedemark, Germany, audio quality has been their pursuit. They're no newcomers to the headset game.
I knew I was in for something special, even by the way I got this headset to evaluate. It was all very cloak-and-dagger, with my meeting the Sennheiser team in an undisclosed hotel room, under cover of night, far from the corporate offices, complete with a live demonstration with prerecorded sound files and detailed explanations. These guys were excited about the S-1, and I mean actually excited, not "marketing" excited. This was something different.
Sennheiser started with a blank page when they designed the S-1. It's not a derivative of anything they offer today, and it offers several features that I haven't seen on any headset currently on the market. The S-1 was created from the ground up, as a seedling of what will become a new family of aviation headsets. Development began about four years ago, and was done in conjunction with BMW DesignworksUSA.
Easily the S-1's most innovative and important feature is the way it attenuates harmful noise. The S-1 is an active noise reduction (ANR) headset, meaning, it uses circuitry to block damaging noise, in addition to employing traditional passive features, like the ear-cup design, contact pressure and acoustically absorbent materials. That's not new. What's new is the way it employs the active circuitry.
Traditionally, ANR headsets use an acoustic "trick" to help save your ears. They use a tiny microphone mounted on the inside of each ear cup. The microphone picks up harmful noise before it enters your ears, samples the frequencies and creates a duplicate of the sound, exactly 180 degrees out of phase, effectively canceling out the offending sound. The problem is that this method is effective in blocking mostly the low-frequency noise. The highs still get through and can cause hearing damage.
---
The S-1 enhances that idea by making the attenuation cover much more of the sound spectrum. It adds two more high-sensitivity microphones—this time mounted on the outside of the ear cups. These microphones pick up high-frequency noise from the airflow over the fuselage and from the propeller and engine. Combined, the four microphones block a wide swath of harmful frequencies. With a few exceptions, headsets use only one technique or the other. A quick glance at the attenuation curve for this headset reveals attenuation across many frequencies, not the usual, diagonal (and narrow) line of noise suppression common to typical ANR headsets.
The S-1 introduces Sennheiser's NoiseGard Digital, taking the technology even further. This system offers true "adaptive" noise reduction. By pushing a little button on the side of the ear cup at any point in the flight, the headset takes an audio snapshot of the sound environment at that very second. It samples the noise and creates an "anti-noise," but in real time. It's a sort of "parametric EQ" in reverse. Your headset can thus be continuously optimized throughout the flight! Other manufacturers who offer "adaptive ANR" do it by matching the offending noise to a preset approximation, not a true analysis. The difference in sound is significant.
Sennheiser brings a truckload of other useful enhancements to the S-1 to make it even more innovative. Research replaced gel ear seals (and their characteristic "hot spots") with special viscous foam, similar to the memory foam in high-end mattresses. It's light and airy yet creates a very tight seal. They engineered different areas around the ear seal, allowing for special soft spots where the temples of your glasses meet the seal, and a V-shaped elongation where your ear lobes go to eliminate rubbing. The S-1 sports adjustable clamping pressure for each ear cup—unique to Sennheiser. The ear cups are quite large and stand well away from your ear, making the S-1 uber comfortable.
To illustrate Sennheiser's attention to real-world environments, they provide a three-stage treble boost in each ear cup. As pilots age and their higher-frequency sensitivity decreases, they can boost the treble spectrum on each side independently. It's a thoughtful—and useful—addition. The headphones have a frequency response of 20 to 16,000 Hz, and feature peak-level protection to guard against volume peaks above 110 dB—considered the danger range. To bring out the best from different audio sources, the S-1 has two separate audio mixers: one for music, and the other for cell phone and ATC communications.
An impressive Bluetooth suite is built in, offering connection to wireless devices like cell phones and music players. Remote-control functions reside on the attached control unit, and cell phone calls are answered with the push of a single button after being announced by interrupted music and an LED signal. Any Bluetooth device can be controlled from here. Of course, ATC signals are given priority. The headset operates on two AA batteries (lithium preferred) with an average operating life of 40 hours. Bluetooth usage brings that down to 25 hours.
---
Here's a secret: It's easy to make a headset that sounds good in a modern airplane like the Cirrus. That airplane is specially designed to be as quiet as possible, and represents the latest in noise engineering. It's the older airplanes that are tough to deal with. The look on marketing guys' faces when I ask if a particular headset can be used in a noisy environment, like an open cockpit, is very telling. Gus Skalkos, Director, Business Development Aviation-Government Systems for Sennheiser, didn't even flinch. "Oh, you're gonna love it out there," he enthused, as he handed me the headset.
The S-1 blew me away. It was the first ANR headset that worked well in my noisy open cockpit. While some readers may think that's an invalid environment to test a headset in, I offer two simple facts: According to FAA registration records, the majority of pilots still are flying around in legacy GA airplanes—not technically advanced aircraft (TAA). Second, if a headset can cut it in a noisy cockpit, it can handle anything. Testing in a worst-case scenario reveals a headset's flaws quickly.
This was easily the most comfortable headset I've worn, though the very big ear cups mandated a permanent modification to my leather helmet. Get used to those ear cups—they aren't dainty for good reason: comfort and noise suppression. Soundwise, the S-1 was pure Sennheiser—crisp, clear and full-bodied; the antithesis of tinny. The ANR worked famously, and playing with the push-button sound sampling and resulting tailored noise attenuation throughout the flight was nothing short of impressive. It was like I had created a custom headset for my environment only. It had plenty of gain to surmount the noise of my open cockpit. I can't imagine a cockpit where this headset wouldn't excel.
So is the S-1 different enough and good enough to justify its steep $1,095 price tag (a special $995 deal will be offered at Oshkosh)? Well, when performing in concert, before going on stage for 10,000 people, there are two things you trust implicitly: your fellow musicians and your gear. There's no room to second-guess either one. In the cockpit, the stakes are even higher; your life is on the line. For me, the Sennheiser S-1 is the first headset that's audibly different and performs superbly, and so merits its price. It belongs squarely with the big boys. You can bet it's going right next to my guitar. Visit www.sennheiser-aviation.com/S1.