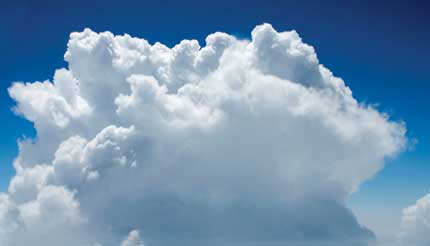 BIG PUFFIES IN THE SKY.
Because Singapore is in the "dreaded ITCH" and almost on the equator, flying to the city-state typically entails dodging thunderstorms.
He was a regular reader of this space and he called a while back wondering if I'd be interested in ferrying his pristine A36TC Bonanza from El Monte, Calif., to Singapore. Gee, lemme think about that for 30 seconds.
Owner Barry Andrews worked for Unocal and was being transferred from Southern California to the Malaysian city-state to run the oil company's China Sea exploration project. Unocal had agreed to have Andrews' airplane ferried across the Pacific, and after some negotiations, I became the designated hitter.
At the time, Majuro and Guam were out of avgas, so the only available route was far south through northern Australia. After the obligatory stop in Hawaii, the plan was to fly 1,150 nm straight south to Christmas Island, Kiribati, and then another 1,250 nm southwest to Pago Pago, American Samoa. From there, the course shifted more westerly 1,730 nm to Honiara, Solomon Islands, followed by a similar leg due west across Papua New Guinea to Darwin, Australia.
The final leg was 1,830 nm northwest up the Indonesian chain, above Bali, Jakarta and Palembang to Seletar Airport, Singapore. This detour effectively turned what would otherwise have been an easy 8,000 nm trip into a 10,000 nm odyssey.
Despite what so many pilots believe from watching the Discovery Channel, flying the Pacific isn't just bikinis and suntans. The Pacific islands themselves aren't so bad; it's all those large, wet spaces in between that are the problem. It's some of the most boring flying in the world—at least, you hope so.
---
You depart from a hard runway, go "feet wet" over the water in 30 seconds, fly for 13 to 15 hours across nothing but ocean and then return to earth at the first land you see. Not exactly the glamorous image most pilots have of ferry flying. On top of that, by definition, we don't fly to the garden spots touted in the travel brochures simply because—duh!—they're too expensive. The idea, after all, is to make a profit.
At least, I'd have a good airplane under me. The owner had just overhauled the engine and fitted the panel with every avionics item I could ask for. Tanking was all behind me: 150 gallons in addition to the plane's 74-gallon mains and 30-gallon tip tanks. That's 254 gallons total. At 15 gph, that provides 14 hours' endurance plus a three-hour reserve.
On the long leg to Honolulu, that works out to a refusal speed of 154 knots (a simple division of endurance into distance), easily within the province of an A36TC, even one loaded 700 pounds over gross. Many ferry pilots, this one included, use that single number as a how-goes-it. If your GPS groundspeed drops below that number for any significant time, you're eating into your reserve. You may need to change altitude, go to long-range cruise, pray or all of the above.
As usual, the first leg would be the biggest challenge—2,165 nm from Santa Barbara to Honolulu. (If things are really tight, you can launch from Oakland and go into Hilo on the Big Island, and the distance drops to about 2,035 nm.) After that, the legs become easier, typically 12 to 13 hours or less.
Barring a typhoon, weather on the Pacific is consistently benign, usually nothing worse than afternoon puffies and some light chop. As long as the engine keeps running, the gear goes up and down and the satellites continue triangulating your position so you can locate a five-mile-wide island from 2,000 miles away, you should be okay.
I've described the mainland/Honolulu experience many times before, so I won't reiterate it here. Honolulu on to Christmas was also pretty much a walk in the park, 6.5 hours from wheels up to wheels down in perfect weather with tailwinds all the way. Christmas is the world's largest coral atoll and a site for British nuclear testing in the '50s and '60s, which probably made it even flatter.
The following day, it was off to Pago Pago with inevitable headwinds crossing the equator. Despite clocking only about 2.5 miles a minute, the Bonanza seemed happy at 12,000 feet and covered the 1,250 nm leg in an easy eight hours.
---
American Samoa stands in stark contrast to most of the low, flat Pacific islands. A U.S. territory 2,300 nm southwest of Hawaii, the main island is mildly mountainous, more reminiscent of Maui than Tahiti. It's perhaps ironic that if you had enough range, you could fly 4,500 nm out in the Pacific and still be in the United States. The people are mostly expatriate mainlanders who used to live in Des Moines and have now moved to paradise.
The big leg over to Honiara, Solomons, was rainy and rough, if blessed with slight tailwinds. The airport at Honiara was built by the Japanese during WWII and seized by American forces in August 1942 and named Henderson Field. Today, Honiara is a sleepy place with spectacular scuba diving in nearby Iron Bottom Sound, where dozens of Japanese and American ships litter the bottom.
No rest for working pilots, however. Flying across to Darwin in northern Australia, you run right by some of the most dramatic mountains in the South Pacific. Papua New Guinea sports some 15,000-foot peaks spiking straight up out of brilliant green jungles far beyond the definition of wild. If it all looks too beautiful and idyllic to be true, it is. The country seems to spend much of its time in political upheaval, and you don't even want to contemplate going down in that wilderness.
Owner Barry Andrews flew down from Singapore to Darwin to ride the last leg up the Malaysian chain on the weekend. I arrived on a Wednesday night, so I had a welcome two days off for butt recovery. Darwin is in Australia's northern tropics and has a justifiable reputation as the place the thunder gods hold their parties. In fact, scientists often travel to Darwin to study the phenomenon. The night before our departure, we witnessed a truly amazing display of sky fireworks unlike anything I'd ever seen. The hotel manager shrugged his shoulders. No big deal.
The temperature was already 30 degrees C at six the following morning as I pushed the throttle up for takeoff, and I knew this would be an interesting departure. With two up front, an extra two suitcases and 900 pounds of fuel tucked in behind, the Bonanza was about as comfortable as an MRI machine and was, most emphatically, vertically challenged.
Andrews was all eyes as we lifted off in 3,000 horizontal feet, then hovered above Darwin's 11,000-foot runway before we could begin to climb away from Australia. Even after I'd built up a reasonable 100 knots of climb speed, the overloaded Bonanza only ascended at 250 to 300 fpm in the oppressive heat and humidity.
After a labored, 35-minute climb, I settled in at 12,000 feet for the second-longest leg of the trip, happy that I was almost done with this delivery. The thunderstorms were on temporary morning hold, but I knew they'd be firing up again as we transitioned northwest.
Singapore is almost on the equator, hard into the Intertropical Convergence Zone (the dreaded ITCH), so afternoon CBs are practically a given. I was grateful for the Stormscope as we tracked northwest, losing altitude over the water and dodging the nastiest of the cells. I'm as paranoid as anyone about thunderstorms, but in this part of the world, you either learn to deal with them, or you may as well sell your airplane.
Singapore's Seletar Airport was welcome in the rain and mist on a humid Sunday evening. Singapore is rich and thriving, a gleaming pearl of capitalism run amok. White-gloved police are everywhere, crime is virtually nonexistent, and don't even think about tagging or any other form of vandalism unless you enjoy caning. (Ask Michael Fay.)
I spent two days in modern Singapore, the Manhattan of Malaysia, before returning to Los Angeles. In total, I had covered just under 10,000 nm of ocean over a week. I logged about 65 hours in Andrews' Bonanza, a capable machine that obviously never knew it was over water. I did.
Bill Cox is in his third decade as a senior contributor to Plane & Pilot. He provides consulting for media, entertainment and aviation concerns worldwide. E-mail him at [email protected].