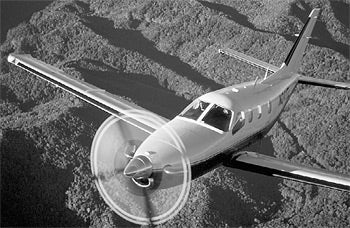 STANDARD DATA: Seats 6-7. Gross wt., depending on model, 5,911-7,430 lbs. Empty wt. 3,282-4,685. Fuel capacity 290 gallons Jet Al-JP4-JP5. Engine Pratt & Whitney PT6A 40-64 turboprop, 700 shp.
PERFORMANCE: Top mph 345. Cruise mph 288. Initial climb rate 2,300. Ceiling 31,000. Range 1,565 miles at economy cruise.
The TBM 700 began as an international joint venture between Mooney Aircraft Corporation and EADS Socata, then operating as Aerospatiale General Aviation. Now the aircraft is property of EADS and manufactured in France. The TBM 700 is a pressurized cabin-class turboprop that is capable of a 300-knot cruise at 26,000 ft. With a cabin pressure differential of 6.2 psi, which translates to a cabin altitude of only 6,400 ft., the TBM 700 has one of the most efficient pressurization systems available in general aviation. The big turbine single has enjoyed tremendous success as a private and corporate aircraft, as well as a key player in military and commercial applications.