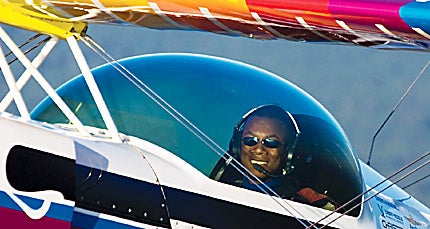 Jamail Larkins took his first airplane ride when he was twelve. As he recounts, "I remember going out to the airport. It was a partly cloudy day in the middle of summer. Mr. Fox pulled out his 1956 Cessna 172 and I watched him preflight. Then we hopped in and I helped him go through the checklist. I remember thinking, 'I really can't believe that I'm in the middle of an airplane right now.'" After takeoff, the airplane banked over Jamail's house, and he could see his dog running around in the backyard. "That's when I promised myself that I'd do whatever it took to be involved in aviation," Jamail recalls.
But unlike many kids who change interests as often as they flip TV stations, Jamail was intensely focused on aviation. He became an "airport kid," washing and waxing planes, running errands, doing anything he could to earn money at the airport. Soon enough he began to log some dual time. By age 13, his instructor had to admit that his young student was ready—it was time for him to solo. There was, however, a hitch: in the United States, student pilots need to be 16 before they can fly an aircraft alone.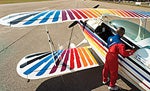 Jamail petitioned the FAA for a waiver to solo at 13. Despite encouragement from the local Flight Standards District Office and others, Jamail was cautioned about being overly optimistic. No such waiver had ever been granted by the FAA.
Not to be deterred, Jamail discovered that he could fly solo in Canada at the age of 14. He began writing letters—hundreds of letters—all to aviation companies asking for their help. Within a few months, he had raised enough money from companies like Avemco, Cirrus and Shell Group to fly to Canada and get the job done. Two years and two weeks after his very first flight, he flew a Cessna 172 in Canada as pilot in command.
---
All of a sudden, Jamail found himself in a media frenzy. Immediately the Experimental Aircraft Association's Young Eagles program appointed him as their national spokesperson. At their behest, he hit the road, visiting school after school after school, speaking to his peers about accomplishing anything they put their minds to.
Traveling, however, made it difficult for him to earn money to finance his flying. So Jamail launched a Website that sold products for King Schools, Rod Machado, Gulf Coast Avionics and other organizations. While he was en route to speaking engagements (often using that time to do his high school homework), www.JamailLarkins.com generated his flying allowance.
When he finally turned 16—old enough to fly solo in the United States—Cirrus Design flew a brand new SR20 down to Atlanta so that Jamail could repeat his Canadian accomplishment over the skies of his native Georgia. More than five hundred people and a trove of media watched as the young man taxied out to the active runway.
Not surprisingly, the name Jamail Larkins was on the lips of many pilots. He began getting encouraging e-mails from aviators like Patty Wagstaff and Steve Oliver. And one day, U.S. Aerobatic Team member Ellen Dean invited him to St. Augustine to fly in an Extra 300. "It was some of the most exciting flying I had ever done," Jamail says with a big smile. In addition to what he was already doing, he decided he also wanted to be an air show pilot.
Just two years after he "soloed" in the United States, Jamail put together a business plan to offset the expenses of aircraft ownership with income from air show performances. He bought a Christen Eagle and began exhaustively training with Buck Roetman of Atlanta's Red Eagle air show team. At the end of that summer, he passed his Aerobatic Competency Evaluation (a requirement of the International Council of Air Shows before performing in American or Canadian air shows). A month and a half later he flew his first air show.
"It's one of the most difficult things I've ever done, but also one of the most relaxing," Jamail admits. "I get inside an airplane and it's an escape from all the other things I have to do."
---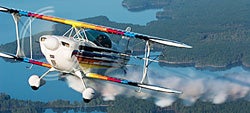 One of Jamail's greatest delights is inspiring other youth, which he does by giving airplane rides and speaking at schools.
And he is definitely involved in a few other things. Since 2003, he has been traveling to schools across the nation with a program called "Dream Launch." When he can, he travels in a Cirrus SR22 and he usually takes kids into the sky at many of his destinations. Last year he hit more than 50 cities, reaching about 18,000 kids in person and an estimated 30,000 more via media coverage of his visits. Not surprisingly, Sheila Bauer and Marion Blakey asked Jamail to be an ambassador for FAA Aviation and Space Education activities across the country. Larkins also sits alongside Cessna CEO Jack Pelton and Cirrus Design CEO Alan Klapmeier as a board member for the nonprofit Build A Plane organization, which gives high school kids a chance to build real airplanes. Within the last year, Jamail has appeared on the Late Show with David Letterman, NBC Nightly News and lots of other high-profile circuits.
"I'm having the time of my life," Larkins admits. Despite his backbreaking schedule, he has time to sit down and read most of the mail and e-mails he receives from kids he's met across the country. "They're so great. They tell me that after my visit they've decided to learn to fly or are going into an aviation career. You know how fun it is to share something that's really made a huge difference in your life? Well that's how I get to feel all the time."
Jamail Larkins is majoring in aviation at Embry Riddle Aeronautical University in Daytona, Fla., and will graduate this summer with honors. What of his plans for the future?
"Well," he begins to laugh, "I'm thinking it will probably have something to do with aviation!"