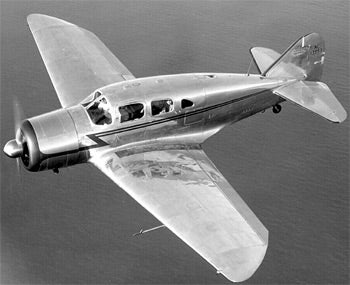 STANDARD DATA: Seats 5. Gross wt. 4,400. Empty wt. 2,987. Engine 450-hp Pratt & Whitney Wasp Junior.
PERFORMANCE: Top mph 212. Cruise mph 200. Landing mph 65. Initial climb rate 1,430. Range 900. Ceiling 24,000.
This speedy low-wing cabin airplane received its performance from 450 hp supplied by a Pratt & Whitney nine-cylinder Wasp Junior radial engine. The Spartan 7-W Executive was produced during 1937 to 1940, and an attempted revival, called the Model 13 Executive, appeared in 1946. Only the prototype of the fixed-gear Model 12 flew; no production was ever undertaken. The Executive had a retractable conventional gear, a thick wing, and a relatively small tail for the amount of power it carried up front. Several Executives served during World War II using the "UC-7 I" designation.